Singer/actress Miley Cyrus put on quite a performance on NBC's Today Show at the Rockefeller Plaza in New York City on October 7, 2013.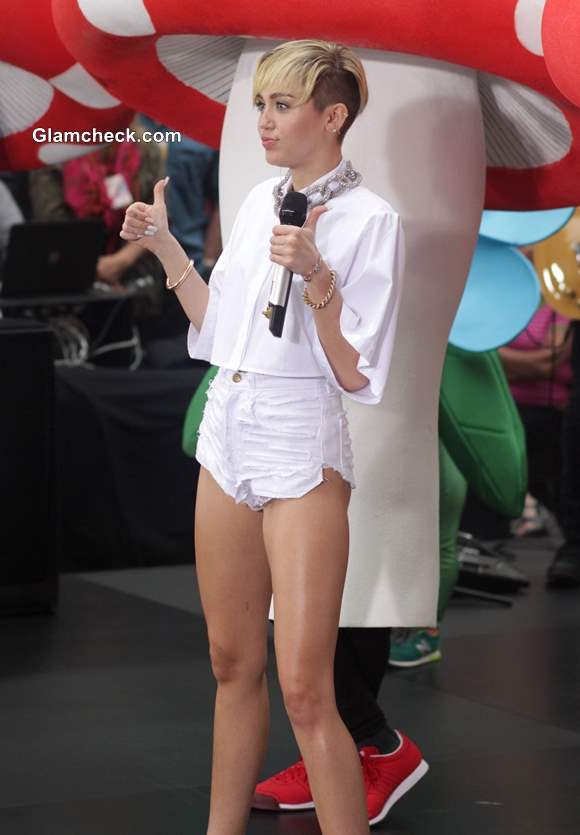 Miley Cyrus in All-white Tight Shorts on the Today Show
She went with an all-white ensemble, the focus of which was undoubtedly her really high-waist cut-off white denim shorts. Those shorts were really, really short. From the front, they were seriously cute and it looked like Miley was going for a wholesome look. But the back was decidedly racier, showing off her butt cheeks.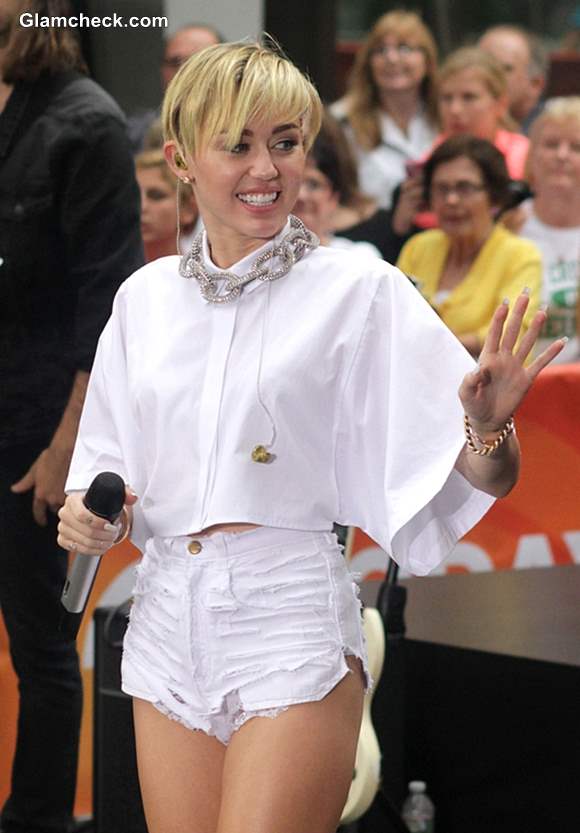 Miley Cyrus in All-white Tight Shorts at  the Today Show
We love the blowsy, loose-fitting white top with elbow-length sleeves that she paired the shorts with. The top had a formal feel which looked quite sexy with the saucy bottoms. It was also cropped, showing off her toned abs.
Her jewellery spelled rocker chic and was the only aspect of her ensemble that reflected her musical background. A plain gold bracelet, subtle gold finger rings, one pair of stud earrings and another clipped on the upper ear, and a statement silver chunky necklace all went very well with the all-white look.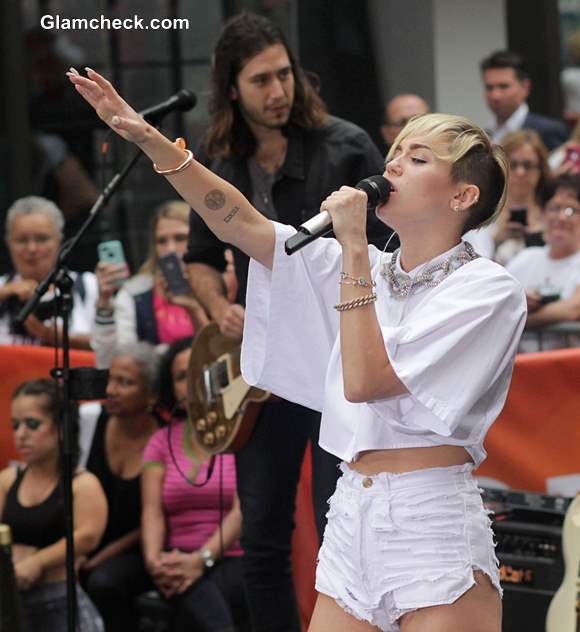 Miley Cyrus at the Today Show October 2013
She rounded off the ensemble with a white manicure with stick-on nails and printed sports shoes with a bit of a heel.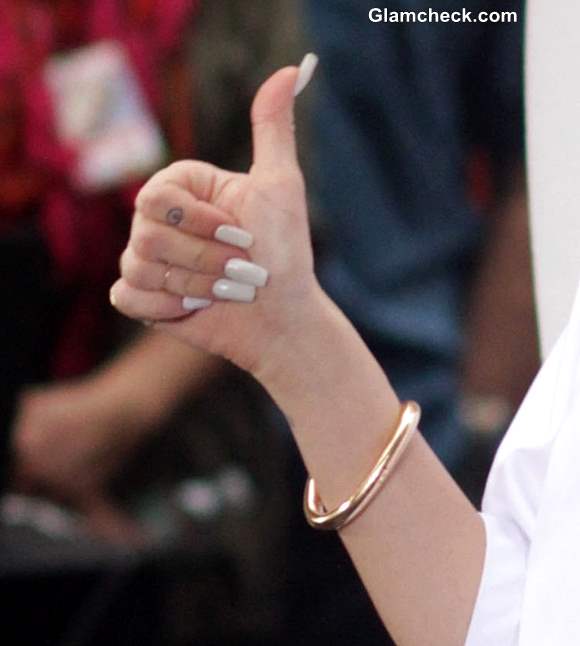 White Nails Manicure Miley Cyrus 2013
Her pixie haircut seems to be growing out. She maintained the look by shaving the sides while the longer hair on the crown was swept to the forehead to resemble a fringe. Except for starkly defining her lashes with eye liner and mascara, the 20-year-old's makeup was very natural.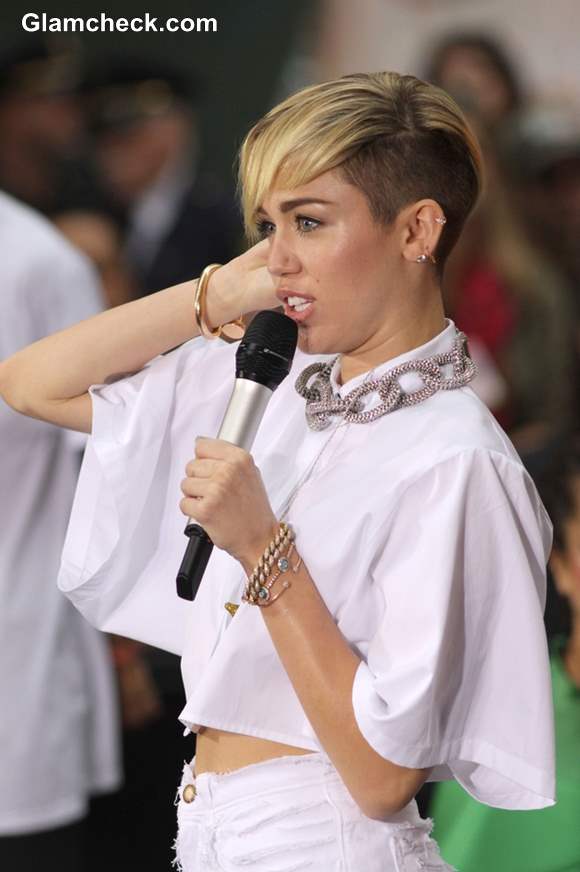 Miley Cyrus Performs on the Today Show october 2013
Although some would call this ensemble revealing, it's actually quite modest compared to her usual concert get-ups and closer to the old Miley than anything she's worn of late.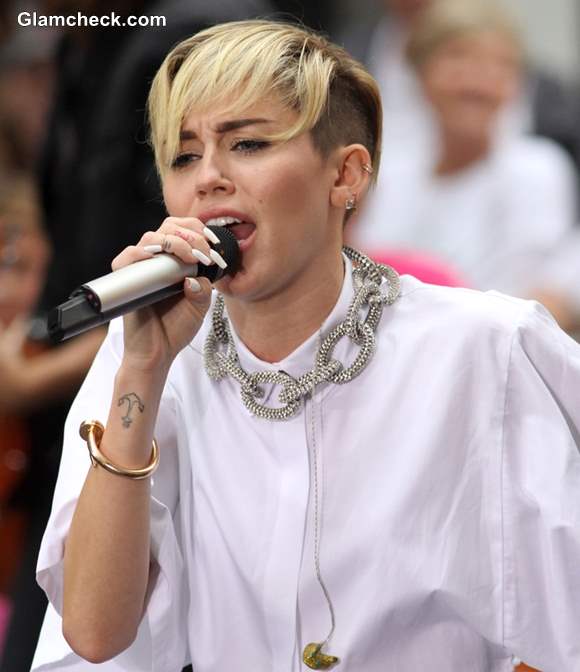 Miley Cyrus in All-white Shorts on the Today Show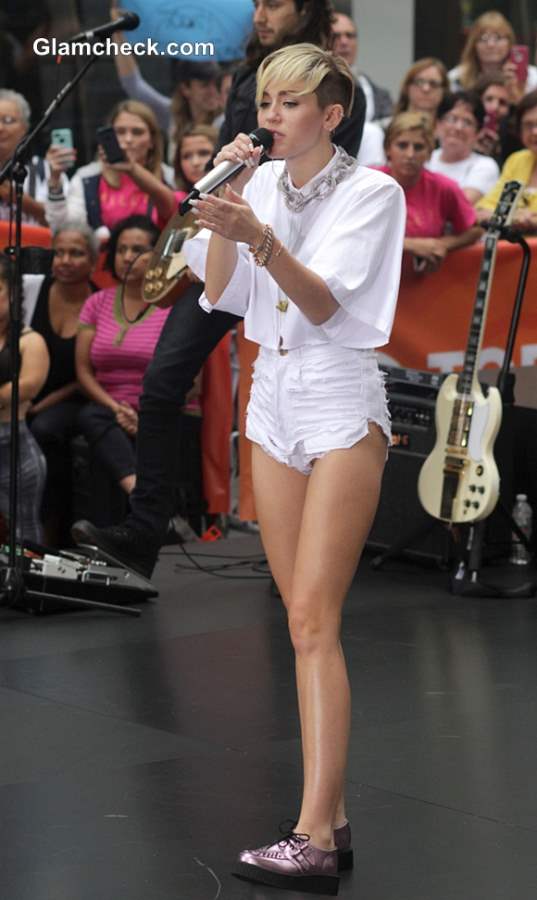 Miley Cyrus in white Shorts Peforms on the Today Show
Image: Shutterstock