Is torn or distressed denim a statement for you or has it become a classic? The answer may differ from person to person. If you are wearing them for the first time, you most probably will choose the first option. But the truth is, they have been around for a while and no longer raise an eyebrow. If they are not commonplace, they are not unheard of either.
So, you have got a piece of clothing that can be made a statement or classic as you wish. We will discuss easy and simple to do styling tips for having both looks.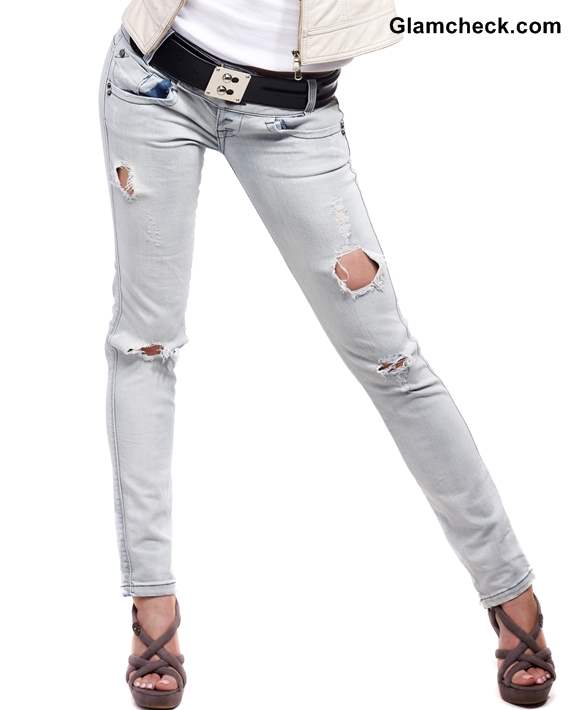 Torn Denims in Style
Make a statement with torn denim
Torn or distressed denim is often considered or believed to be a symbol of a rebel, or rather it used to be. Now, to carry on that legacy and look slightly rebellious we will create a simple statement look from torn denim.
The color of your torn denim can range from anywhere between blue and black to even grey and white. The latter colors however, tend to make more statement given them still being offbeat. So the choice is yours.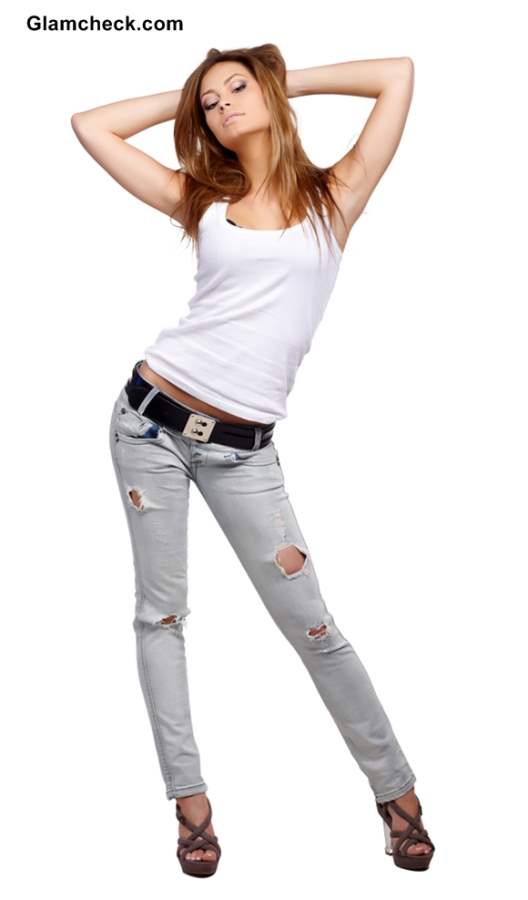 Casual Look in Torn Denims
Team up your torn denim with a solid color racerback tank. With a pair of light blue-grey denim our model wears white, but you can easily replicate the look even with black.
For this look, as we take inspiration in rebellion and being bold, do not be afraid of letting your bra straps show. Wear a contrast bra or even a printed one for maximum effect. Some women also like to wear bralets inside which can peek through the front neck.
Next wear a bold statement belt with your denim. You can choose to contrast it from the whole look – if the overall combination is light like in this case, the black belt is contrasting and the forms the focus. If you were to sport a blue denim and black tank look then the black belt would have been less of a focus.
Wear statement heels or shoes with this look. Accessories will especially make the look stand out and be a statement.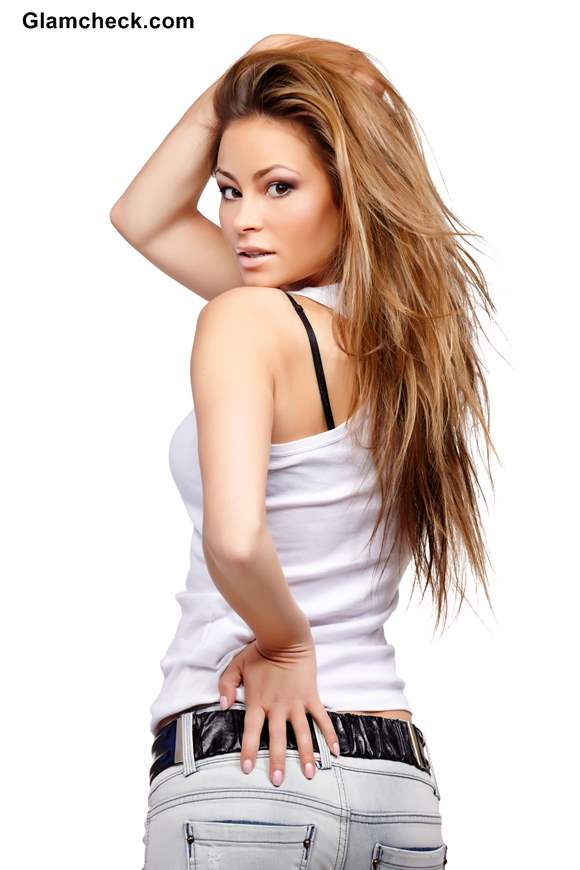 How to style Torn Denims
Slightly unkempt hair and even a smoky eye can be a good companion with this look.
Don't forget to carry some attitude as well and your look is complete!
Make a torn denim classic
Now to turn around the very same look and make it more classic, dressed or tailored, whatever you wish to call it – simply add a blazer or structured jacket.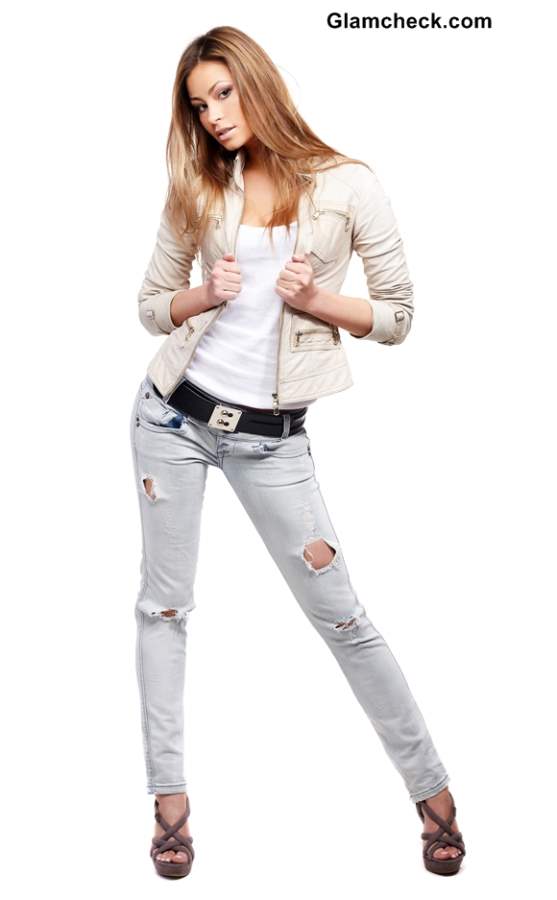 Classic Look in Torn Denims
Going with the light color palette of the whole look our stylists chose an ecru hue which created an overall pleasant look with the accessories and ripped jeans still a focus.
You can try a similar look by adding a classic black blazer or a colored one as well. It will instantly dress up your torn jeans and you can wear them to more occasions than one.
If you would like to further try new looks with your torn denim, don't forget to try a leather jacket and also a denim shirt for a denim-on-denim look. Once, you get a hang of it, we promise you that it would be hard to come out of your torn denims! 
Image: Shutterstock