LuxuryLegs has been selling branded leg wear for three decades and their online store has been around for 14 years. The company offers a great selection of high quality shape wear, leg wear, layering products as well as socks for men. They primarily retail products from USA and Europe based suppliers. Popular brands like Hanro, Falke and Fogal among others are sold by the company.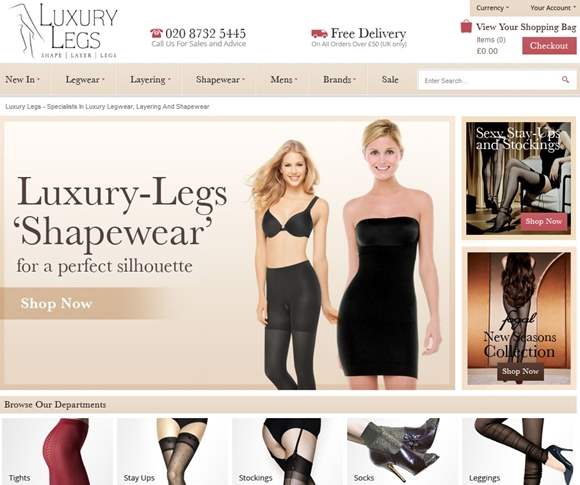 LuxuryLegs
The leg wear department has an extensive range that consists of
Sheer Tights
Opaque Tights
Control, Forming & Support Tights
Natural Fibre Leg Wear
Patterned & Textured Leg Wear
Great Gatsby Collection
Net, Lace & Seamed Leg Wear
Stay-Ups & Stockings
Socks & Knee Highs
Leggings
Leg Wear Care
One can also find layering essentials, underwear and scarves. The classic layering pieces feel wonderful against the skin as only the best textured materials are chosen. You can make your choices among classic tanks or spaghetti strap camisoles. The double ply fronted T shirts are one of the best sellers of the store. The varied list of shape wear consists of shaping tights, leggings, trousers and underwear. So, whether you want something to give support to the butts or control the tummy, Luxury Legs has all the answers for body firming needs. All the products that are featured on the site have been carefully chosen according to quality, style and comfort. Luxury Legs is also a specialist in natural fiber products like silk, cashmere, merino wool and cotton.
The company ensures that whoever shops with them is on the receiving end of a great personalized service and care. All orders made above £50 are entitled to free delivery in the UK. Luxury Legs also dispatches international orders. The online store also has a transparent policy regarding exchange, returns and refunds. This also makes the whole process of purchasing easy and convenient for customers. Sales are held quite frequently on the website, therefore customers can check from time to time in order to get the best deals. Shopping with Luxury Legs definitely makes for a good experience.