OriginalAttire is an independent designer online store that brings the best of styles and trends to the fashion conscious shopper. The brand believes that every person has their own individual style sensibilities and therefore stocks their products with special care and pay particular attention to quality.
The menswear line includes sweatshirts, footwear, caps, hats, jackets, shirts, shorts, T-shirts, trousers and vests. The women's line is equally diverse and includes jackets, jeans, dresses, knitwear, sweats, T-shirts, trousers, skirts, shorts as well as accessories like jewellery and watches.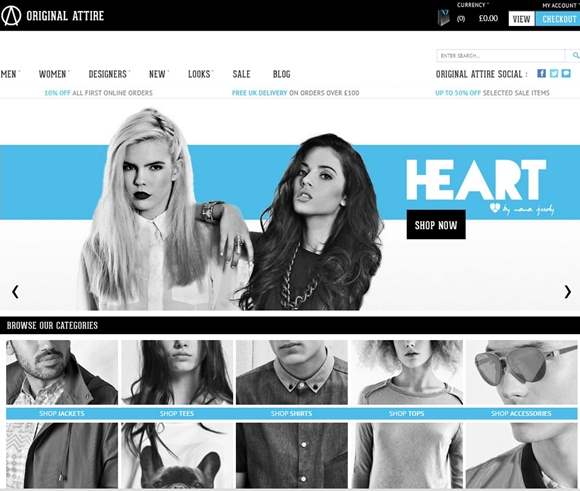 OriginalAttire
The company offers a flat 10% off on all first online orders, which makes shopping with Original attire a good deal for first time customers. All orders above £100 are entitled to free delivery services. The website keeps having sales and discounts up to 50% from time to time. Therefore, it is a good idea to keep a regular check on the online store to avail good offers on favoured items.
Brands like A Question Of, Creep By Hiroshi Awai, Daisy Knights, Gwynneds, Heart By Nana Judy, Love,zooey, Nana Judy, Publish Brand and sifr are retailed through the online store. A well catalogued look book helps the customers to know what exactly to buy and what all products are retailed. It also makes it easier for a shopper to make up his or her mind regarding what to purchase.
The online store has a really transparent policy regarding their exchange and returns policy which makes shopping with them a truly hassle free experience for customers. In case of dissatisfaction, shoppers can always mail their grievances which would be promptly taken care of. For more information regarding this, please check the Original Attire website.  
Savvy shoppers can also join the company newsletter to get the latest news regarding fashion and know about the new arrivals, discount codes and special offers that Original Attire has for its customers. The online store leaves every customer with an experience of content and they keep coming back for more. You can head straight to their website to get the same experience yourself.