SereneOrder is an online store that takes pride in offering all its customers a personal level of service, as well as a feel of shopping in a real store when they make their purchases online. The company stocks some big names from the world of fashion like Just Cavalli, True Religion and Pepe among others. The eclectic mix of brands ensure that people even with the most varied style sensibilities can find something that they like on the website. The store also introduces new labels from time to time to promote new names in the business; hence it is a true crusader of fashion.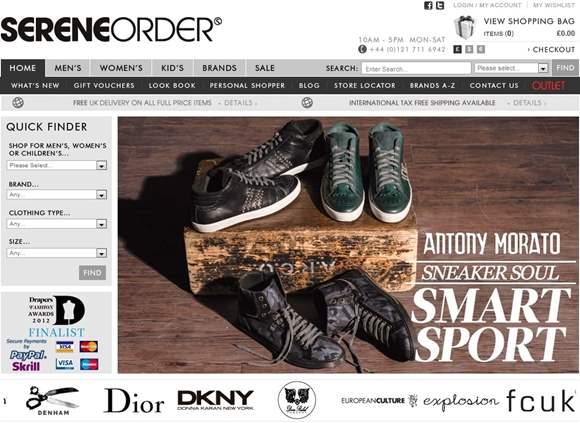 SereneOrder
The company is a licensed retailer of all the brands that they stock and there is no question of there being a middleman. They take their supplies directly from the designers and design houses. This also ensures that each item sold through Serene Order is 100% authentic. The company also offers the services of a personal shopper for all those of you who do not have time at hand to make purchases at leisure. A personal shopper will also help you tune into your own undiscovered personal style.
The menswear line retailed by Serene Order includes a collection of high end accessories, footwear, fragrances and clothing items like chinos, cardigans, coats, and blazers as well as many other items. Whatever your fashion sensibility is, you will find something that you like in the menswear department.
The line up of womenswear is equally impressive. All you chicas will find the latest trends, styles and looks that are currently ruling the fashion roost on the online store. You can choose from high end denims, coats, dresses, bags, leggings, tops and a huge range of accessories. No one leaves Serene Order disappointed because the collection retailed by them is vast and features products suitable for varied tastes, occasions and ages.
Serene Order also stocks clothes and accessories for children that are sourced from big brands and top designers. We believe that when it comes to fashion, why should children be left behind and hence present the most varied collection for the little ones.
Shopping through the Serene Order Online Store is a hassle free and smooth process which leaves each customer content and happy. A transparent policy regarding delivery and returns adds on to the good shopping experience.