Shoetique is a standalone footwear retailer brand which is based in Hale. However, one doesn't really have to travel to the shop to make purchases as all the shopping can be done through their online store. With over three decades of experience in the shoe business, Shoetique knows exactly what to stock and what to sell. They handpick styles and designs from their list of approved suppliers to bring only the best line up of footwear for their customers. All products sold by the online store are not only trendy and classy but are also high on quality, comfort and durability.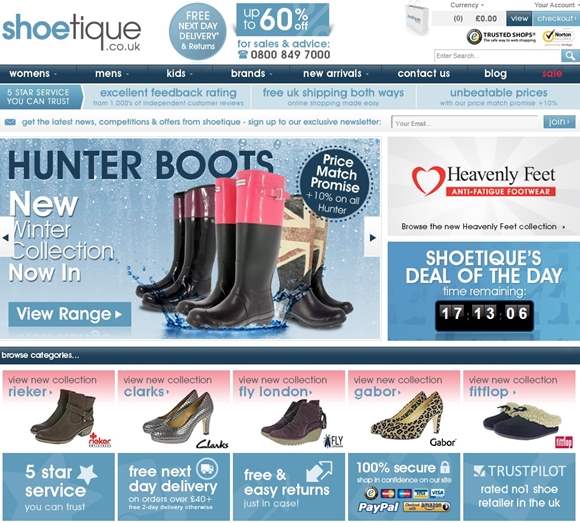 Shoetique
From its launch in 2009, the online store has been putting smiles of contentment on the faces of many happy customers. Shoetique's online shop is a recognized top seller in the UK footwear industry. The company takes pride in offering a high level of service to each and every of its esteemed customers. Suggestions from shoppers are always welcome and one can always contact the store through email – the details of which are easily available on the website. Those of you, who would like to see more brands or a particular style in the list of items being sold, can always go ahead and give a feedback about the same to the company. They are more than happy to hear from customers at it only helps them in serving everyone better.
The online store neatly displays all the various types of shoes that they stock. These include a line up from many known brands like Clarks, Rockport and their own in-house label as well as many other popular names from the world of footwear. The collection at Shoetique includes boots, slippers, willies, heels, wedges, flats, clogs, boat shoes, sheepskin shoes, pumps, ballerinas, trainers, sandals, stilettos, flip flops, slippers, boots as well as many other designs meant for both men and women. Apart from shoes, one can also buy many footwear related accessories. The company also offers sales on many items at regular intervals; therefore you should visit the website regularly to know the latest schemes in order to get the best deals.
Shoetique ensures that each customer is satisfied with their online shopping experience with the company. To facilitate this further they have kept a very transparent policy regarding the exchange returns and delivery process. You can visit the online store to know more.