With Halloween being mere days away, you can hardly expect for people to wait till the actual day dawns to slip into their costumes. You think it's just you, your friends and your kids who want to dress up early? Nah. Everyone looks forward to the day they can be someone else, and if you can't wait either then you are just like these celebs who made their way in full costume to the Hub Network First Annual Halloween Bash at the Barker Hanger in Santa Monica, California on October 20, 2013. Check out their fun digs.
Anna Easteden came dressed as something between a bar wench and one of Robin Hood's band. She looked deliciously medieval in a short asymmetrical maroon skirt, a corset top, brown boots and a red-feathered hat.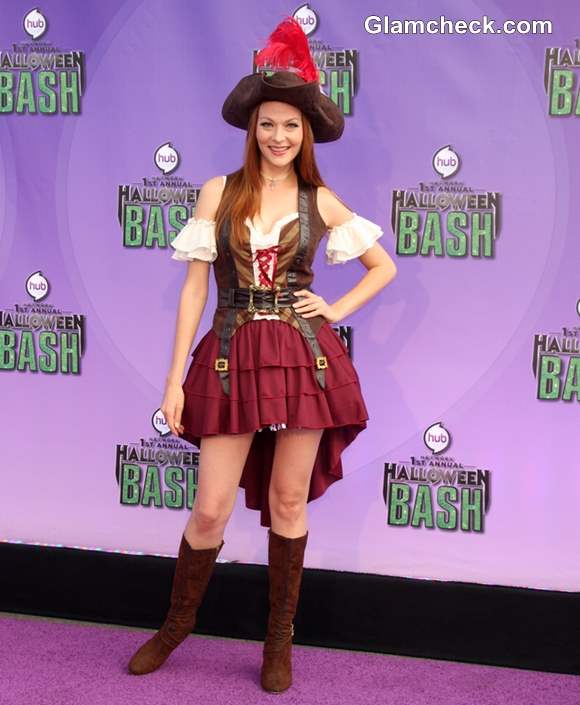 Anna Easteden Halloween 2013
She could be pouring drinks in a crowded pub or crouching in a tree to ambush the evil sheriff. We buy into her look completely, especially since her red hair gives her this feisty appeal.
Young Bailee Madison was what every girl dreams of being – a princess in a fancy ball gown.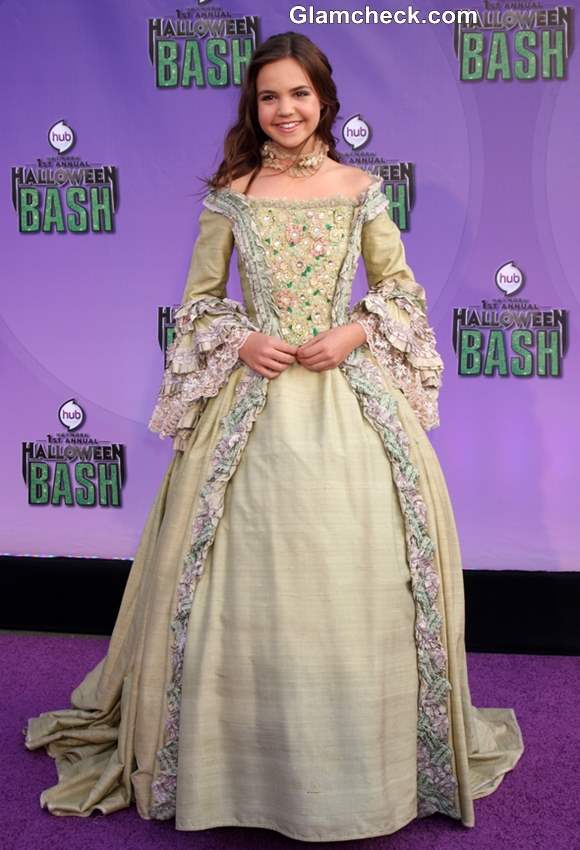 Bailee Madison Halloween 2013
We may be well past our own teens, but we're still totally gushing and falling over ourselves fantasizing about being in a ball gown like Bailee's and pretending that Prince Charming is just around the corner.
Coco Jones chose to be an angel, but how naughty or nice she really was no one can tell for sure. She seemed to be going for the angel on top of the Christmas tree look with large, life-size wings, gold peep-toes and a gold disc radiating from her crown.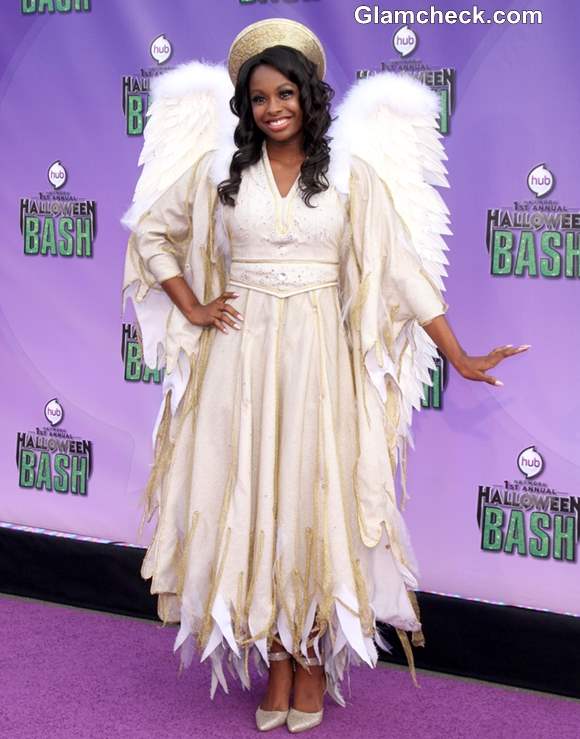 Coco Jones Halloween 2013
Fallon Smythe sported a short lace green dress and a long black overcoat. There seems to be something of the Poison Ivy look about her, you know, what the villainess would wear when she wasn't in her leafy attire.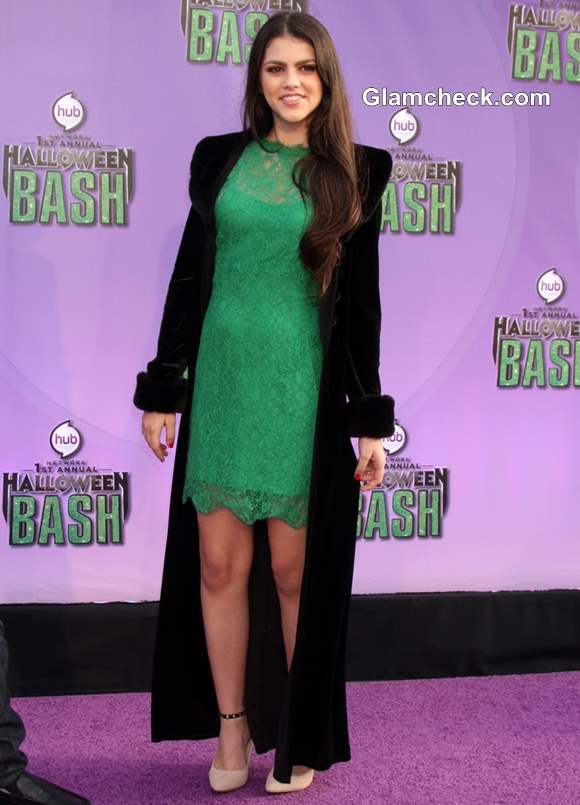 Fallon Smythe Halloween 2013
But it was completely open to interpretation as she didn't particularly stress on any aspect of her outfit which could give us a hint.
Katherine McNamara looked cute and sprightly as the Mad Hatter. Of course, the avatar had a sexy makeover, as most costumes do nowadays. She wore a red frilled mini skirt with a short red blazer.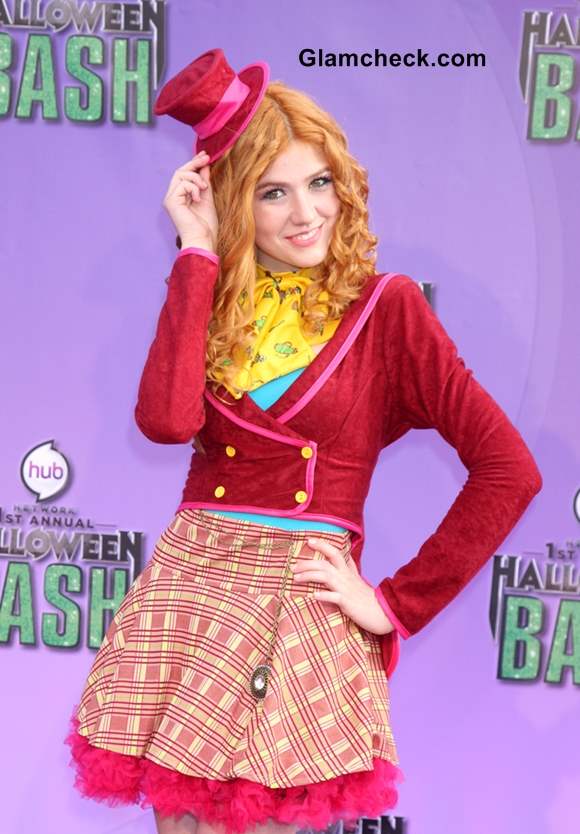 Katherine McNamara Halloween 2013 look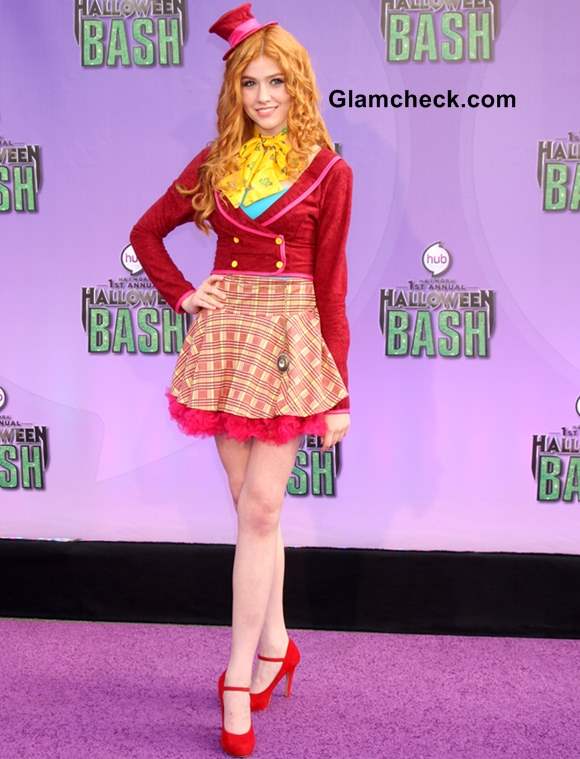 Katherine McNamara Halloween 2013
Her small red hat, tilted sideways on her head, and her red ankle strap pumps rounded off her look. If you like her costume, get a few more tips on putting it togethere here.
Maitland Ward did indeed come as Posion Ivy, no mistaking her costume at all. It was a very low key version of the look – plastic leaves stitched minimally on a tiny strapless green dress.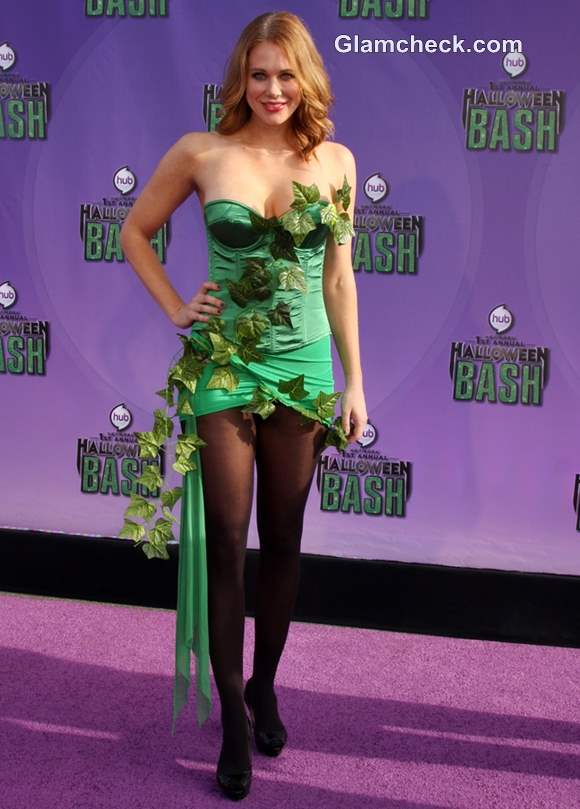 Maitland Ward Halloween 2013
We like the plain black stocking and plain black pumps, especially as they create a nice, clean silhouette and do away with non-essentials.
And now we start with the fairytale looks. Martha Stewart decided that fairy god mother was the way to go. She definitely looked the part in her over-sized pink lace dress with heavy ruffle detailing around the neck.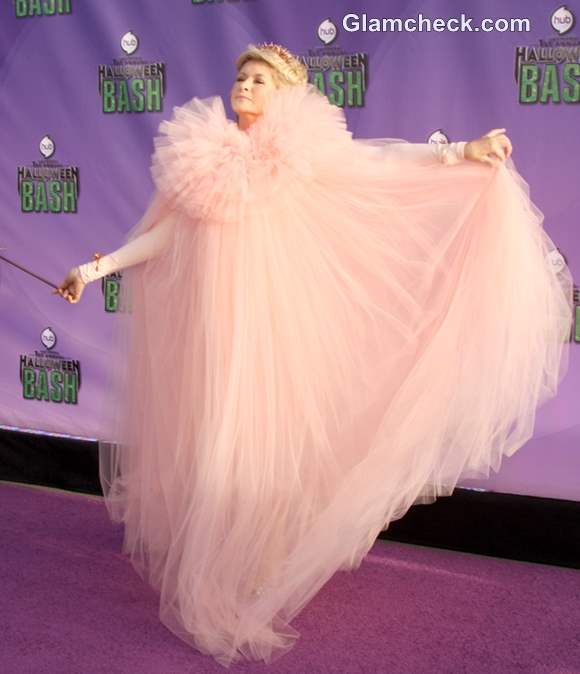 Martha Stewart Halloween 2013
She wore a pink-stoned crown and carried a wand for a nice finishing touch.
Michelle Stafford pulled a Snow White, but a sexy Snow White, of course. She wore an outfit that was exactly like the one the Disney princess wore in the popular animated version of the story, except that the yellow skirt was much shorter.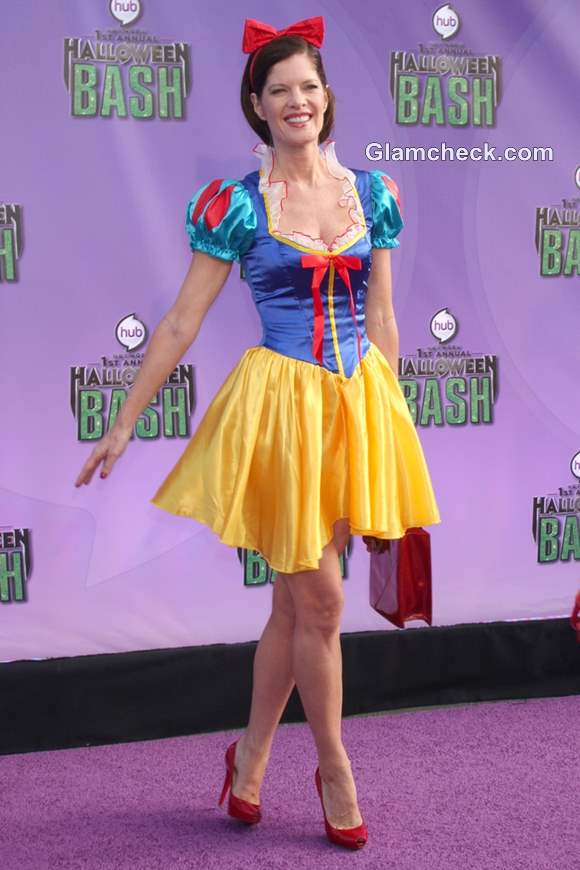 Michelle Stafford Halloween 2013
She added contemporary elements with a red purse and red heels.
Ryan Newman tended sheep in her Little Bo Peep get-up. Little Bo Peep wore a very little skirt, even the shorts underneath were longer.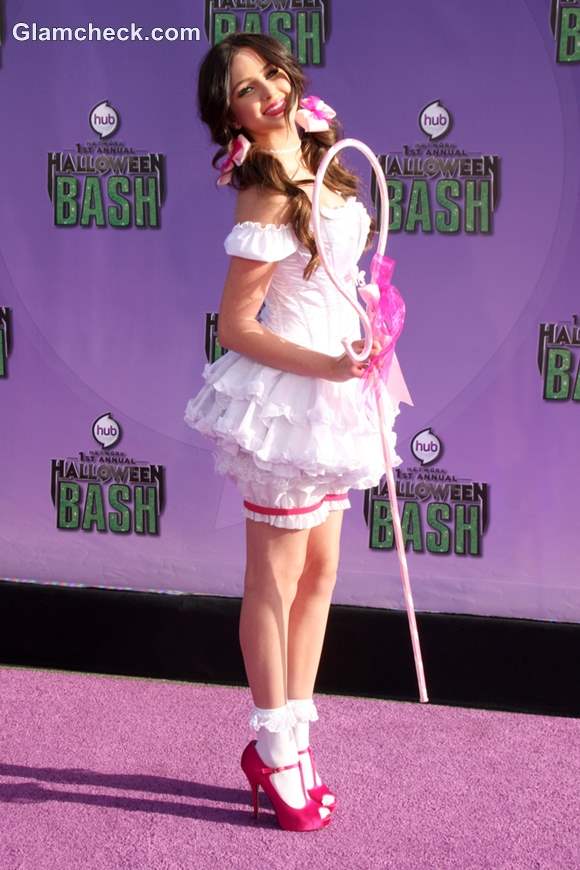 Ryan Newman Halloween 2013 look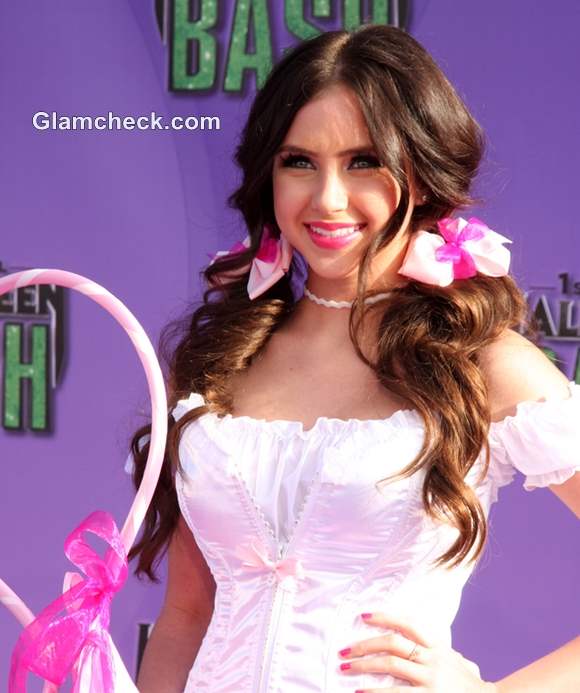 Ryan Newman Halloween 2013
She added cute but highly titillating touches to her look with lace-frill socks, pink T-strap peep-toes and her ponytails in little pink bows.
Victoria Strauss too wore a bit of an ambigious costume. She seemed to be some kind of an insect, judging by her headband, but we're flummoxed trying to figure out which one.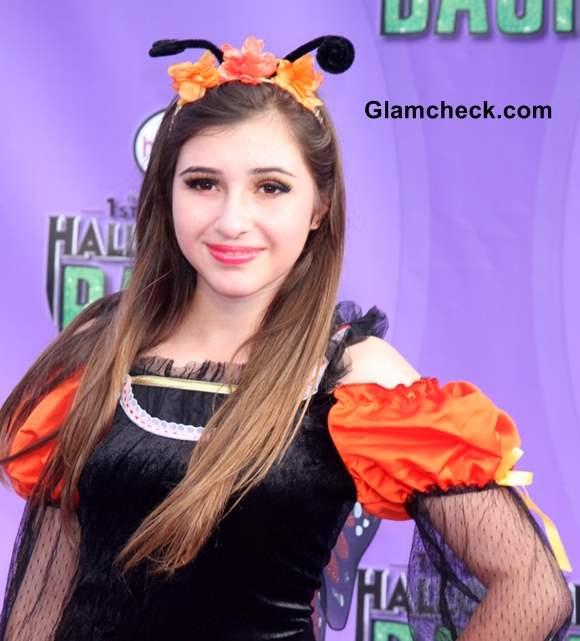 Victoria Strauss Halloween 2013
Still, she looked sweet and at least it did look like she'd worn a costume, unlike Fallon whose outfit we're still trying to place.
These ladies all look great, for sure, but we do wish that at least one of them, someone, anyone, would have tried to actually look scary since that's what Halloween is about. Now that's what takes real skill and we hope to see some spooky get-ups in the spate of Halloween parties to come. 
Image: Shutterstock