In business for nearly 45 years, StuartsLondon is a well known name in menswear. It stocks a wide and varied collection of famous labels as well as their own in house brand. The company has a loyal customer base, which grows by the day, spread across England and Europe. The store is popular for being one of the highest quality retailers in this business. Apart from apparels they also offer an exclusive range of footwear and accessories for men.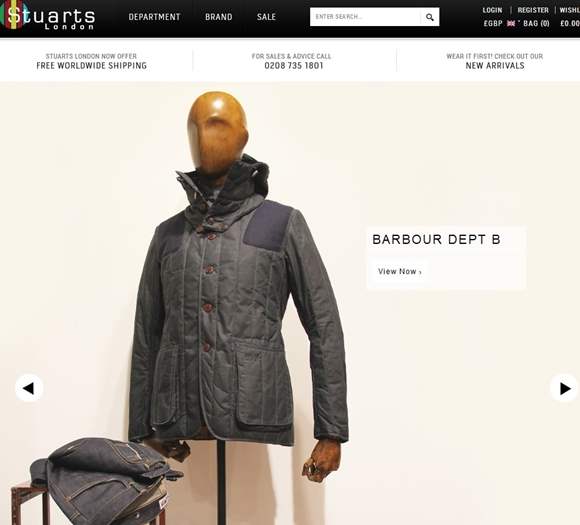 Stuarts London
Many celebrities from the television and music industry swear by Stuarts London. In fact, the company was nominated as one among the top five destinations in London to shop for the latest fashions. The list of distinctions that they enjoy is definitely not limited. The online store is a treasure trove of products that spell fashion, style and trends for men. The company is committed to supplying the best selection of designer labels so that your shopping experience is flawless.
One can pick up from an extensive collection of items that include blazers, cardigans, coats, jackets, denims, knitwear, leather jackets, polo tops, pyjamas, roll necks, shirts, sweatshirts, shorts, swimwear, t-shirts, track tops, track pants, trousers and footwear. The accessory section has its own wide line up such as headwear, belts, socks, scarves, sunglasses, men's bags, wallets, iPhone cases, watches, gloves, underwear, bow ties, water bottles, headphones, blankets, shoe care items, handkerchiefs, clothing care products, umbrellas, bicycle accessories, iPad cases, flammable candles and gadgets. They also stock certain magazines and coffee table books.
Stuarts London also has a loyalty scheme which promises unique member benefits to loyal customers, more details of which are comprehensively explained on the website. Customer can also buy gift vouchers for their friends, family or for corporate gifting purposes. The online store also has a competitions segment that entitles lucky winners to free giveaways, discounts and offers.
The company also has a first rate delivery and returns process in place which allows shopper a convenient and hassle experience – especially after the purchases have already been made. A user friendly website ensures that all the customers are able to manoeuvre through the online store easily.