A nice bright shade of lipstick can literally enliven your face and add sheen to your otherwise dull look. This is exactly why a nice shade of lipstick is one of the absolute essentials in every woman's vanity. The perfect swipe of the lip shade applied correctly on your precious assets is all that you really need to completely transform your dull look. Your search for bearing the right peppy look simply does not end in investing your money into buying some pretty cool shades of lipstick. The trick, on the other hand, lies on how to correctly apply lipstick for rendering the lively look you want to bear.
Unless you want your teeth stained in the color of your lipstick or let your shade bleed out of your lip line, read the write-up to learn the correct way to apply lipstick. Yes ladies, the application of this cosmetic product is an art which must be learnt to avail its best effects.
Here's a step-by-step lowdown on how to apply lipstick correctly.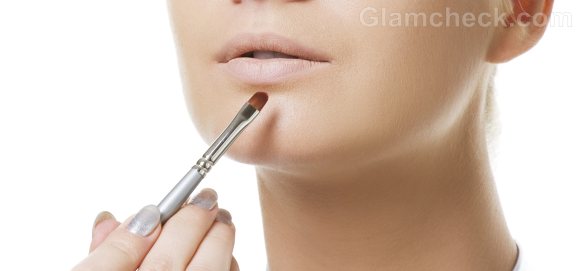 Step1-  Base your lips with a thin layer of foundation/concealer with the help of your eye-shadow brush.  It is better to choose powder based foundation for application as most of are not comfortable using liquid foundation. This step is essential to conceal all the blemishes, pigmentation spots, marks of discoloration and most essentially, scales or breaks on the lesions. Further, the layer of powdered foundation applied keeps the lipstick intact and visible for a long period of time. Also read step by step guide on How to apply lip concealer.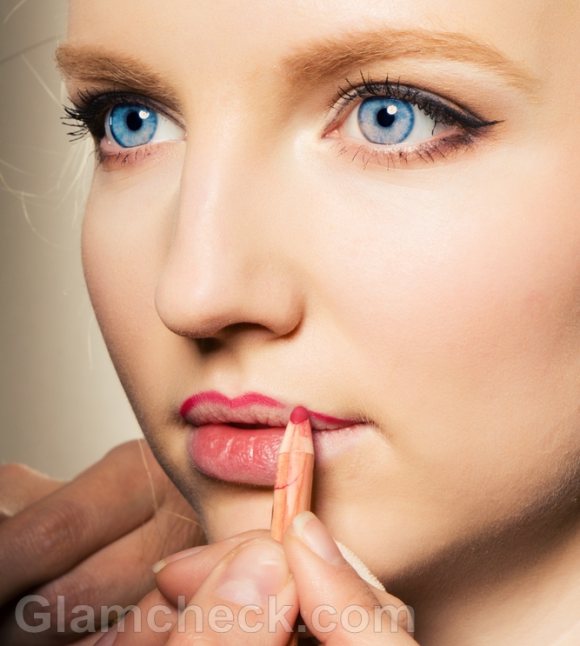 Step 2-  Choose the shade that you want to apply on your lips. Then choose a lip liner with exactly the same shade. Now, often it gets quite a task to choose the lip liner of exactly the same shade as your lipsticks. In such a case, you can choose to apply the liner whose shade is wee bit darker than your lipstick color.
Start the application of the lip liner by first defining the center of your upper lip. It is ideal to complete the application on the upper lip in two strokes. Further, in form of shorter strokes, continue to define your entire upper lip.
Similarly to define the lower lip, start from the center curve and continue to fill the rest of the lip in form of short strikes. Make sure that your mouth is closed while defining the curves of your lips.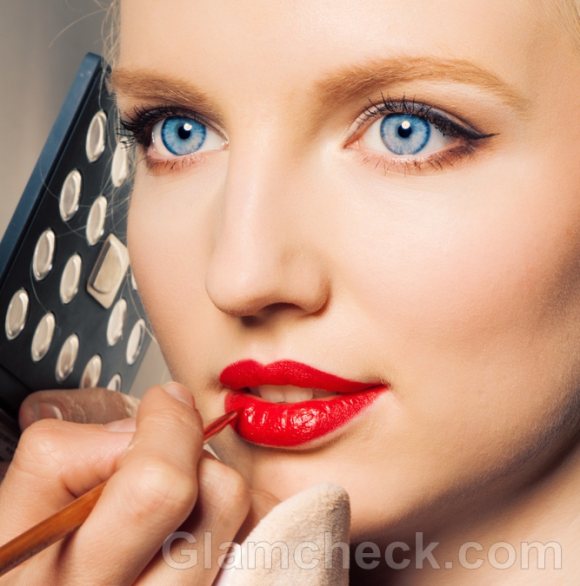 Step 3- Apply your lip shade to a lipstick brush and then begin to fill in the color. Start from the center of the curve and end to the corner. However, make sure not to merge the line of the lip liner with the lipstick.
Step 4-  Now to make sure that there are no unfilled corners, open your lips apart and fill the color into the remaining areas.
Step 5-  Further, gently blot your colored lips on a thin tissue paper. This is a tricky step as many women end up smudging their lipstick. The trick lies in gently touching your lips with the tissue paper so that not much of color is lost.
Step 6- In this step, it is advisable to apply the second coat of the lipstick. This will create a deeper or intense effect on the lips.
Step 7- In case, your lipstick falls out of the lip curves, you can remove the color in essentially two ways. One way is to dab a cotton ball in make-up remover so as to remove the imperfection. The second way is to use a few drops of powder foundation or concealer so as to remove the extra marks of lipstick.
Cool tips on how to apply lipstick properly that never go wrong
Often women do not find satisfying answers to their queries, especially, how to make the lips appear plump or voluminous. Well, the key to this question simply lies in the way you apply lipstick. In precise terms, women looking for making their thin lips appear plump must apply a stroke of lip liner just at the outer lining of the lips' curve. When you apply the lipstick don't forget to apply a layer of gloss.
While learning how to apply lipstick correctly, it is important to learn that with darker shades of lipstick, dark shades of eye-shadow will never work. In other words, if you are applying a stark shaded lipstick, always wear light colored make-up on your eyes.
If you are wondering how to apply the lipstick that lasts long for several hours, the answer lies in the kind of lip shade you have chosen. It is better to apply lipstick which has a moisturizing effect and is replete in sun protective qualities.
It always recommendable to apply the lip liner before you apply lipstick as the crisp line of the liner keeps the lip shade from bleeding.
In case you don't have a matching lip liner to go with your lipstick, it is advisable to apply the tip of your lipstick on the outline of your lips. This will well define your lips and make them look fuller.
How to select the right shade
On this guide of how to apply lipstick correctly, it is important to disclose lip wonder secrets of our most admirable celebrities. Remember ladies red lipstick can never become obsolete or outdated, no mater what times you are living in. Red lip shade is regarded as the most contemporary yet classic shades of all times. Check out any fashion magazine or newspaper, women bearing red colored lipsticks are literally ruling the hearts of millions.  Read How to wear red lipstick and manage to carry it off.
Apart from red, you must learn on how to pick those shades that complement your look. As most of the experts say, the correct way of how to choose the right shade for your self is to always pick those shades that are at least two times darker than the color of your natural lips.
With so many brands investing money to give us a wide range of lip shades, it is important to learn the basics on how to apply the lipstick correctly before experimenting with any shade.
Image: Shutterstock