The Rag & Bone Women's Collection showcased during Spring 2014 Mercedes-Benz Fashion Week on September 6, 2013 in New York City saw some interesting trends for styling. The brand lived upto its trademark look of being tomboyish and metropolitan.
Combining silhouettes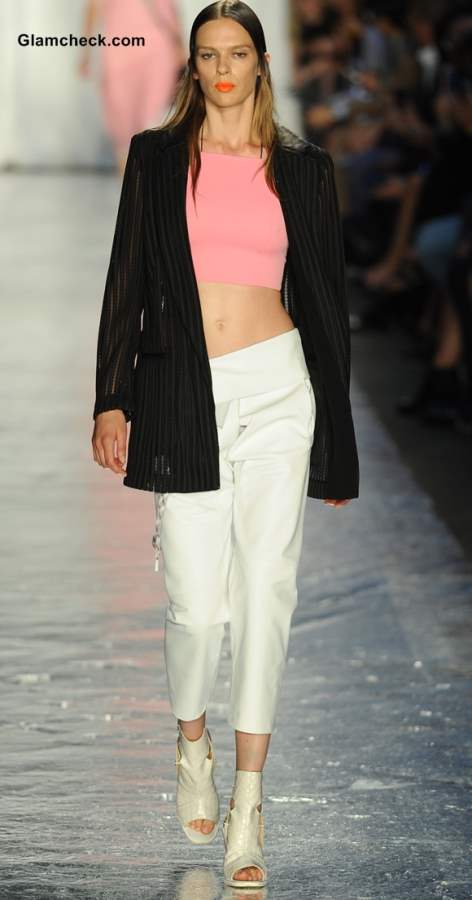 Crop Top with long Blazer – Rag and Bone Women Collection Spring 2014
Formal and casual silhouettes were combined to give a unique look where in a cropped halter top was worn with a simple long blazer. The silhouette mismatch was rather unusual and distinctive. It was like revisiting the 90's with a contemporary twist. This latest fad to hit the block combined unpredictable silhouettes and created a cohesive look. The blazer here is a striped one with an alternate between lace and fabric which added to the visual appeal of the ensemble. There was a sense of masculinity as well as feminity in it. The challenge lies in how different silhouettes having different textures are combined to give a street –chic appeal, without being a fashion victim.
Colour blocked!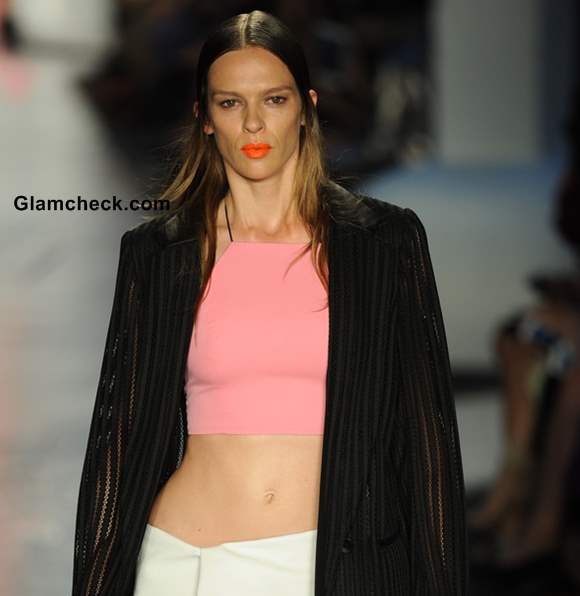 Color Blocking Trend Spring 2014 Rag and Bone Women Collection
Colour blocking was also a trend spotted during the show which added an extra element to the whole look. The single pop of colour added to the youthfulness of the ensemble making it fashionable and chic. The combination of pink with the serious black and white lent a whole new vibe. The color used here for blocking is not a fully saturated pink color making the look very subtle. We can see another pop of color being added through the bright coral lipstick which complements the pink.
Try it!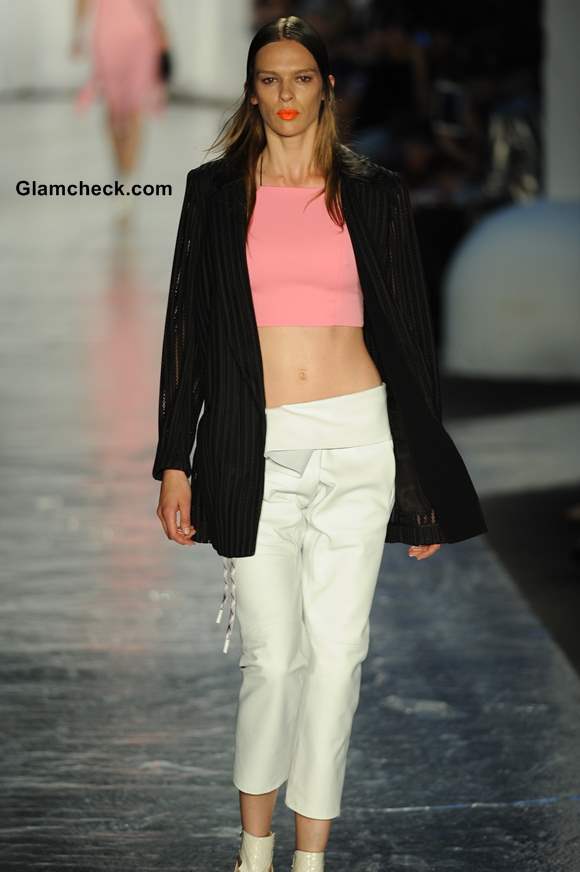 Color Blocking Spring 2014 Rag and Bone Women Collection
One can opt for a boxy jacket or a simple blazer with structured pants and a cropped top to get this look.
In case you would like to avoid showing your mid rift, opt for a longer casual top like a tank top or a tube top.
Go for neutrals or monotones in overalls and add a pop of colour through one element like a top, jacket or footwear.
You can also add colour through some arm candy or a chunky necklace to create a point of emphasis.
For the evenings one can opt for a bold coloured clutch complementing the monotone ensemble.
A hint of color can also be added through the make-up using complimenting colors but make sure it does not over power your look.
It would be interesting to pull off this look by playing with the silhouettes and adding a bit of color. You can wear it to parties or get-togethers to get noticed. Whatever you do, make sure you don't go overboard and stick to overall neutrals in times of crisis. You can add the color through makeup and accessories like clutch or footwear with it. The pop of colour should be restricted to two elements to the max.
Image: Shutterstock