The DKNY Women's Spring 2014 fashion show during Mercedes-Benz Fashion Week Spring 2014 on September 8, 2013 in New York City had a new trend in store for us. The extremely colourful and eclectic use of badges on jeans caught our eye. As per dictionary definition, badges are small pieces of metal or cloth or plastic bearing a design or words. A range of badges, patchwork, emblems, epaulette, alphabets and cartoons were seen. The look was very casual and relaxed yet trendy and chic. The fashionista amongst ya'll can definitely try this look and turn some heads!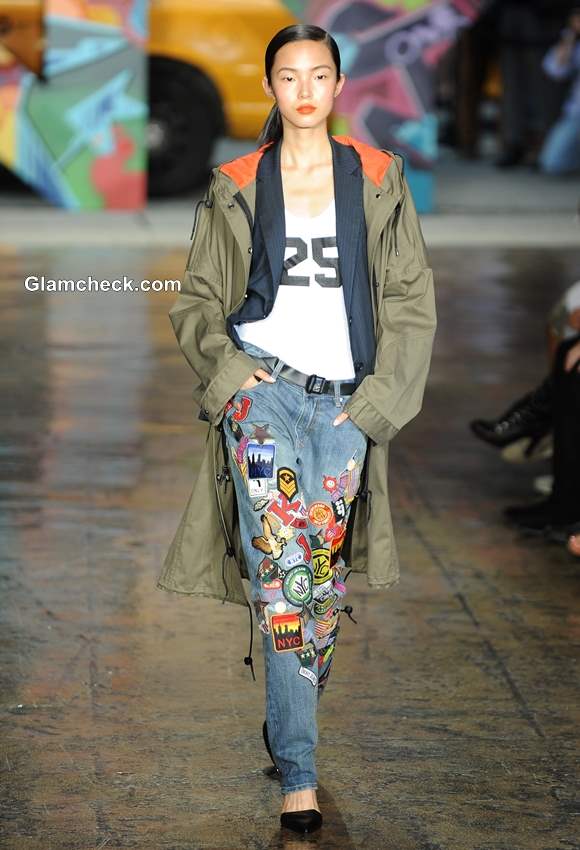 Denims DKNY – DIY Colorful Patchwork
These jeans can be regarded as highly functional and fuss free as it can be worn with almost anything and everything. It can be teamed up with tank tops, t-shirts, jackets, etc. The result can look very street stylish and individualistic. One can go in for a minimalistic look by teaming this pair of jeans with a basic tee so that the focus is just on the jeans. If you are in a mood for some experiments, you can try layering up the look and wear some funky accessories. Try adding a pop of colour through the footwear or a bag during the day time to add to the fun.  
DIY your own jeans!
What you need:
An old pair of denims that fit well
Badges, epaulettes, etc
Needle and thread
Iron and Ironing board
How to do: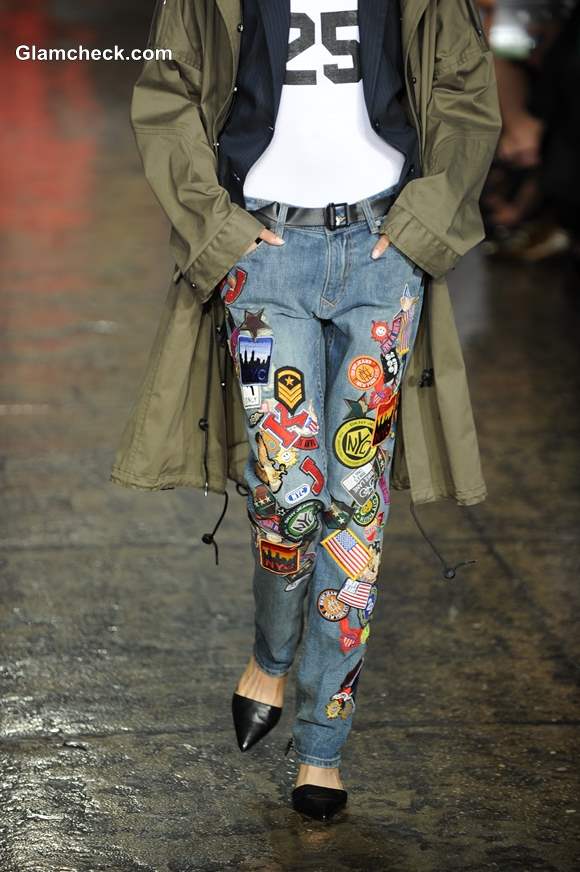 DIY Colorful Patchwork Denim Jeans DKNY Spring 2014
Buy a few of the badges of alphabets, organizations, cartoon characters, flags, cityscape, etc along with some epaulettes and emblems. They are easily available at craft stores.
Take the pair of denims and place these badges one by one on it thereby making a composition.
You can place them densely or sparsely according to your taste. Maybe clustered at one place or spread out all over.
These badges can either be sewed or can be ironed if they are transferable iron on stickers. 
After you are done, make sure that every badge is fixed.
There you go; your denims have been transformed!
Now adorn this masterpiece at casual get-togethers or at day events to some grab attention. This glam detail edition to your jeans would be giving a new life to your tired, torn-up jeans at the back of your closet!
Image: Shutterstock