A fun trend was seen at the Fashion Wardrobe show by Marktina Banozic on November 07, 2013 in Zagreb, Croatia. The slip-on footwear was covered with real flowers! A pair of ordinary looking slippers can make into very interesting one, just by this addition. We have seen bows, brooches, buckles, etc. on footwear but this is something else. This concept can be applied on just about any pair of footwear, be it flip-flops, ballerinas, loafers, sling-backs or even pumps!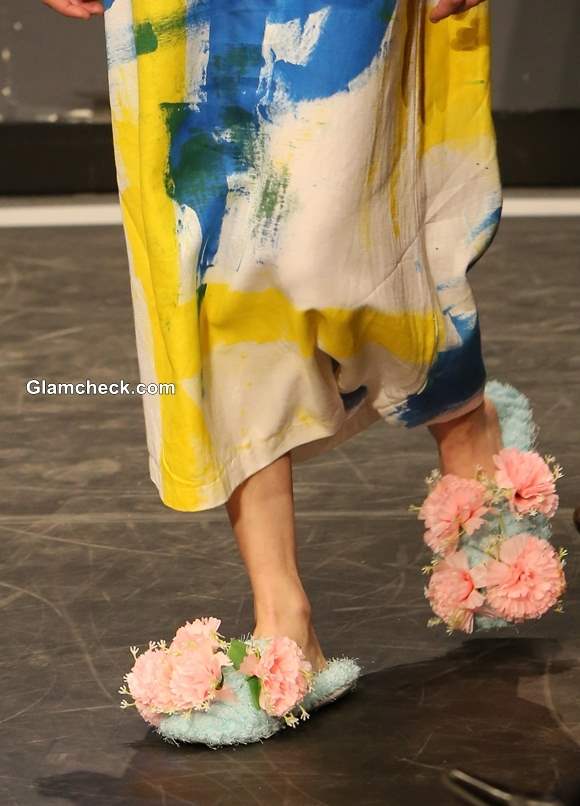 Floral footwear by Marktina Banozic
The number of flowers that you use can be spread all over the shoe almost covering it entirely or restricted to one part. You can opt for any kind of flowers; you may want to experiment or stick to the flowers in the pictures like carnations or dahlias.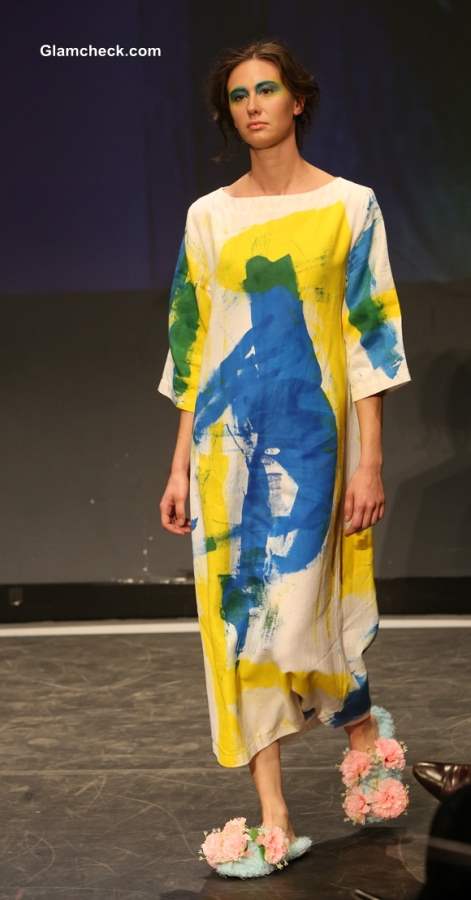 Floral footwear DIY
What you need?
A pair of footwear that you are willing to recycle (ballerinas, slip-ons, flip-flops, etc.)
Some fresh flowers/artificial flowers
An adhesive or hot glue gun
Needle and thread
What to do?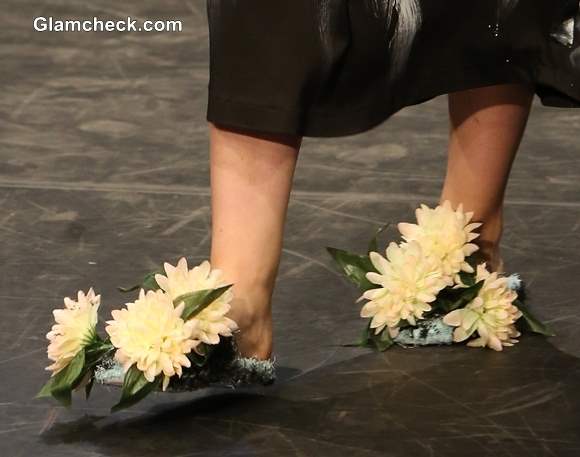 Floral footwear DIY Marktina Banozic Fashion Wardrobe show 2013
Take the footwear you are ready to recycle and place the flowers on the shoe.
You can spread the flowers all over almost covering the upper of the shoe or if you would like to be a little subtle, you can opt to cover just a part of it. For example, you can place the flowers densely only on one side or the mouth of the shoe.
If you think using too many flowers is not your thing, you just use one or two flowers and place them on the side of the shoe to be a little understated.
Then paste it with the adhesive or stitch the flower to the shoe (if the shoe is made in fabric) neatly.
You can experiment with various kinds of flowers according to your attire. Each time you will end up creating a different look! It's like making a private garden for your feet! One can also use a mix of flowers along with some small leaves and tiny flowers to add to the elements. But make sure you don't add too many elements otherwise it might end up looking tacky. To make the footwear last longer, you can opt for stylish fabric or silk flowers as well.