Doesn't your little girl just love to dress up and try new hairstyles? But kids become bored too soon and demand newer alternatives. So today we bring you a messy double bun that is fresh and easy to do as well, so that both you and your daughter are happy.
We spotted this adorable hairstyle at the petite Parade show by Stride Rite during kids fashion week sponsored by Vogue Bambini at Industria Superstudio in New York City. It looked cute and we had to share the steps with you!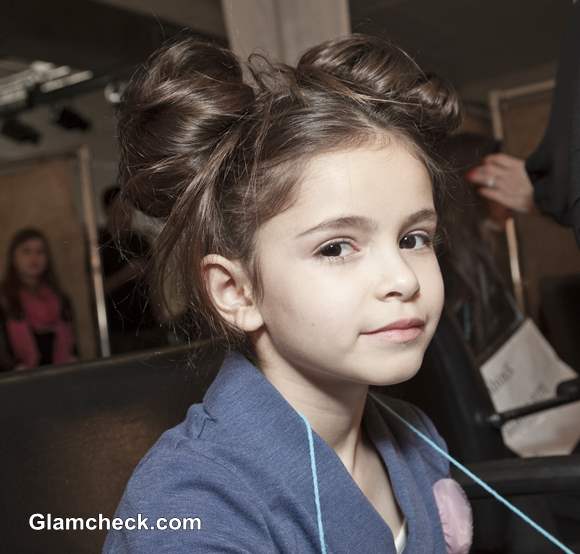 Messy Double Bun Hairstyle for Little Girls
Steps for the messy double bun
Start by combing her hair well to remove any tangles. If the hair are freshly washed and dried or just a day old, the hairstyle will come out better.
Next part her hair in two equal parts using a rat tail comb. 
On purpose, separate two thin sections of hair on either side of the head. Don't tie them as yet.
Taking one half of the hair (leaving the sections in point above), make a ponytail on the side of the crown of the head. Use a rubber band to do so.
While wrapping your rubber-band around for the last time, don't pull the hair all the way through. Instead stop before it and hence having a loop of hair instead of a pony.
Now from this loop, pull sections in different directions (not out of the rubber band) and pin them using bobby pins. 
Be as messy you like, and pretty uneven to achieve the look. But make sure that you spread sections in all directions so that the final shape resembles that of a bun.
Repeat the same on the other side of the head, taking care that you make the bun at the same height and place.
Once you have the messy buns, now is the time to use the thin sections of hair that were separated earlier.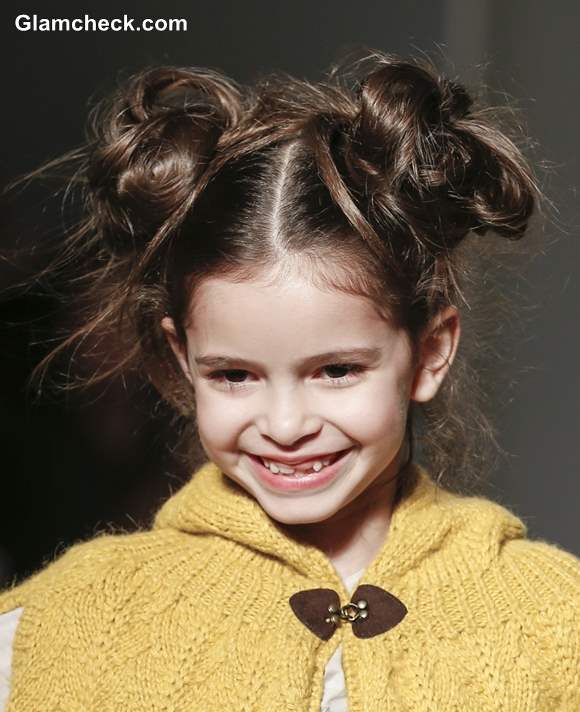 Messy Double Bun Hairstyle – Little Girls
As shown in the picture, wrap the sections around and away from the buns, crossing over to the other side as well. Get messy!
Pin them in place and your messy double bun is ready!
A fun and cute hairstyle right? We are sure your little girl will love it, so try it soon whenever you can! 
Image: Shutterstock