Picking the right shoes for working out can be a daunting task. The market is inundated with literally thousands of brands and hundreds of types of workout shoes. And every single brand has another score of shoes under its banner. Not to mention the almost absurd variations in the prices of all this workout footwear – some as low as a meal for two and some costing a small fortune. All this 'choice' just leaves you even more confused than when you started out. It may be a difficult job, but taking the trouble to find a pair of shoes that work for you while you work out is one of the top most imporatnt things when it comes to exercise. Here's why.
Why The Right Shoes are So Important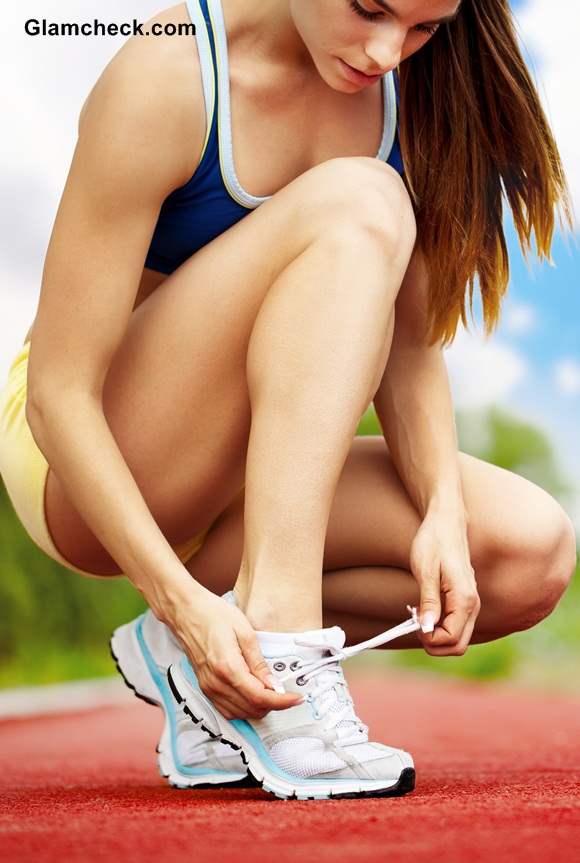 Women's Workout Shoes
The most important reason that you need the right shoes while working out is because they help to reduce the risk of injury to your feet while you are physically exerting yourself. If you injure your foot, you could be laid up for days and that could hamper your workout as well as your fitness goals. If all it takes to prevent a sprain, a catch or a fracture is a pair of good shoes, then it is definitely worth the investment of your time and money.
If you are a runner or include cardio in your workout, then the main function of your workout shoes is to reduce impact on your joints. Good shoes absorb the shock and there is a lower likelihood of hairline fractures or other joint problems that are common among joggers.
The right workout shoes give you stability. It helps you with better posture. Some types of shoes will even correct imbalances that result from your natural foot alignment issues such as flat feet. Stability is important because it takes us back to our first and primary reason for choosing good workout shoes – it helps prevent injury.
How to Select a Pair of Shoes for your Workout
Knowing that you need a good pair of shoes is just half the solution. The other part is knowing what exactly that means and what factors to consider when buying shoes for a workout. Here's a layman's read for what you need to know.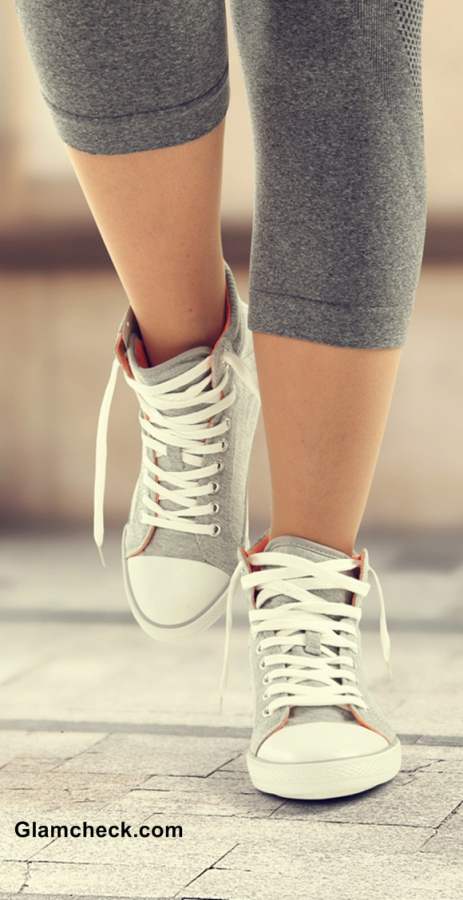 How to pick the right Workout Shoes
Picking the Right Size
The most important thing when selecting any shoes, whether for a workout or to go with an evening gown, is that it is the correct size. Too big or too small, both are just as bad so don't fool yourself into thinking that either is less of a health evil than the other. The right sized shoes are especially important when working out as that is when your body needs stability the most and that simply will not happen if you're tottering around in something painfully tight or shuffling in a loose pair. The size of your feet change throughout the day. It is smallest just when you get out of bed and expands as the day goes on. So logically, they are the largest towrds the evening. The change is not dramatic so you don't really notice. Go shop for your shoes, any shoes, in the evening since the shoes that fit you then will accomodate your feet well from morn to night. Some stores that specialise in shoe fittings will have you come in for a fitting, assess your stride and running form on a treadmill and only then suggest the kind of shoe you need. Custom-made shoes are also common now so your quest for the perfect pair can go as far as you are willing to.
Comfort
Yes, yes, everyone says you need to 'break in' a new pair of shoes and only then do they really start to get comfortable. Maybe that's true, maybe it isn't. But you cannot hope for that when it comes to your workout shoes. They absolutely must be comfortable from the very second that you put them on your feet. When you are trying the shoes on, walk around in them for a few minutes. Try to mimic the motions you make with your regular exercise routine. Do a few squats, jog in place or take a quick walk around the shop. The shoes should give you no trouble at all and you should feel like they are enhancing your workout. While there should be enough space in the front that you can freely wriggle your toes, you shouldn't be slipping forward from a lousy insole either. Try the shoes on with the socks you normally wear during your workouts as they too will affect the size which in turn affects your comfort.
Choosing a Type
Most of us tend to workout pretty normally – a jog here, a walk there, some strength training at the gym, maybe a hike on the weekends. You can pretty much get away with the same pair of shoes, crosstrainers, for all these activities. However, if you are into more specialised forms of working out – like, say, football, dancing, tennis, skiing or hockey – then you'll need to get shoes that are particular to that activity. Ask an instructor, coach, expert or a knowledgable salesperson at the shoe store what you will need. Also do your own aggressive research before choosing a pair.
Other Factors
You cannot always know the quality of the shoe unless you use it for a length of time. However, you can at least do a superficial check before buying the shoe. Check the stitching and the finish of the shoe. If the detail is good, there's a chance that other indiscernible details of the shoe are also attended to. Bend the shoe. If it is easy to do this, then it is very likely that the pair will not offer your feet much support. Know that there are a lot of technicalities when it comes to shoes but you don't need to be a shoe expert when selecting a pair for your workout. In a nutshell, your shoes should be light, comfortable, and made for the activity you are performing. Just as important as choosing shoes for working out is knowing when to let them go. Ideally, if you are exercising at least three times a week or more, you should be replacing your shoes anywhere between 6 months to one year, but not longer. Many people tend to judge how much longer their shoes can last based on the condition of the sole. But that's not as accurate an indicator as you think because shoes made for working out usually have reinforced soles which do no wear out easily. Instead, check the insole i.e. the part of the shoe that is right below your feet. If that shows more depression in some areas than others, then it's time to let the shoes go.
Image: Shutterstock