The 24th editions of the Barcelona Bridal week (5th -10th May2014) kicked off at the Pasarela Gaudí Novias Fashion Show with an eclectic mix of- vintage, sensual, romantic and some audacious trends that were showcased. The bridal week edition was definitely a mark of fashion epitome setting its position in the International arena of fashion business. Out of the many outstanding designers that displayed their collections at the fashion week, Matilde Cano's Bridal collection was a stunner.
The Andalusian designer, Matilde Cano's designs take inspiration from her home town Cordoba in Spain. Matlide's collections are a reflection of her meticulous understanding of fabric interplay. She is known to have experimented with new fabrics and creative textures. She has pioneered the art of combining gauze, raw silk, Chantilly lace, organza and satins. Her high in demand collections are now available across Europe, Saudi Arabia, Italy and Portugal.
The collection that Matilde showcased at Gaudi Novis was inspired by the eclectic mix of concepts of boho-luxe, hippie movement, youthfulness of a bride, flower power and material exploration. The head dresses in particular were a stand out.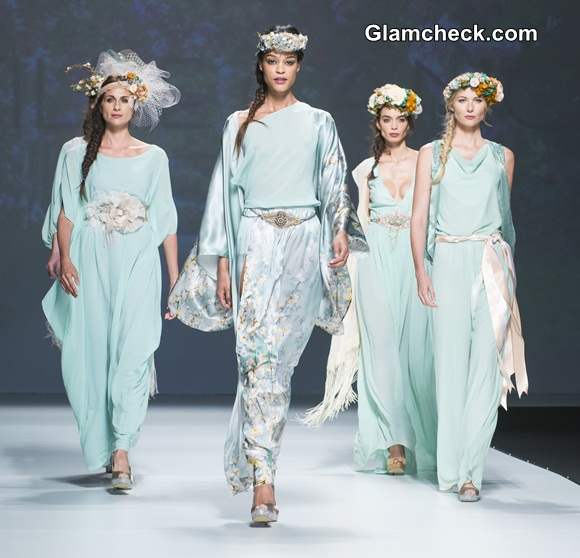 Models walking the ramp in Matilde Cano's Bridal Collection 2015
The nostalgic headdresses that the models sported transformed the ambience into a gateway of heaven, with ethereal ensembles in tones of tiffany greens to pinks- a classic play of pastel colours. The diaphanous interplay of fabrics such as satins, georgettes, Chantilly laces, breezy chiffons and gauze made the sight delightful. The bespoke headdresses were an instant reminder of the late 1880's and 1890's Victorian headdresses. Each headgear was unique in itself almost having a character of its own. The headgears showed the use of complex techniques and were done with great realistic finesse.
The Bridal Headgears that we bet on:
Look 1: The flower power inspired headgear created by Matilde Cano is an interesting combination of techniques. The tasteful choice of beautiful fabric florets and flower bunches in pastels shades are assembled meticulously in a gradation styled tiara, thereby reflecting Matilde's design style. The messy hair and braid gel beautifully bringing out the hippie and boho-luxe concepts.
This headgear is a perfect option for a rather demure bride.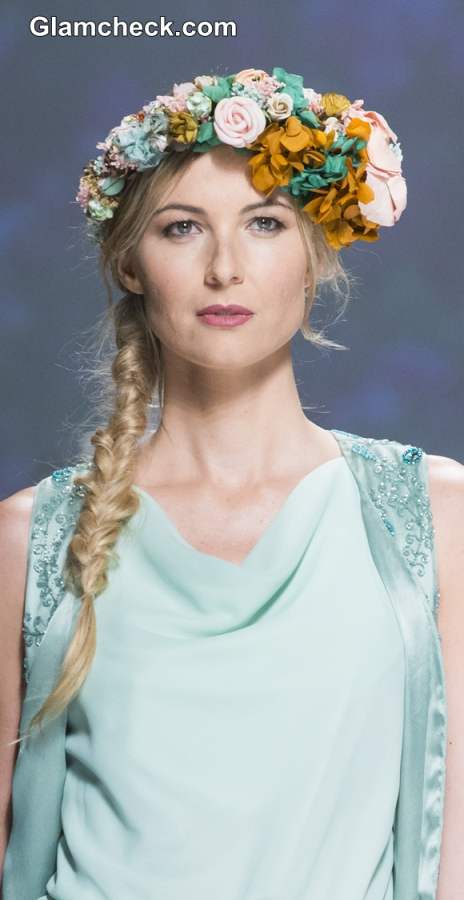 Bridal Trends 2015 Matilde Canos Bridal Collection 2015
Look 2: In another variation resembling the classic Victorian styles, Matilde incorporated gauze in juxtaposition with fabric flower bunches in underplay.
What caught our attention: is the peek- a-boo of pastel shades with the intricacy of the flowers which have a very dreamy and dramatic effect.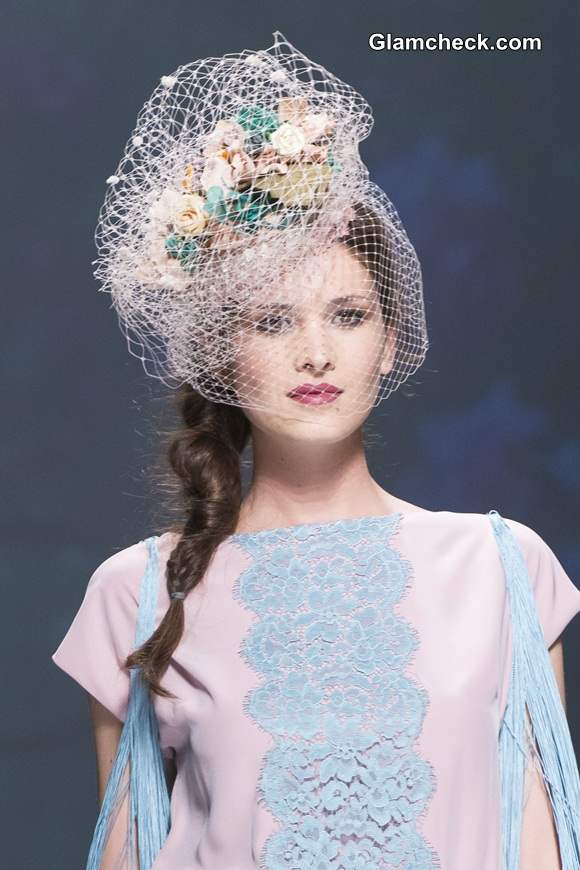 Bridal Headgear Trends 2015 – Matilde Canos Bridal Collection 2015
Look 3: Matilde Cano is known to combine techniques of crochet, braiding and knotting. This headdress is rather a surreal combination of all of it. The 1980's inspired asymmetrical headgear has its base made of crochet in a floral pattern set with glass beads and an asymmetrical pastel flower bunch on one side with gauze thrown- in, almost resembling a flower on its own.
This larger than life headgear suits the outgoing, playful and naughty bride who wants it all on her day. The messed up hair thrown- in a braid perfects the boho spirit.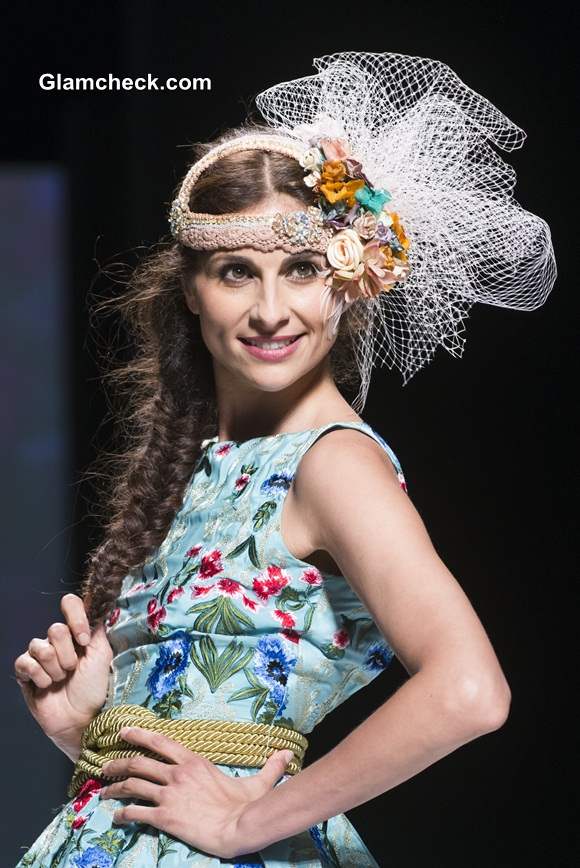 Bridal Headgear Trends 2015
Look 4:
In a classic rendering of boho-luxe, Matilde Cano has beautifully combined satin roses in pinks and reds set in interplay of fur and feather. The placement of a red rose in centre is to die for! The use of black gauze down the face definitely accentuates the floral headgear. This headgear is perfect for a romantic yet shy bride.
What caught our eye: is the combination of various textures and material exploration. The use of fur and feather makes this headgear an empyreal one for sure!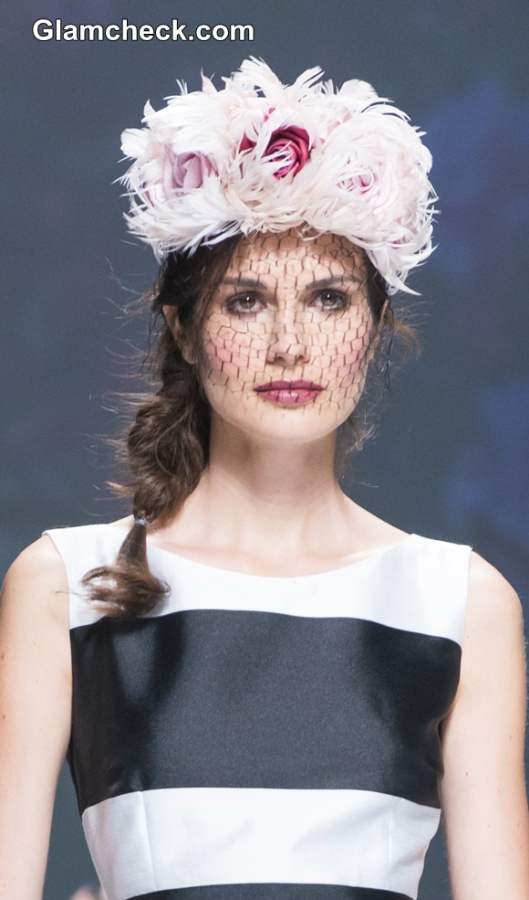 Bridal Trends 2015 – Headgears
The verdict:
Natural realism was clearly reflected through Matlide's collection making it a stand out bridal trend for 2015. The interesting combination of boho-luxe projected through the majestic headgears and hippie movement with the messy hair paired up well. Matilde has created a variety of headgears to suit the various personalities of brides. The use of interesting techniques of floral edging, glass beads, crochet, laces, and floral realism with that fineness is what makes Matilde Cano's collection a stand out for us!
Image: Shutterstock