Side buns were a super hot trend in 2014 and it looks like it is here to stay judging by the runway looks spotted during the Mercedes-Benz Fashion Week Madrid which was held on September 14 in Madrid. The styling of designer Ulises Merida's Spring Summer 2015 featured the low side-bun which we all love so much. Unlike the clean and soft side buns often spotted on celebs, it was given a more natural, slightly messy feel.
Hairstyle Inspiration for New Year – Elegant  Low Side-Bun
This hairstyle is just so perfect for the New Year festivities, given how simple yet elegant it is. It will compliment almost any look, be it dressed up or casual. What's even better is that it keeps hair off your face and you won't appear as if you're trying too hard.
To spot this hairstyle, all you need to do is side part your hair and pull your hair into a low side ponytail. Gently pull back strands of hair from around your face to give a softer look. Just make sure your hair frames your face naturally without much strain. Lastly make a bun as per your wish and secure it with pins. Finish off with hair spray to hold the look.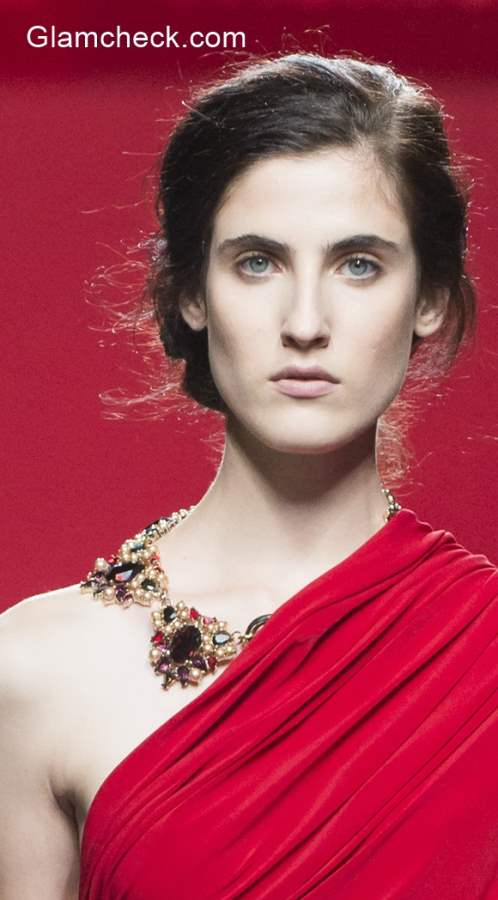 Elegant  Low Side-Bun Hairstyle for New Year
For a more natural look, keep your make-up basic just like the model for Ulises Merida. If it is an evening look, which usually demands more glamour, just add either bold lip color or smokey eyes.
Image: Shutterstock