The 80's still are our best sources of inspiration for fashion, makeup, trends etc. The futuristic 80's makeup style with – more the colours the better it is concept makes it a stand out option for all makeup artists and style divas.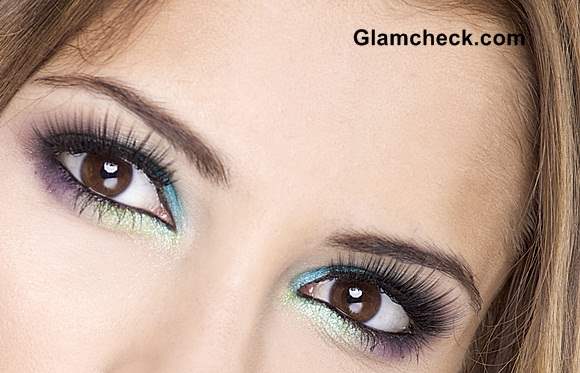 80's eye makeup
To flaunt this sexy eye makeup look you will require:
Metallic bright eye shadow in blue, green, purple shades; black eyeliner, black eye pencil and mascara.
To get the look: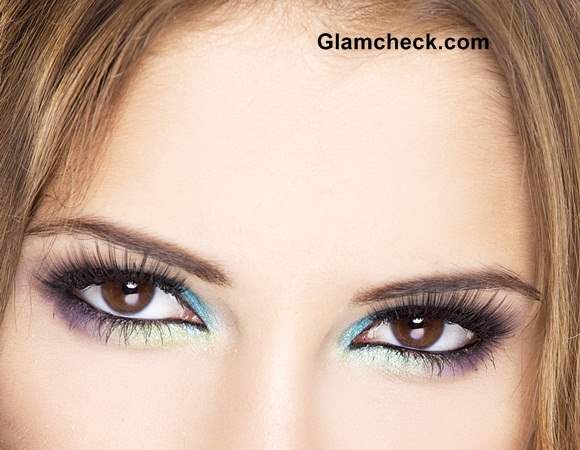 80s eye makeup look
Apply cream on your eye lids before you start

Start with the lightest shade of eye shadow in this case the blue metallic eye shadow

Start applying the blue shade from the inside corner of the eye lid till the middle of the eye lid

Work on the second section by applying a dark metallic purple shade and bled it in the middle with the blue

Extend the purple shade outwards at the outside edge of your eyes and follow the lower lid contours.

Apply a fairly thick spread along the lower lid contour until half way.

Continue down the lower lid with the green eye shadow making sure that colours blend well at the centre

Using a black liner line the eye lid with a thin black line, double coat if it looks too thin

Finish with several coats of black mascara making sure those lashes turn out beautiful.
If you do not have metallic eye shadows you can pull this look off with eye liners too!
Image: Shutterstock