The Fall/Winter 2015-16 make-up trends seen on the runways of Paris, Milan, New York and London was a mixed affair of natural, soft and bold. Bright pop of colors on the eyes with nude lips were one particular trend that held our interest. As sophisticated as this sounds, creating bold eye look isn't that tricky and is all about having fun with intriguing palettes. We've picked two techniques, eye-shadow and liquid liner to make it simpler to choose your personal preference.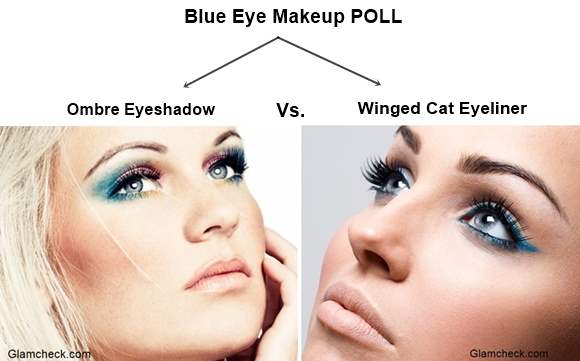 Blue Eye Makeup Styles

Blue and Pink Ombre Eye-shadow
Bring on your imagination and create an interesting ombre palette. Here, the model is wearing bright blue and soft pink.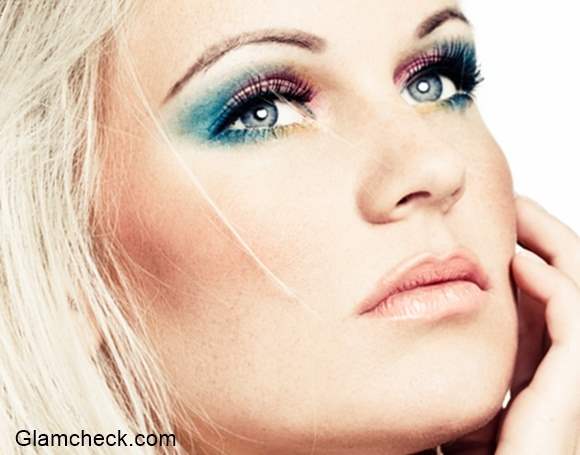 Ombre Eye-shadow Blue and Pink
To create this look, apply a primer, tightline your eyes and follow with a white base before applying any eye-shadow. This will make sure you get the right color intensity and it stays long.
Using a brush, define the crease of your upper eye-lid with a brown or black shade.
Picking the blue eye-shadow, apply it above the crease with a sweeping motion and follow it to the mid-portion of the lower lash line. Blend well.
Now use the lighter pink shade and starting from the inner corner to the mid portion, lightly dab over the eyelid. What you see now is a two-toned look.
To achieve the ombre effect, it is important to give a soft transition. So use dabbing motion to make sure the two colors blend.
For the lower eyelid, use a bronzer or shimmery brown shadow from the inner corner to the mid portion.
Highlight the brow-bone and create a strong brow game.
Finish the look with well trimmed false lashes.
Shimmery Blue Cat-eyes
Unlike eye-shadows, liquid liners create more sharp and intense look. Not many prefer liners since any blots or imperfections are difficult to conceal. But for those who has perfected the art, liquid liners are the simplest go-to glam tool.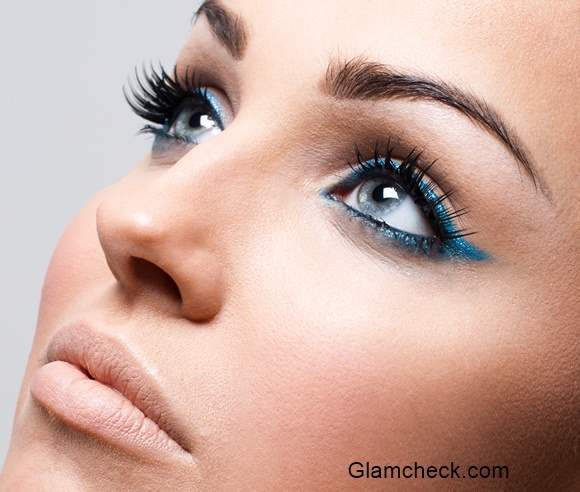 Blue Eyeliner – Winged Cat Eyes
To create this winged cat eyes Look:
Tightline the eyes and with a brush, use a black eye-shadow to define the crease of your upper eye-lid. Blend.

Take the blue liquid liner and following the shape of your lower eye-lid, draw a sharp winged eye. Try to achieve the cat eye in a single sweep.

Now trace the lower lash line with the blue liner.

Define your brows, highlight the brow-bone and finish off with mascara. Add false lashes for a more dramatic effect.
So those were two different but effective techniques to achieve the bold eye look. Which is your pick – soft ombre or intense pop of color?
Solaris Images