A trend that has hit a high among the fashion conscious lot is something that balances itself between being dainty-feminine and sporty-tomboy, it is – 'androgyny'. All the major runway shows in NYC, Paris, Milan and London has had a number of reputed designers play with this theme. They look great on the runway but will it work as good for a casual style? This is one concern most of us have, since, noticeably, androgyny is a tricky trend.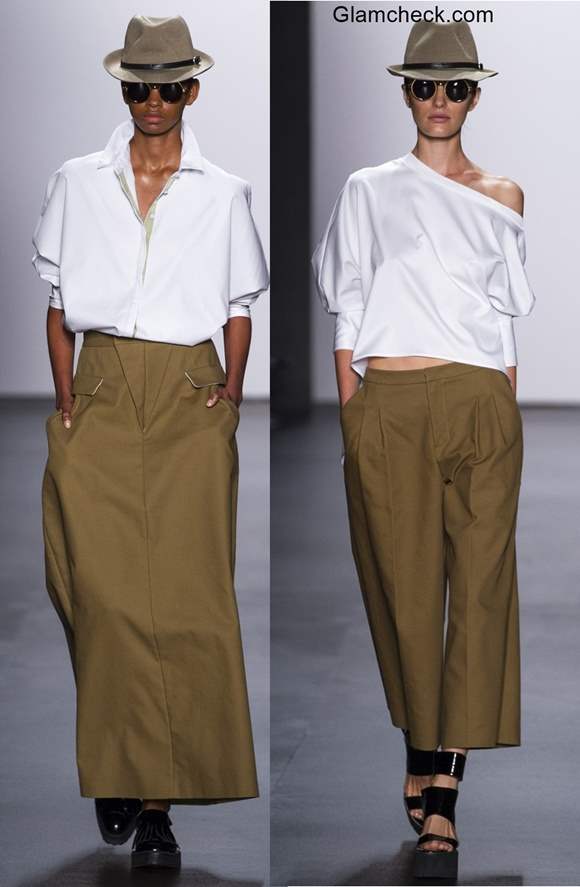 How to Sport Corporate Chic Androgynous Look
To learn how to incorporate this look into our wardrobe, we turn to the runway shows for inspiration and some tips. Taoray Wang's Spring 2016 look for New York Fashion Week was one that caught our attention, mainly due to its simplicity and clean cuts.
Inspired by the movie 'Out of Africa', Wang's designs featured a khaki themed androgynous feel, designed with the intention of drawing the appeal of today's international, independent woman. Thus, the collection also had a slight business formal look.
Sport the look#1: White shirt + maxi skirt

Androgynous Look Khakhi Skirt White Shirt
The tailored, kakhi maxi skirt has a no-nonsense corporate attitude due to its straight silhouette and clean cut. To further channel the office look, the skirt is paired with a crisp white shirt and black formal shoes.

The trick is to pick a shirt that, even with its classic look, has a slight feminine touch. In this case, the mutton sleeves of the shirt with its flattering fall provide that needed air of feminity.
Sport the Look#2: Off-shoulder top + culottes

Androgynous Look Khakhi Culottes White Shirt
It's an accepted fact that culottes, those midi-length wide-legged comfy trousers, are 'hot' this year. To render a more formal approach, the pants' silhouette is given a narrower and straighter well-tailored look in khaki.

Balance the look with a stylish and chic off-shoulder white blouse.

While wearing culottes, always pay attention to what you put on your feet. A pair of stylish, broad strapped, platform heels would look fabulous!
Hair and Makeup:
Wear your hair in an elegant chignon or bun and put on a light, natural make-up. If you love your colors, bright lips would look just as good or even, perhaps, better.
Styling and accessories:
Complete the look with this season's must-have accessory, the fedora hat and a pair of classy sunglasses.
Image: Shutterstock