The right decorative piece can have an untold impact on any room. Interior designers understand this notion and strive to maximize space, art, and fashion to bring any room to life.
Even if you're not a professional interior décor expert, you can still use decorative items to liven your home. Fashionable decorative items like throw pillows, rugs, and lighting can influence the ambiance and feel of a room.

While these accessories can be used to positively impact a room, they can often have the wrong impact when not carefully executed. For instance, one pitfall most homeowners and designers fall into is doing too much. In corners, especially, homeowners often crowd different pieces that don't blend together.
How can you utilize everyday accessories and pieces to create bespoke spaces in your home? Here are a few practical tips to guide you;
1. Choose quality over quantity
Most home décor accessories are mass-produced, affordable, and available even in your local store. As a result, many homeowners stock up on different accessories. This, however, could undo the effect you're trying to go for.
When looking to glam up a room, it's better to consider getting one or a few pieces that fit in with the room's design. For example, instead of getting many knickknacks to fit a space, you can get a single piece. For a stairway, you can choose to focus on lighting and get one bespoke piece. The same goes for any room, as less is usually more with interior décor.
2. Choose proportionate and tailored accessories
Homeowners are notorious for cramming art into small walls or covering large floors with tiny rugs. Whenever you want to glam up a room, you should consider the right size for all your décor pieces.
With the right proportions, you can create the desired effect in any room. One multipurpose accessory you can use to bring flair to any room is a rug.
Rugs can be used on walls and floors, and since you can get different designs, you can play with other concepts in any room. Get yourself a quality rug, perhaps like Lawrence of La Brea out of Los Angeles, to bring life to any room in your house.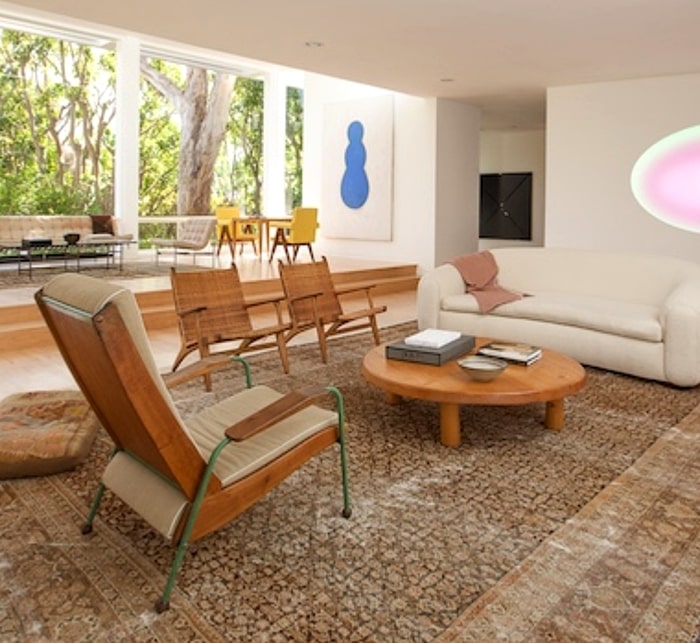 3. Combine colors and textures
Neutral pieces play an integral role in large finishing fixtures and permanent fittings. However, when it comes to inexpensive items, you can layer different textures and colors.
One of the chief roles of accessories is improving visual interest in a space. You can achieve this by playing with different styles, moods, and seasons. For instance, you can use different color and pattern designs on accessories like throw pillows. Additionally, you can incorporate different designs for your interior and outdoor décor ideas.
4. Carefully layer your accessories
When you want to bring out the best in any room, you have to think of decoration as a layered cake. In a layered cake, you start with the few heavy items, then work your way to the many light accessories that go on top.
Similarly, when designing a room, you need first to consider the large accessories to be used as central pieces. These should be placed first and spread out sparingly throughout the design. Next, you use medium and small-sized accessories to fill up any gaps and augment other pieces. In some cases, a few mid-sized accessories may be grouped to make a feature item.
Moreover, when you're layering the room, remember the less is more rule. Not every nook and cranny needs to be fitted with an accessory. Ideally, you want every piece to stand out and have a story of its own.
Ultimately, you don't have to be an interior design expert to glam up your home. With these tips, you can turn any room from gloom to glam. Don't shy away from putting your own spin and doing what fits your character.