Life today consists of a lot of sitting down – sitting in front of a computer at work, in front of the TV at home, in your car/bus/train on your commute, at a bar or dinner party when you socialize. This sedentary lifestyle has varied and mostly negative repercussions, the main one being the rampant obesity and general lethargy that it eventually inspires.
All this sitting down makes us extra lazy so we tend to use that as an excuse to not get much exercise into our routines to offset all that sitting down. What if there was a way to exercise while sitting down? Would you take the initiative and do those exercises to get stronger muscles and burn more calories? Well, we're going to detail a few simple but effective exercises that you can do while sitting down. They're so ridiculously easy that you can't possible have an excuse not to at least try them out. We're betting you'll love them so much you'll keep at it.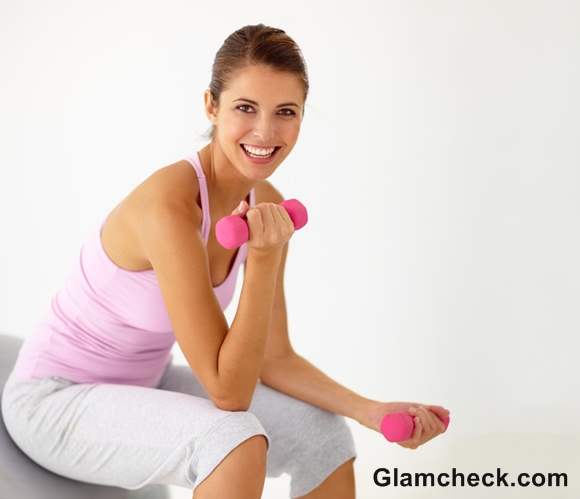 Exercises to Do While Sitting Down
So let's get right down to it, but do remember to always consult your health care professional before starting on any exercises, especially if you are generally unfit and have not incorporated much physical activity in your life for a really long time.
Ankle, Shoulder and Wrist Rolls
Not much explanation needed here. Roll your ankles and wrists every 30 minutes or so. The movement will boost blood flow plus reduce your risk of carpal tunnel syndrome. Rolling your shoulders will help to improve your posture and can prevent the development of a hunch. Before you start on the exercises below, do a few rolls to get the blood moving and to let your body know that a change of pace lies ahead.
The Sneaky Stomach Crunch
People leading a sedentary lifestyle are very likely to have muffin tops to show for it. No amount of stomach crunches will give you a flatter tummy but you can strengthen the muscles hidden underneath belly fat in this simple, calorie-torching exercise.
Tighten the muscles of your abs and hold. Take 4 to 5 deep breaths while still holding. When you breathe in, feel the tenseness of the muscles as they attempt to hold the position. When you breathe out, you'll see that you're able to tighten your muscles even more.
A far more difficult version of this exercise is to hold the position for 30 seconds. You'll literally feel the burn from breathing in and out while tensing the muscles for so long. This version is very similar to normal stomach crunches and easier on your back as well.
Warning: Do not attempt this exercise right after you have eaten as it can lead to painful stomach cramps. Also avoid it if you are pregnant.
The Even-sneakier Butt Clenches
There are few things more aesthetically-pleasing about the human body than a pair of tight buttocks in skinny jeans. Those don't come easy but they're not as difficult to attain as you think. The key is always consistency. Squeeze in a few butt clenches when you're typing up a report, getting bored at the endless mandatory meetings or waiting for the elevator to get to your floor.
Simply squeeze your butt cheeks together the way you would if you were trying to prevent yourself from going to the toilet. Let go and repeat, repeat, repeat. You can easily do 20 of these in 30 seconds. To intensify the effects, hold a clench and take a breath, then let go and repeat.
There's no limit to how many you can do. The more you do, the sassier your behind will get. The best part is, no one will know.
Leg Lifts
Sit back in your seat so that your lower back is firmly pressed into the back of your chair. Place both your feet on the ground, thighs parallel to each other, knees above ankles.
Now lift one foot off the floor and raise your leg as far as you can until it is parallel to the floor. Do not jerk it and do not lock your knees. Lower it back to the ground and repeat with the opposite leg. Do as many as you can.
To make the exercise more intense, raise and lower your leg slowly.
Heel Lifts
Strengthen your ankles and get the blood flowing to your legs with these simple heel lifts. Sit with your feet firmly on the floor. Now raise your heels but without letting your toes lift off the ground. Hold for a second or two then lower to the floor. Repeat with opposite foot.
Arm Curls
Constantly banging away at a keyboard and typing in a million text messages a day on your cell phone increase your risk of carpal tunnel syndrome. Give your wrists a break and strengthen them with a few sets of arm curls right at your desk.
You'll need a couple of water bottles for this one. Fill them up and screw the caps on tight. Hold one in each hand. Your forearms should be parallel to your thighs.
Bend one hand at the elbow till the bottle reaches the shoulder. Lower to starting position. Repeat with the other hand.
This exercise is the same as the arm curls you would do at the gym except that you are replacing the weights with water bottles. Don't put away those bottles quite yet; we have another exercise which calls for them.
Arm Extensions
Repetitions of this exercise will make your shoulders and chest stronger in addition to helping build muscle in your arms. Get those two water bottles again, one in each hand, and hold them up to chest height, your elbows facing backwards. Now, stretch your arms out in front of you but not so hard that you lock your elbows. Bring hands back to chest and repeat.
Desk Exercises with Exercise Tools
You'll need a resistance strap for this one. Resistance straps are cheap, light-weight and easy to store plus they can be used for a number of exercises apart from the ones you attempt at your desk. Hold the ends of the resistance band, one in each hand. Position your hands so that they are at the sides of your head with the resistance band behind your head. Now stretch the band as far as you can, hold, then return to starting position. Repeat as often as you can. We guarantee that this is a tough one, even though it seems quite simple. If you have flabby flesh on your upper arms, this will help to tighten it in a major way if you keep at it.
There are no particular exercises for a hand gripper, but it's a good idea to keep one in your drawer. These too are small and cheap but offer a good workout for your forearms. If you find yourself getting fidgety pre-lunch or are reading through a really long document, flex the hand gripper as much as you can. Remember to alternate hands or you'll strengthen one more than the other.
Don't forget to drink plenty of water throughout the day. Keep a small bottle at hand and you are much more likely to remember that all-important tip. Plus, when the bottle is empty, you have an excuse to get up and walk to your water cooler/kitchen to refill it. Sitting down exercises are all well and good, but a little getting up and waking around is imperative for the overall health of your muscles and bones. So get up and stretch every half hour and, if you can manage it, take a quick walk around your office/workspace.
You'll find in time that the more you do the above exercises, the more alert and productive you are. That downtime post-lunch may practically disappear and you may experience higher levels of energy. Perhaps it will also encourage you to take up a more strenuous form of exercise like jogging, yoga or swimming. There's a lot to gain and very little to lose, so why not give them a try.
Shutterstock