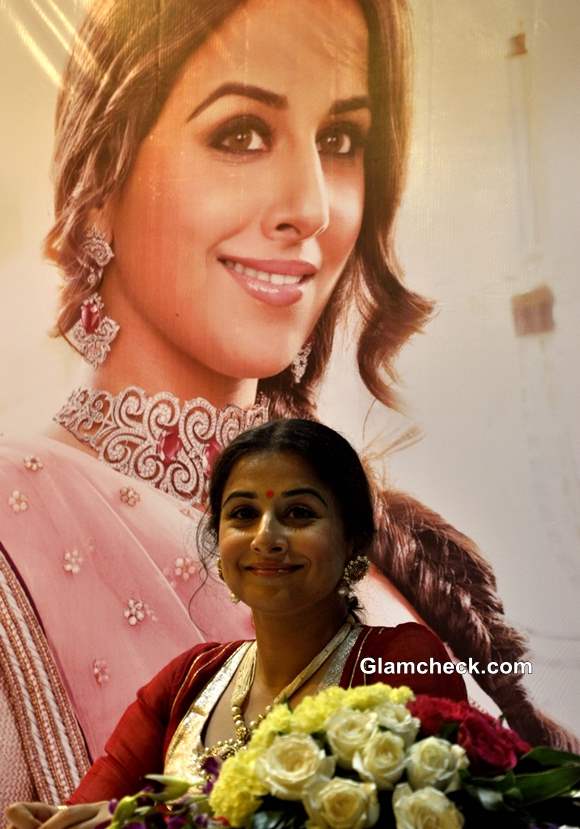 Bollywood actor Vidya Balan was spotted at the launch of a Ranka Jewellers showroom in Mumbai, India on October 5, 2013. She was the guest of honour and inaugurated the new outlet which is based in Thane.
Her Outfit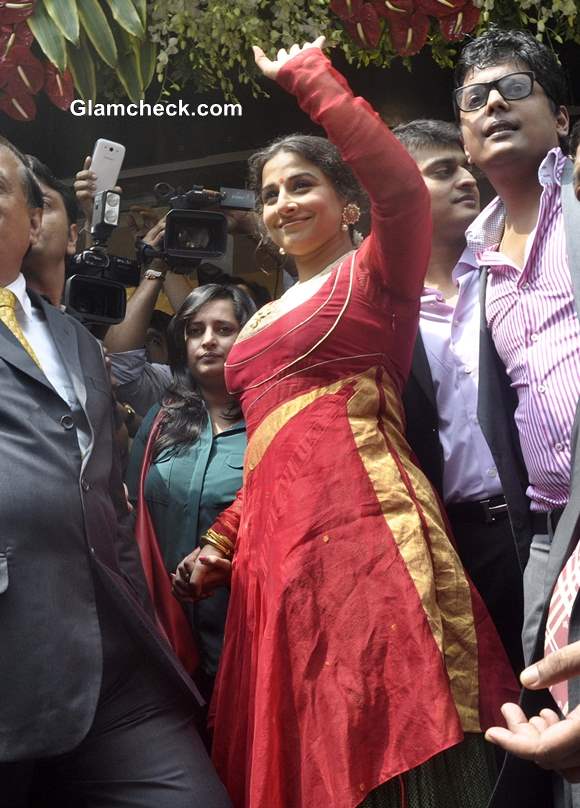 Vidya Balan Inaugurates Ranka Jewellers Store in Red Salwar Kameez
We're used to seeing Vidya in saris so we were pleased to note that she chose a unique anarkali outfit for this event. It was a low-key simple number, but the cut was such that it looked like a lehenga choli. Primarily red, it had gold, orange and green detailing on the pleated lower half.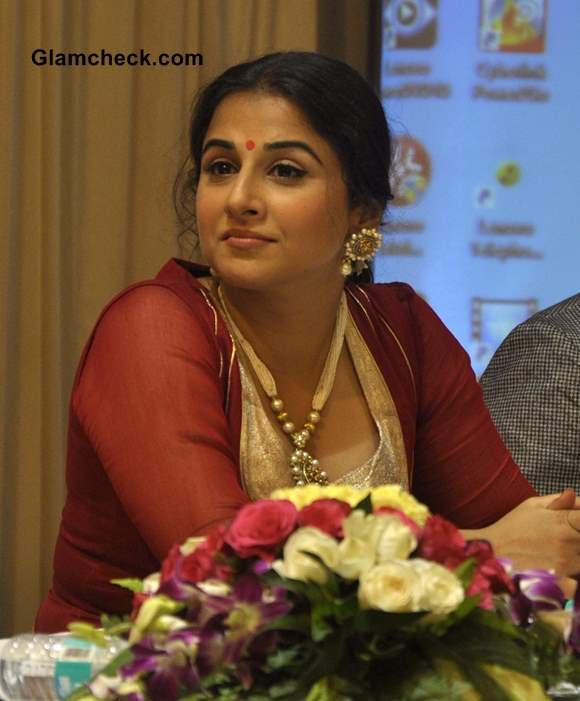 Vidya Balan 2013 pictures
She paints a very pretty picture and the anarkali suit makes her look younger than she usually does.
How She Accessorised It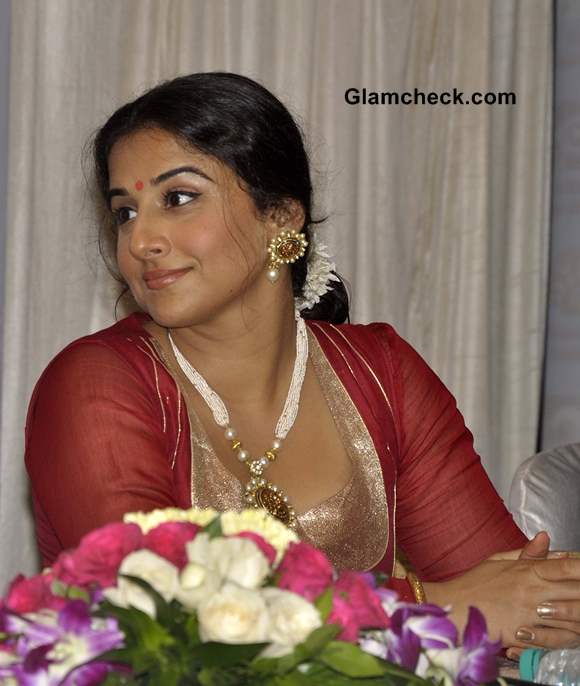 Vidya Balan pictures at Ranka Jewellers Store in Red Salwar Kameez
An ethnic jewellery set consisting of pearl necklace and earrings, presumably from the new store, accessorised her look.
The Hair and Makeup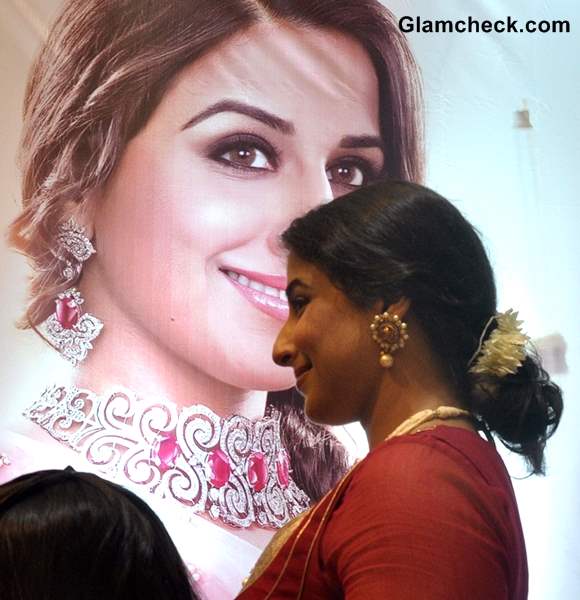 Vidya Balan hairstyle 2013
Her styling for this ensemble was quite charming – a coral bindi, defining but natural makeup, and hair wrapped up into a messy bun and then adorned with a string of mogra flowers.
Vidya will soon be heard in the animated version of the Mahabharata in which she voices the character of Draupadi. Apart from Vidya, the animated Mahabharata has a star cast including Amitabh Bachchan who will voice Bheeshma, Ajay Devgan playing Arjun, Manoj Bajpai as Yudhishtir, and Sunny Deol as Bheem.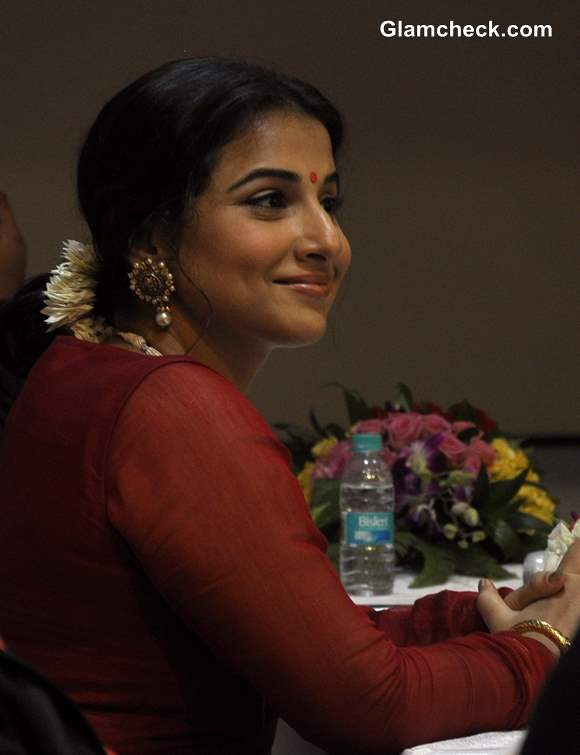 Vidya Balan 2013 Inaugurates Ranka Jewellers Store in Red Salwar Kameez
Producer Jayantilal Gada was thrilled when she agreed to do the voiceover and right after she signed on for the project the animators tweaked the animated character to make it look more like Vidya. We look forward to seeing the Dirty Picture star in an animated avatar.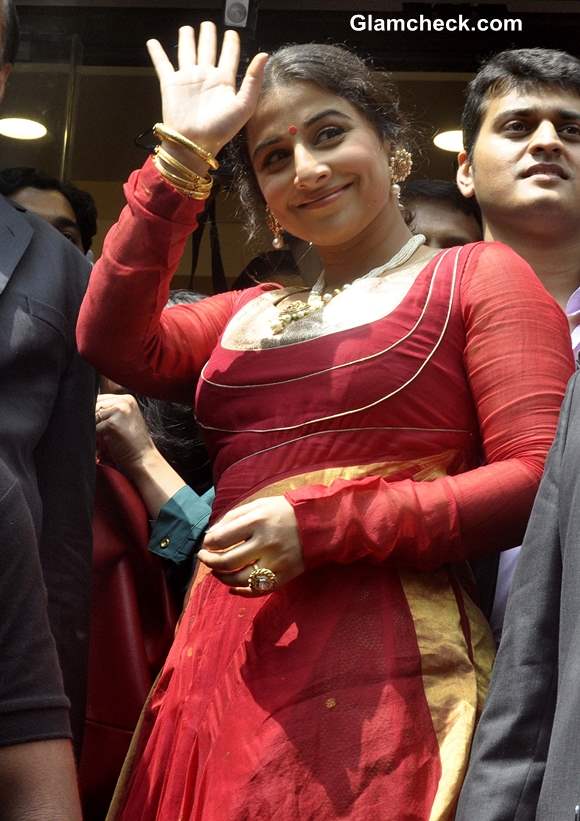 Vidya Balan at Ranka Jewellers Store in Red Salwar Kameez
Solaris Images