Bollywood actors Sridevi, Partho Gupte, Saqib Saleem and filmmaker Amol Gupte launched the trailer of the film "Hawaa Hawaai" in Mumbai, India on March 28, 2014.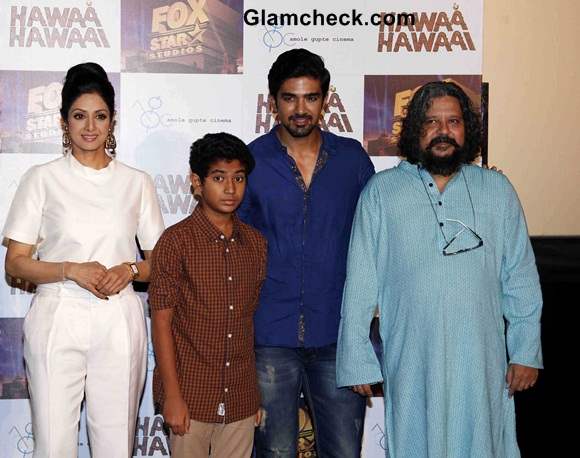 Hawaa Hawaai Trailer Launch
Silver screen veteran Sridevi wore a pair of cropped off-white pants with a matching high-necked top. She's been wearing a lot of colour of late and this seemed like a bit of a palate cleanser for her on the fashion front.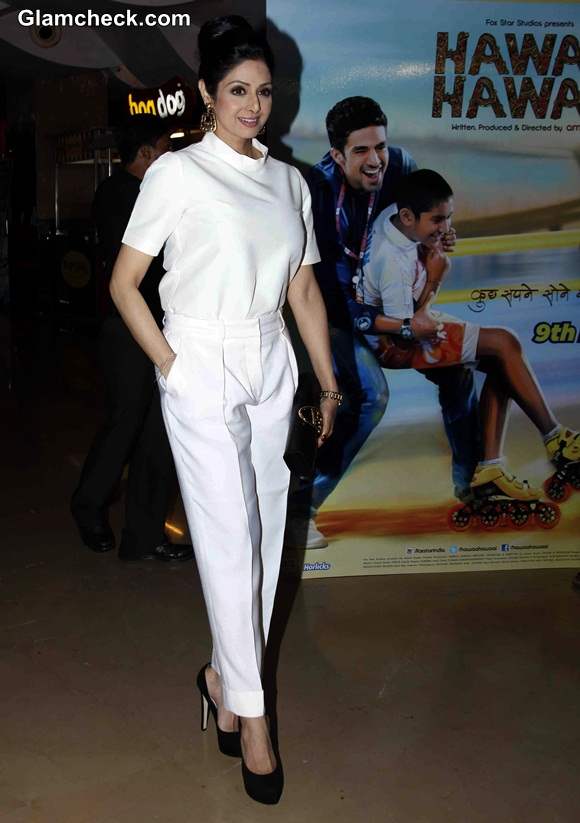 Sridevi 2014 at Hawaa Hawaai Trailer Launch
She teamed the outfit with black pumps, a black clutch with a gold clasp by Hermes, a large gold watch and statement gold dangle earrings that had a tribal touch.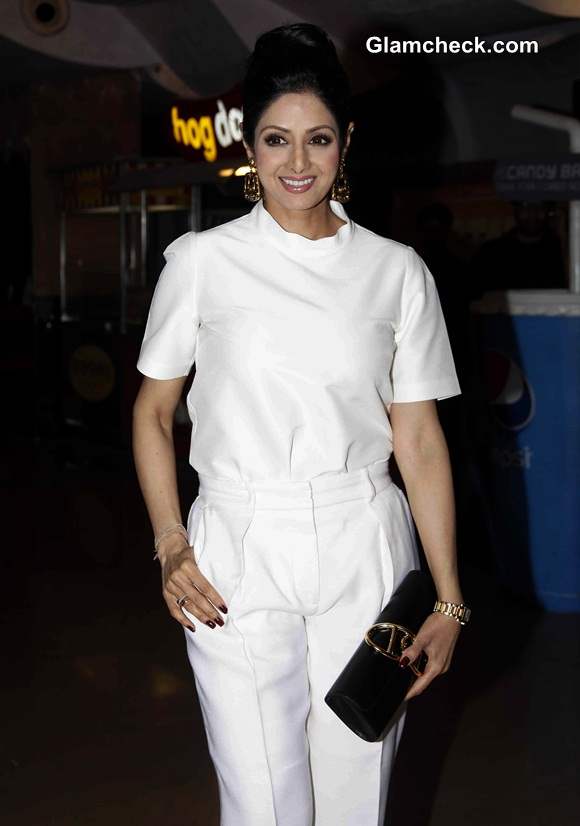 Sridevi 2014
Sri styled the number with a black manicure, a high bun and natural makeup, lining her eyes darkly as is the trend nowadays to round out the look.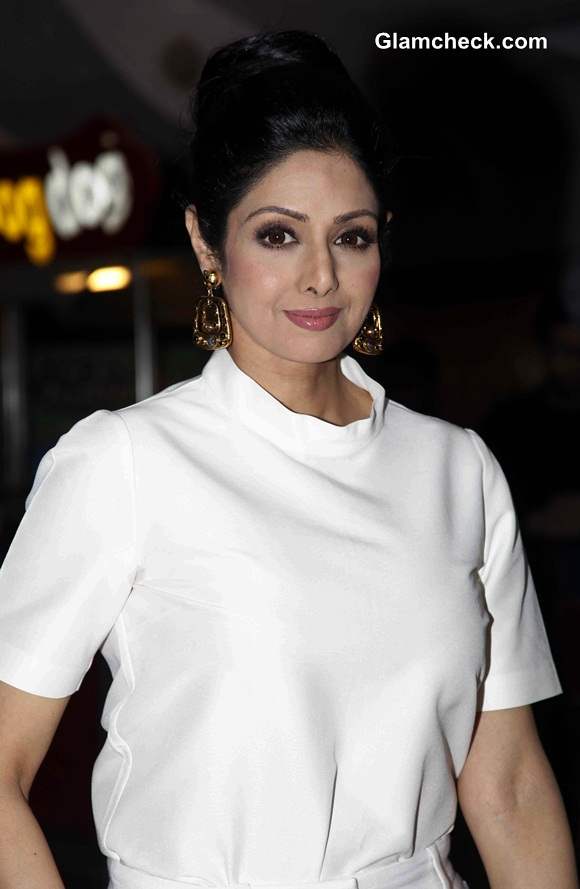 Sridevi 2014 Pics
While not a bad look at all, the way the neckline fit was a tad unflattering as it drew attention to her neck which is the only part of her that belies her true age. The fit of the pants too was a bit loose, which would not have been so noticeable if the wrinkles had been ironed out of them and it fell sleekly down her form. So it wasn't really the ensemble we find fault with but the finish.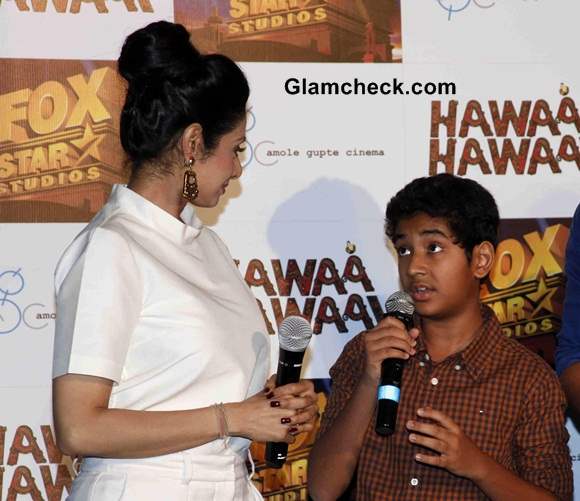 Sridevi 2014 pictures Hawaa Hawaai
Still, overall Sri does a great job of drawing in her star power and making you overlook the flaws completely after awhile.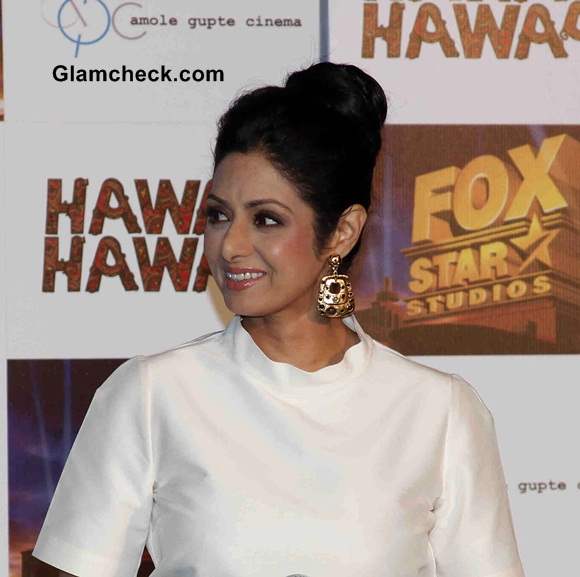 Sridevi 2014 pictures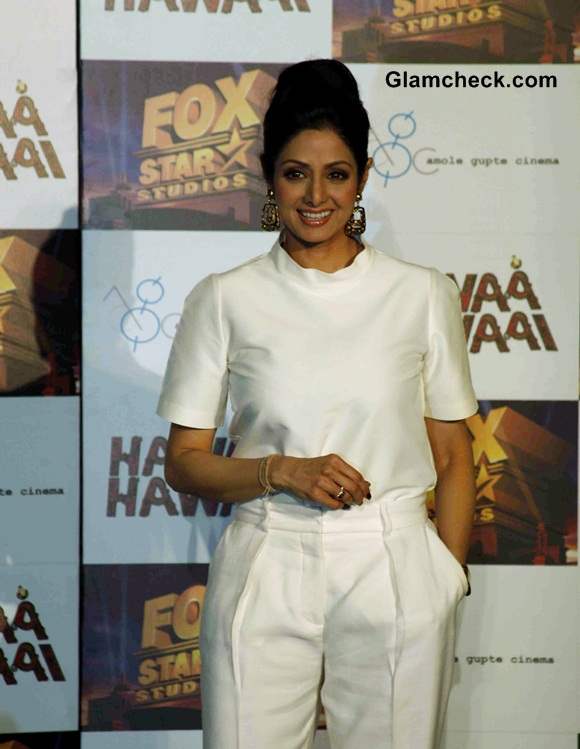 Sridevi at Hawaa Hawaai Trailer Launch
Sridevi Goes Neutral for Hawaa Hawaai Trailer Launch
Solaris Images