Bollywood actress Neha Dhupia was oozing some serious sex appeal thanks to her femme fatale makeup at an event recently. Her makeup had three main aspects to it – smoky eye makeup, which she is quite fond of and employs regularly; tangerine blush, which perfectly suits her skin tone; and nude lips, a highly trendy look this year.
Step-by-Step guide to her Makeup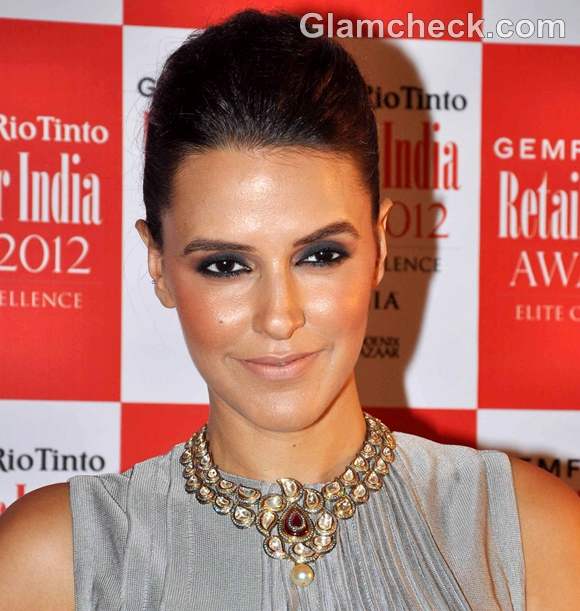 Makeup Tutorial : Neha Dhupia
Imitating her makeup is easy if you take it part by part, one step at a time.
Create your Base
Cleanse, tone and moisturize your face, ears and neck.
Apply foundation of your choice.
Smoky Eye Makeup
You can learn how to do her smoky eye makeup in this tutorial.
Nude Lips
Creating nude lips requires little skill. Rather, the success of this aspect of Neha's makeup requires the right tools. Finding a nude lip color or lip liner that is the exact shade as your foundation is the tough part. Once you have this handy, creating nude lips is easy.
Begin by applying some regular lip balm. This helps to create a softer look.
Next, use your nude lip liner to carefully outline your pout.
Use the lip liner or the exact shade of lipstick if you have it to color in the rest of your lips.
If you want glossy nude lips, just apply clear lip gloss after the last step.
Sun-kissed Cheeks
Use a blush brush to get the perfect sun-kissed look. Start with less blush rather than more. You can always apply more blush but if you apply too much to begin with you'll have to remove your makeup and start all over or take complicated steps to minimise the damage.
Apply your blush directly on and to the sides of the apples of your cheeks. You can find the true apples of your cheeks by making a kissing or pouty face with your lips. Start from the center of the 'apple' and move outwards.
You can give your makeup a set look by finishing off with translucent powder.
Image: Indian Photo Agency