Bollywood actor Kangana Ranaut displayed a creation by fashion designer Bora Aksu as part of the  Signature International Fashion Week on November 17, 2013.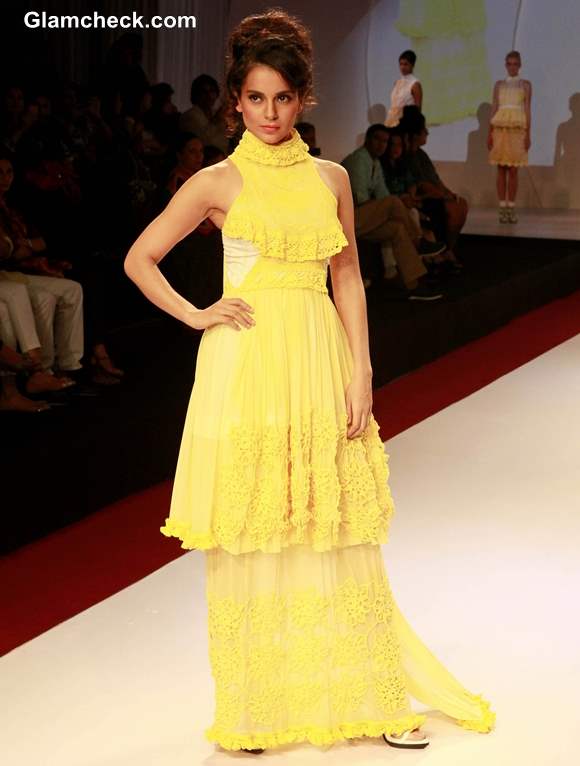 Kangana Ranaut Walks for Bora Aksu at Signature International Fashion Week 2013
Kangana was the show-stopper for the designer because of her celebrity status, but we think she would have stolen the show no matter where she went thanks to the outfit she was decked out in.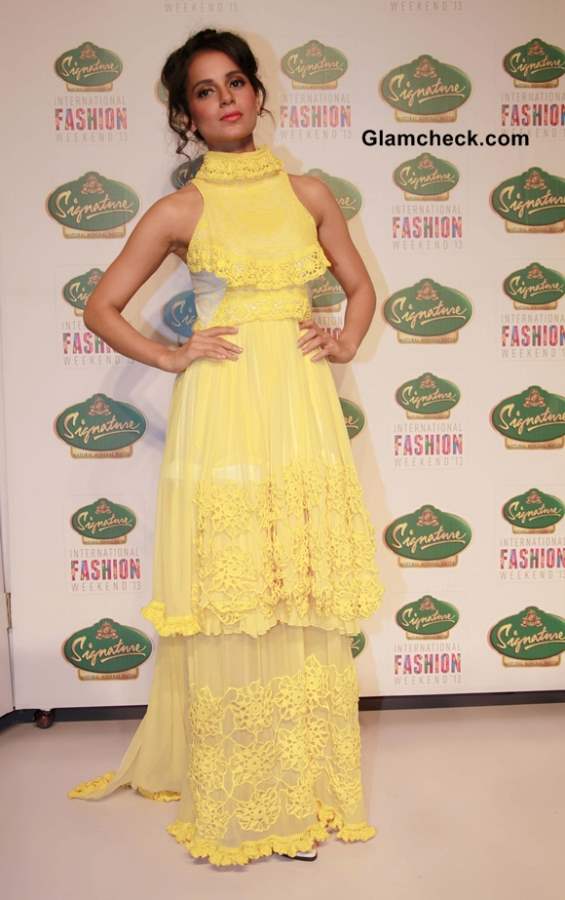 Kangana Ranaut in Yellow Gown  Bora Aksu Show at Signature International Fashion Week 2013
She wore a bright yellow chiffon gown which was inspired by the 50s. The retro-inspired contemporary maxi dress was characterised by a high, halter neckline, crochet and lace layers over a short white shift dress, and the very hot sheer trend that has been doing the rounds of late. The skirt, sheer from the thigh down, also trailed out into a train, which gave the look a romantic feel.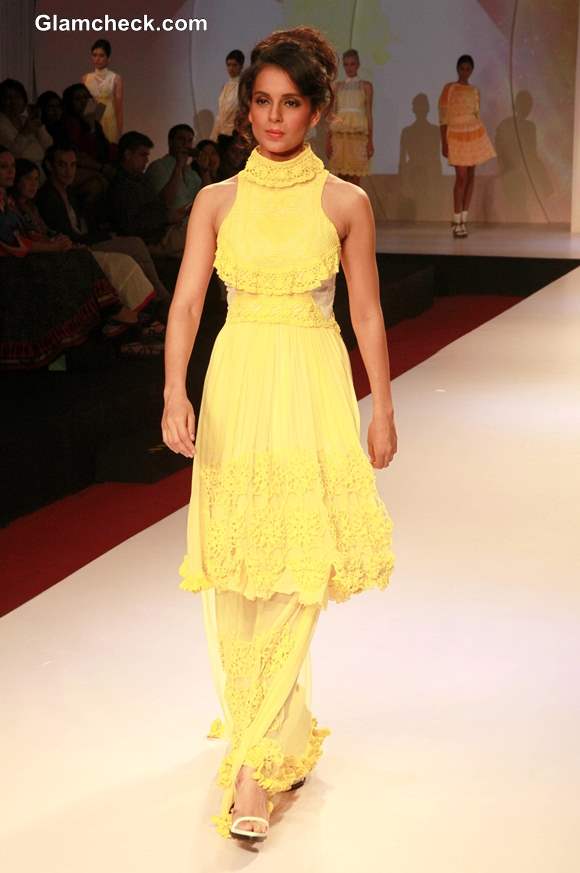 Kangana Ranaut at Signature International Fashion Week 2013
It was a summery, resort, feminine, ethereal and ever so slightly dramatic too. The yellow on yellow embroidery brought to mind green meadows bursting with flowers. We also like how this is such a different look for Kangana who is more likely to be spotted in babydoll dresses and figure-hugging ensembles rather than something so flowy and dreamy.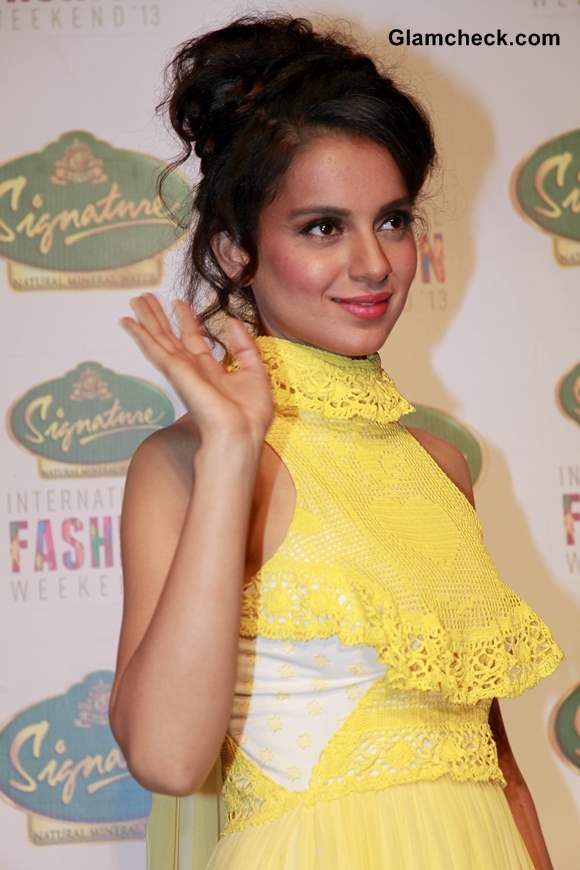 Kangana Ranaut Latest Pics
Her runway look was completed with a suitably wispy updo and a subtle orange lippie. Her blush too had shades of orange which made a perfect backdrop for her lightly-kohled eyes.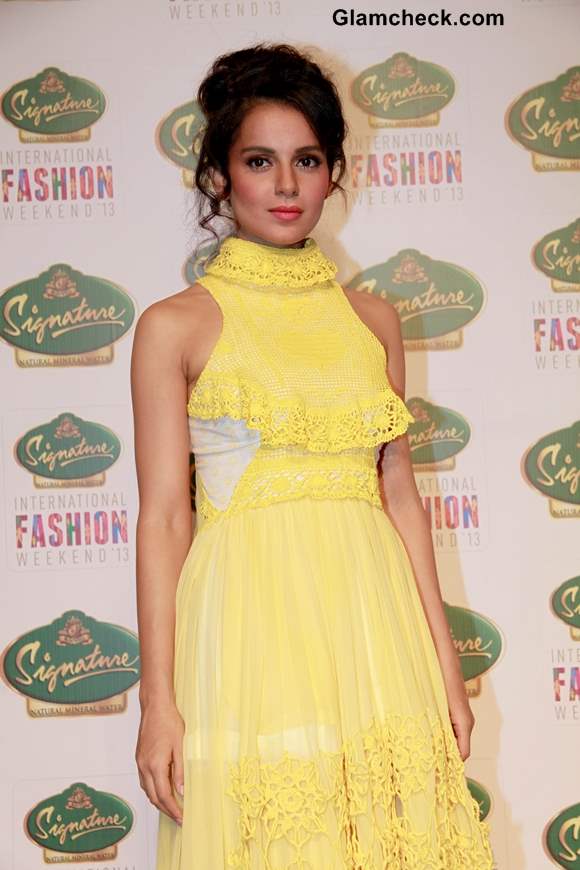 Kangana Ranaut signature International Fashion Week 2013
Meanwhile, Kangana is celebrating the success of her blockbuster superhero film Krrish 3 in which she portrays a mutant villainess. Excited and humbled by the reception of the role, she is already shooting for her next film Kick with actor Salman Khan. And awaiting the release of her other film Rajjo this week. The pretty lady definitely has a lot on her plate and it seems like this fashion show may have been a bit of a much-welcome breather for her.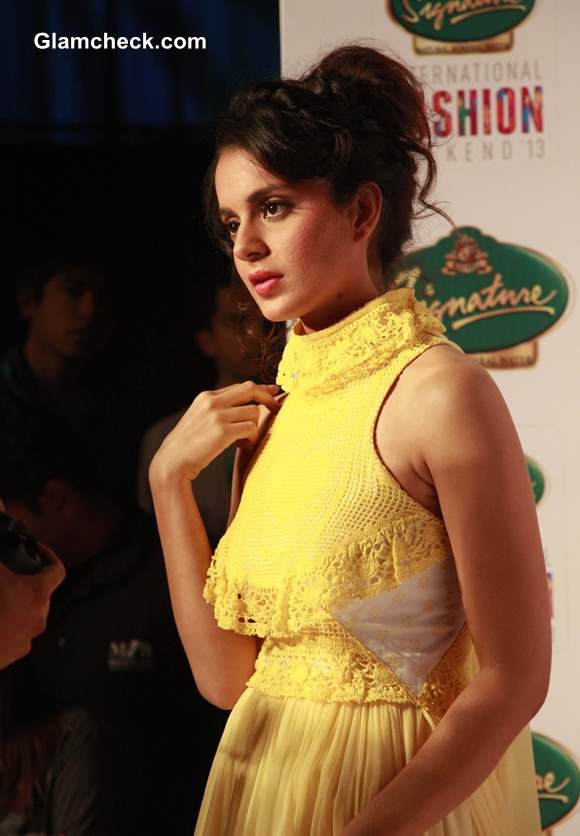 Kangana Ranaut 2013 Signature International Fashion Week
Kangana Ranaut Latest Pictures 2013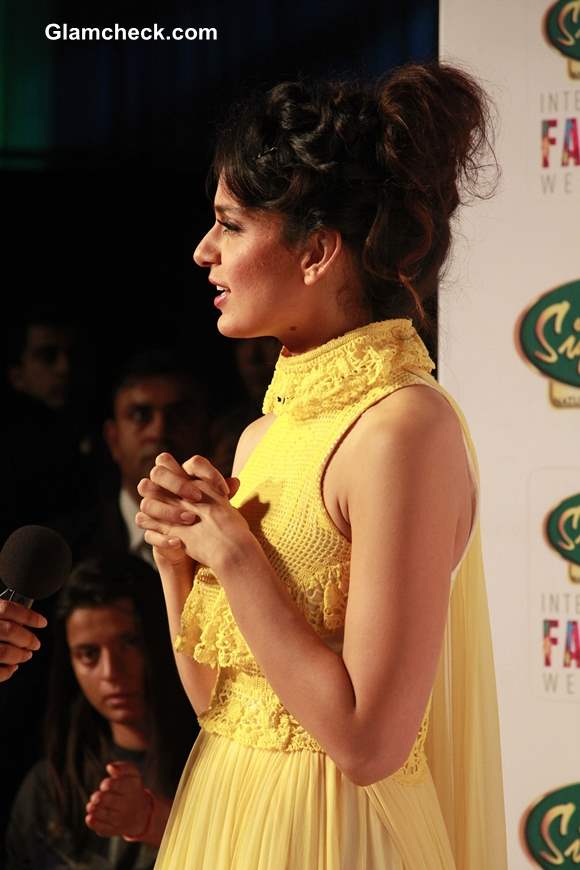 Kangana Ranaut Walks the ramp at Signature International Fashion Week 2013
Solaris Images