Here, comes the most awaited festival of the year, Durga Puja and we at Glamcheck are here to deck you up in style. Durga Puja is a festival to mark the victory of Ma Durga over the demon Mahis Asur. In West Bengal, it is celebrated with much fervor and the most important days of the celebration are saptami, ashtami, navami and dashami.
You need to look gorgeous on the festive days, we know that! So, here are the looks that will take you through the pandals in style.
Glam Glory!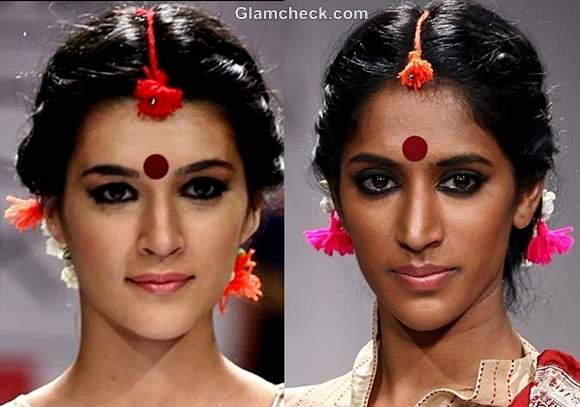 Hairstyle & Makeup : Durga Puja Indian Festival look
Have you done fabric accessorizing in school? Remember those art & craft classes where you were made to create small pretty things with paper, thread and fabric! This puja let nostalgia wrap your heart. Experiment with accessories made of acrylic yarns. We tell you how:
Cut small but equal pieces of acrylic yarns and make a bunch. Create a knot on the strands with another piece of yarn. Hurrah! It's done.
Now for the bindi, wear the big, round bindi on your beautiful forehead preferably in red; bong style.
Eyes should be highlighted with black kohl.
Go for soft colours for the lips.
The fabric accessories can be worn as maang-tikas or attached to the gajras for some spunk. Be creative!
Cocktail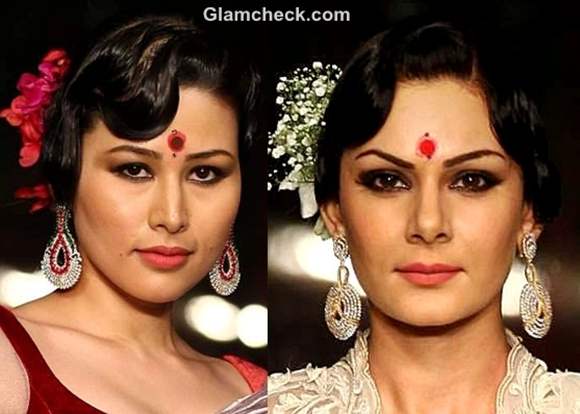 Hairstyle & Makeup for Durga Puja
You have been invited to a party on the festive days and you need to look traditional as well as flamboyant.
Tie up your hair in a bun and add some sparkle to your hair with flowers and jewellery.
Coiffed hairstyle would add an old-world charm to your look.
Add large danglers to your accessory list.
Sport pretty pink lips in matte and you are done.
Apply kumkum on your forehead in the middle of your eyebrows; place a large bindi and adorn with tiny ones. Use stoned ones and create an arty bindi.
Traditional Opulence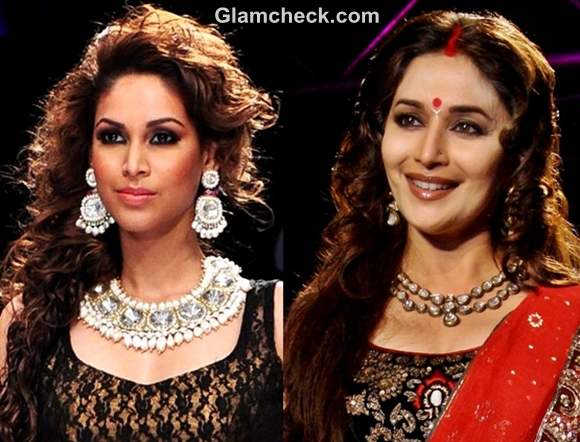 Indian Festival traditional beauty look – Durga Puja
Side-swept hair is in vogue this season with fashionistas sporting this look.
Tie your hair in a messy braid to one side of your head. It looks gorgeous with traditional and western look.
Smoky eyes go well with the messy side-braid.
Bronzer and gloss will add finesse.
Look like Madhuri; curl your locks and straighten the lower half.
Clear face, a red bindi with a touch of nude gloss will add that much needed sparkle to your face.
 This look is lavish so, wear something extravagant and do add those opulent accessories to it.
The Bong-Look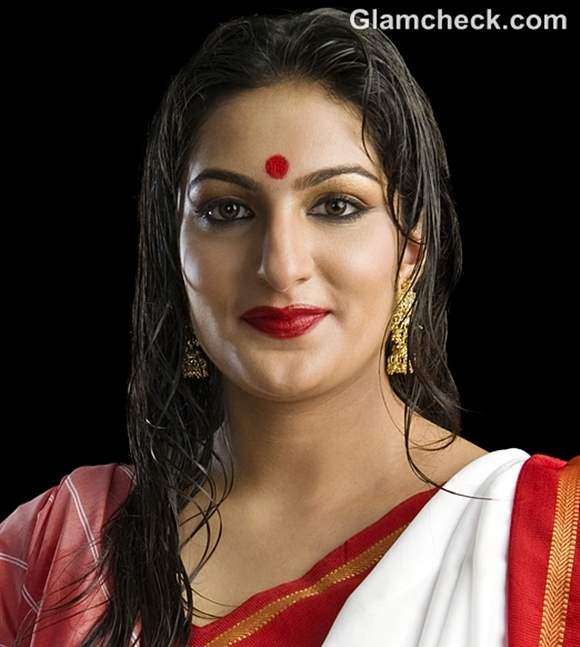 Traditional Bengali Look for Durga Puja 2012
Bengalis love to sport the scarlet hue. Look stunning this festive season with this look.
Clear your face and apply the right primer.
Hide all the ungrateful spots with a concealer.
Dust your face with loose powder using a thick brush.
Wear a red dot on your forehead and rim your eyes with kohl.
Crimson lips will add drama; you can also go for light tints of red.
Keep your hair open and give it a wet look.
The Dawn- Look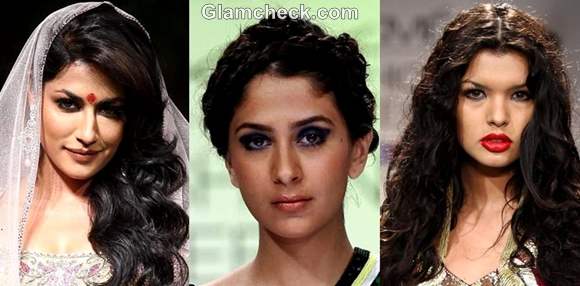 Durga Puja Indian Festival Beauty Looks
Look bewitching like Chitrangda in smoky eyes and a sexy smile.
Sport braids in any way you like. Tie it in a bun or keep it side-swept. The evening will speak of your braids.
Chitrangda's smoky eyes and toffee-tinted lips look dazzling in her yellow skin tone. Carry this look with a salwar or anarkali. You are sure to turn heads.
Scarlet lips! Bold! Yes. Your festive moods are many so, try this look to show off your rebellious side. Out-of-the bed look will complement your scarlet lips and bold image.
Funky Tradition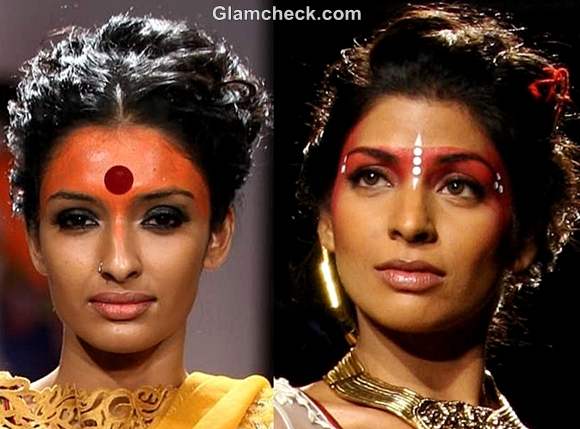 Traditional Bengali Hairstyle & Makeup for Durga Puja 2012
You want to be the centre of attention, is it not? Try this look for the fulfilment of your desire.
Use your artistic bent of mind to doll up your face. Color your style!
Highlight your eyes but, not with just a highlighter. Bring out the eye shadows and apply not only on your eye lids but also above it.
Keep the rest of your face clean and accentuate one of your features.
Either wear a dramatic bindi or do art on your face.
Keep your hair pulled up in a chignon.
Wear that nose-ring for a high sex-appeal. Trust me on this, a nose-ring adds that appeal to your look which you aren't aware of!
Tip: For all those lovely ladies out there, who want to look glamorous during the Durga Puja; wear a big smile on your beautiful face. There is no accessory that can match the dazzle of your warm, friendly smile.
WATCH the VIDEO –
Indian Photo Agency, IANS