Rangoli, alpana, kolam – you may call it by any name, the essence remains the same. These are essentially designs created in front of the house or in courtyards on festivals and special occasions to welcome peace and prosperity, Gods and guests alike. Designs which could be simple or elaborate, are usually derived from folk lore and ancient traditions, passed down from one generation to the other, often intermingled with modern designs.
Diwali is a festival which is celebrated all across the country and is a special day to decorate your house. What better way to do so with these beautiful and exotic Rangoli designs.  
VIDEO – DIWALI Decor Ideas for Home
Things you will need to make Rangolis
Traditionally, rangolis were made with rice flour dyed with natural colours such as indigo, turmeric etc. Modern day designs however, use commercially available rangoli powder available easily in a myriad of colours.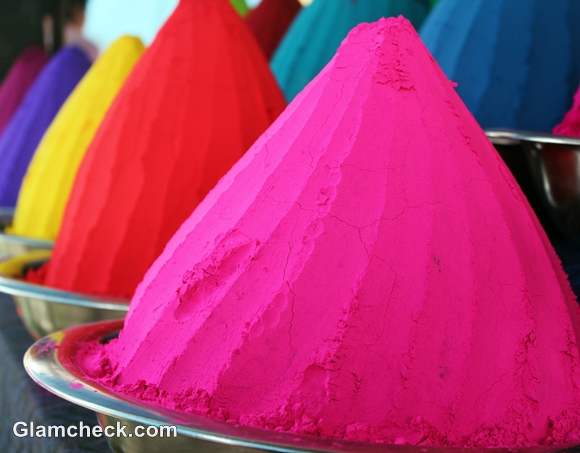 Rangoli Colors
To make your Rangoli stand out, it is also common to use flowers or their petals and leaves. In keeping with the spirit of Diwali , or the festival of lights, these days it is common to use colourful lamps, floating candles to adorn your Rangoli design. You could use any one or a mix of  the components to make your Rangoli.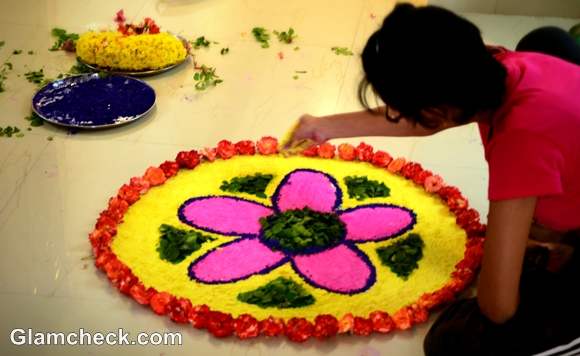 How to make rangoli designs
Usually all patterns are made with hands on clean floor. It is always better to do a rough sketch of the design on paper and then draw the same on the floor with a chalk. Alternatively, using readily available stencils is also a great way to make a beautiful rangoli design in a jiffy.
Precision, patience and neatness are the things that you will need in abundance in order to come up with a splendid Rangoli.
You could choose from the many different themes described below that work for Diwali.
Floral Rangolis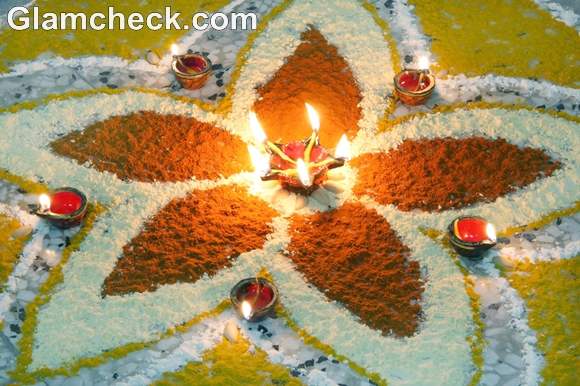 Rangoli designs floral patterns
The designs inspired by flowers are common and these look extremely pretty too. You could choose a simple design like the one below and decide to decorate it with not only coloured rangoli powder but also with diyas, keeping Diwali in mind.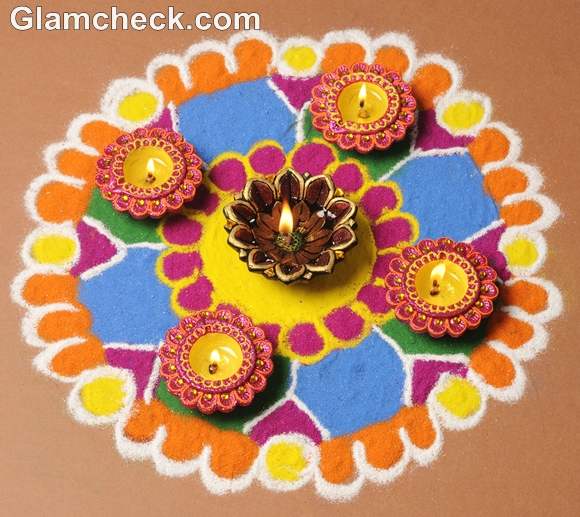 Diwali floral rangoli designs with diyas
The designs could be multi coloured or using only a couple of colours. Let your imagination run wild. Anything that looks pretty is sure to please all guests. Having coloured diyas or lamps matching the colour theme is also a sure way to make your rangoli stand out.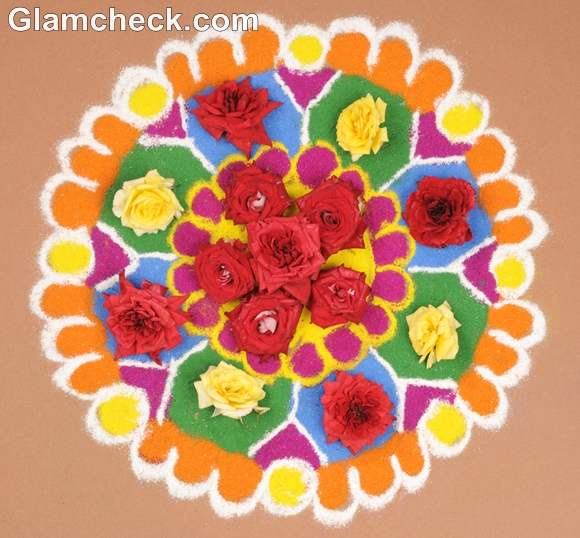 Diwali rangoli designs with flowers
Using flowers instead of diyas is also a great way to enhance the beauty of a rangoli and give it an extra edge over plain and simple designs. You can see how by just switching the flowers with the lamps, the same rangoli design looks different. So go ahead and try and make the same designs look different this festive season, by just moving around a couple of things!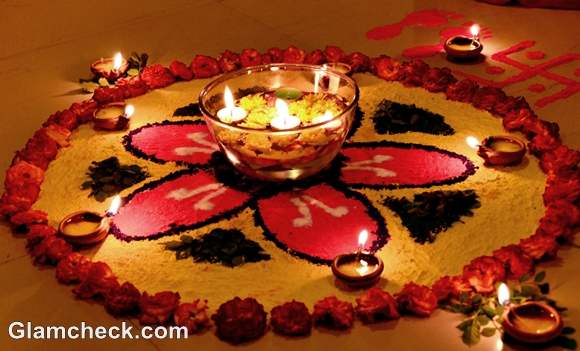 Diwali rangoli designs flowers & diyas 
A melange of floral pattern and religious symbols such as the Hindu sign 'Swastika ' or the feet of Goddess Lakshmi is also a great idea to keep the spirit and theme of Diwali alive and running through the design.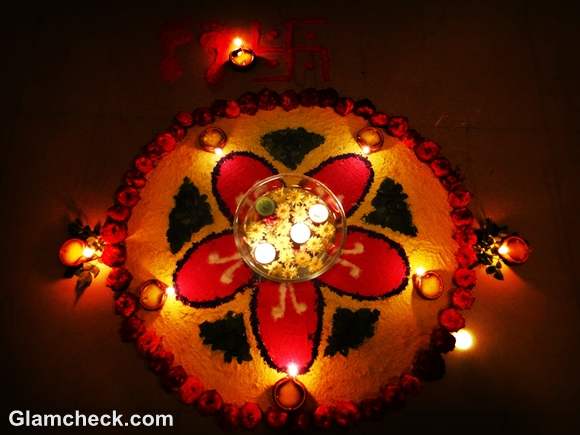 Diwali rangoli designs with flowers colors &  diyas
In keeping with the melange pattern, you could have Rangoli design made of coloured powder, flowers and leaves and also diyas. A rangoli design so made with many yet compatible components is sure to stand out and get all the attention it truly deserves. 
Traditional Patterns
Traditional patterns require a little more home work than floral designs which can be conceptualised based on your imagination. Most tradtitional designs are handed down from one generation to the other.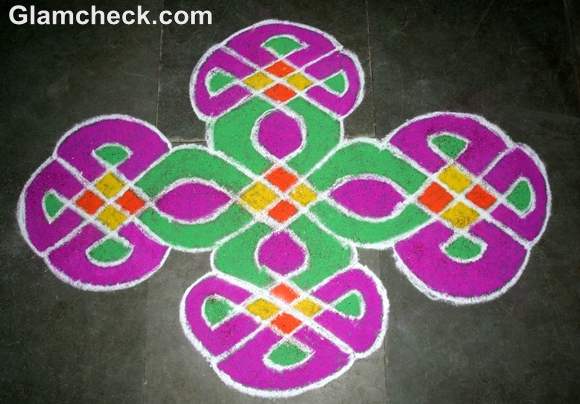 Diwali traditional rangoli designs & patterns
Sketching these before hand and practising them before you finally get down to making it helps.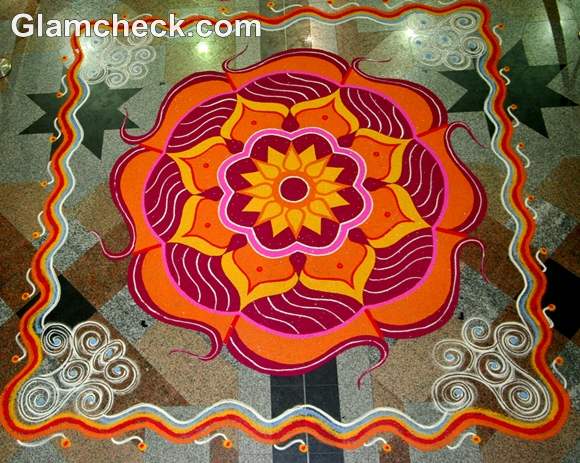 Diwali rangoli patterns traditional
The traditional designs could have borders and are usually quite elaborate, requiring a seasoned hand to actually make one.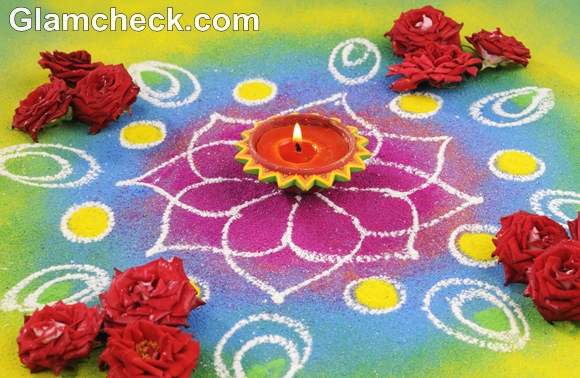 Traditional rangoli designs for Diwali
Mix of unusual and bright colours, lamps and flowers makes this traditional pattern of a lotus inspired rangoli pattern stand out and is a good example of how when modernity meets tradition, the result is beautiful.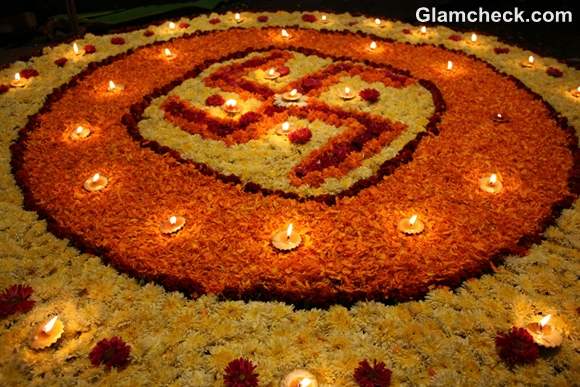 Diwali rangoli designs with flower petals  & diyas
This design made by only using petals and flowers stands out on account of usage of the Hindu symbol of Swastika and the very imaginative and beautiful usage of contrasting colored petals and diyas.
Modern Rangoli Designs
If floral designs are boring for you and traditional too tedious, you could come up with a pattern of your own, to show case your arty side.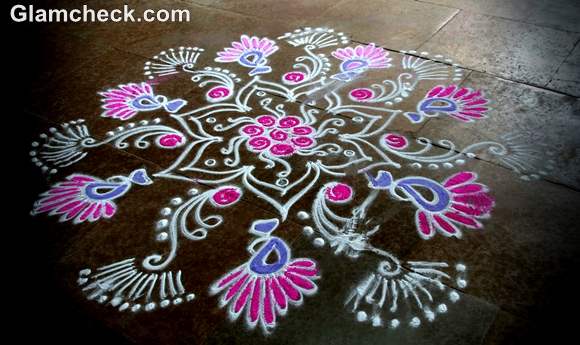 Diwali rangoli designs colors
This beautiful design using just three colours is a mix of floral patterns and the traditional paisley shape. The design is uncommon and the pattern stands out more because of the simple use of colour in a rather elaborate design.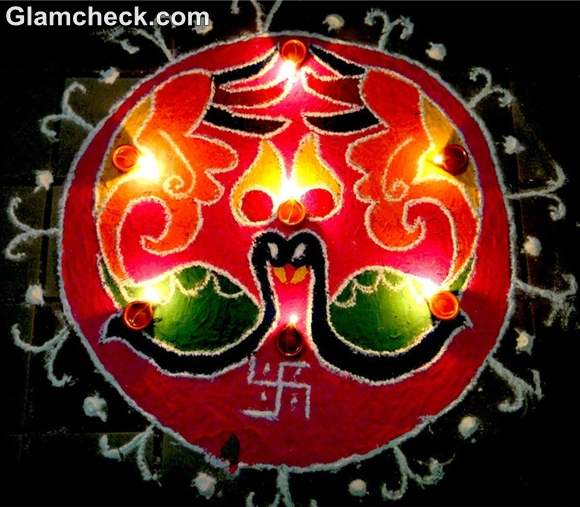 Diwali rangoli designs peacock &  swastik
The above design is also quite unique as it blends modernity with tradition. The design has an unusual theme – that of two beautiful peacocks dancing and being highlighted by the lamps and also having the swastika sign, all encircled by traditional borders makes it unique.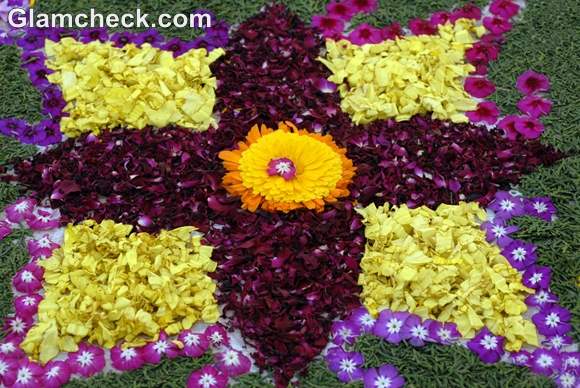 Diwali rangoli designs geometric patterns 
Having a floral design intertwined with a geometric pattern is also a great and unique way to have an eye-catching Rangoli pattern. This design made completely with flowers and its petals looks great because of the bright and unusual choice of flowers and colours.
Diwali is a festival of cheer and good will. Rangolis are a great way to welcome these in your lives. Get inspired by the designs shown here and make a beautiful rangoli in your home too this Diwali!
VIDEO – DIWALI Decor Ideas for Home
Glamcheck, Shutterstock