Celebs dressed up in the sexiest colour of all- black to celebrate at the success party of actress, Deepika Padukone in Mumbai, India on December 21th 2013.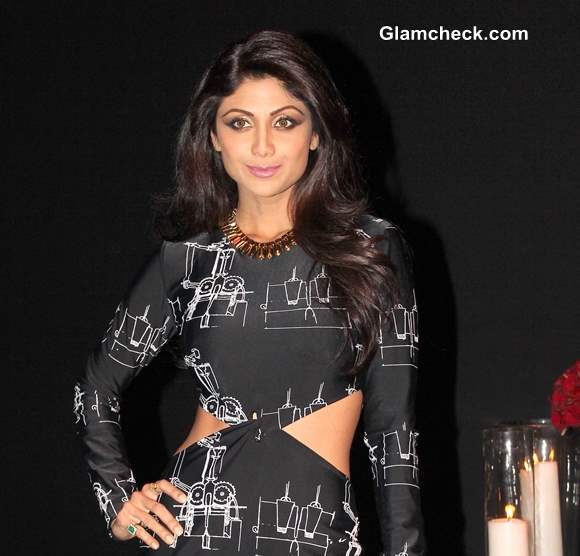 Shilpa Shetty 2013 at Deepika Padukone's Success Party
Shilpa Shetty looked like a stunner in a Masaba print midi length pencil dress with sexy cutouts on the side waist. She paired her outfit with strappy sandals and a vintage gold clutch. We love her "If you got it, flaunt it!" attitude here.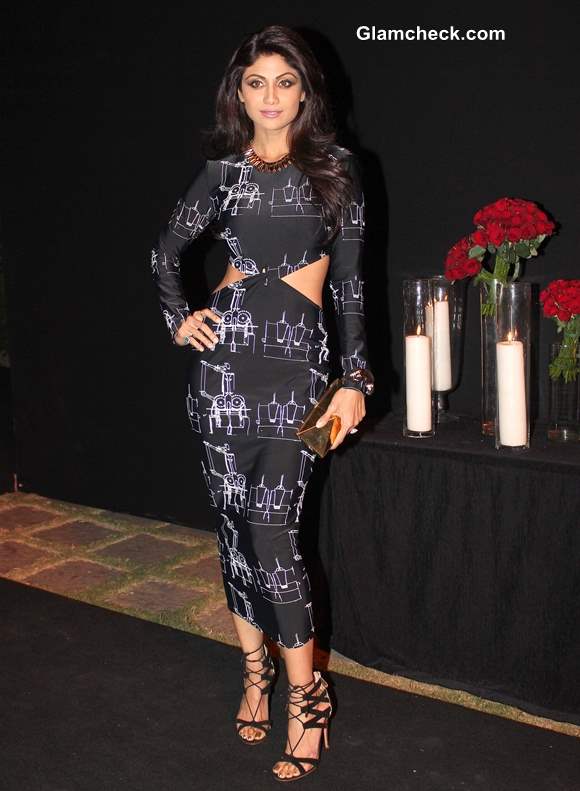 Shilpa Shetty at at Deepika Padukone's Success Party
With Shilpa, was her husband, Raj Kundra who dressed in all black with his Hermes belt on display. We would definitely change the jacket though, if we were him!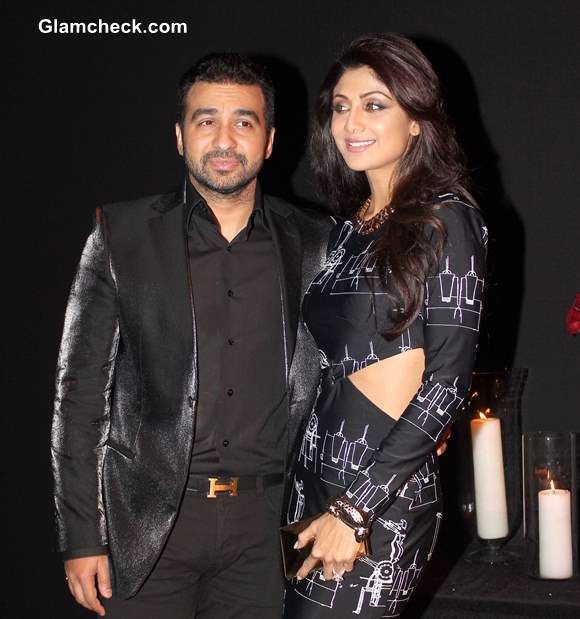 Shilpa Shetty along with her husband Raj Kundra
Dhoom 3 favourite, Aamir Khan showed up in a grey laidback shirt with cargo pants and accessorized with black sneakers and a lovely hat. Loved the cute look, something different to see on the carpet!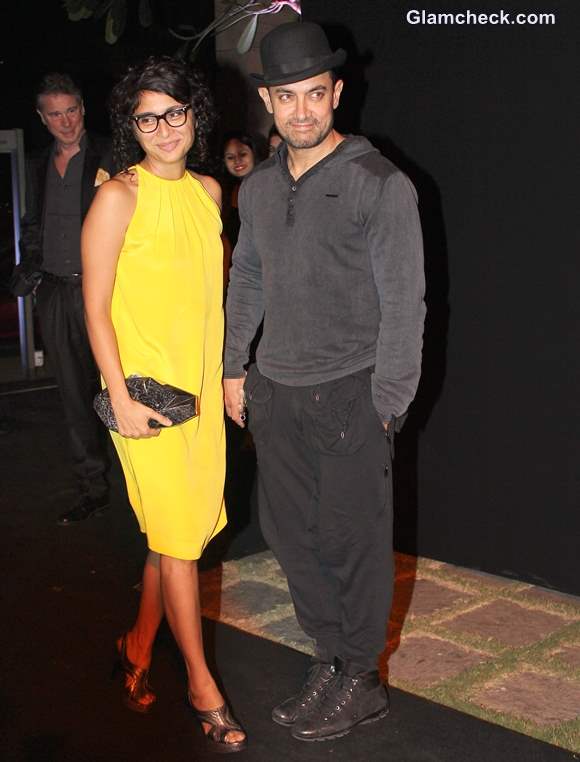 Aamir Khan with his wife Kiran Rao
His wife, Kiran Rao added a pop of colour in her yellow billowy one piece dress and a geometric copper clutch.
Ameesha Patel went for the sheer sultry look in a black jumpsuit with a plunging transparent neckline, her thick dull gold waist belt helped to break the outfit and so did the red soles of her peep toes.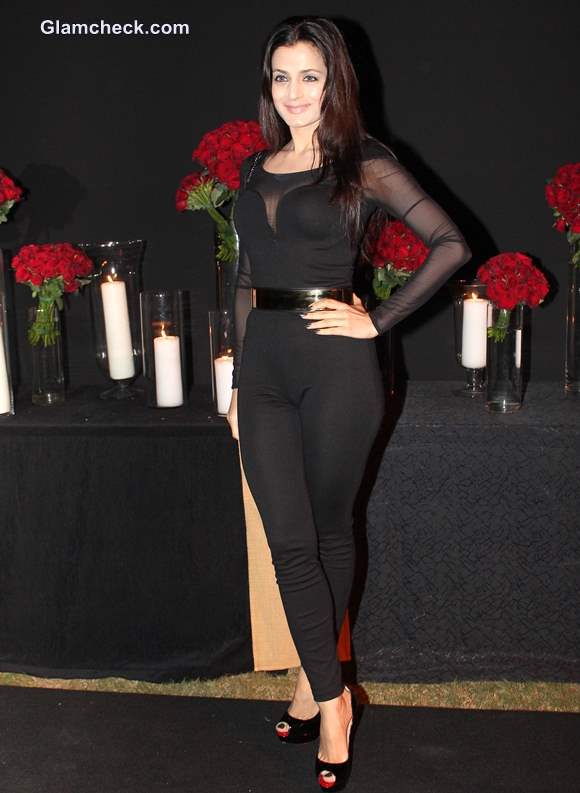 Ameesha Patel at Deepika Padukone's Success Party
The outfit was hot but we think a sleek ponytail would have enhanced her appearance even more.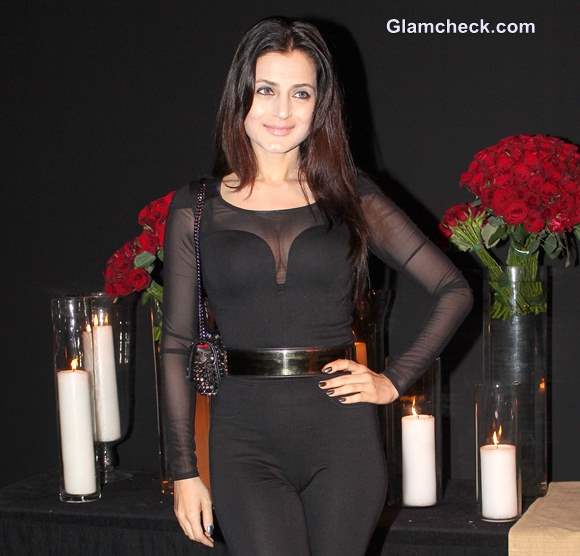 Ameesha Patel 2013 at Deepika Padukone's Success Party
Abhay Deol was seen breaking the all black rule in a floral print shirt paired with casual faded jeans. It was nice to see he experimented but something in the entire look wasn't as cohesive as it could have been.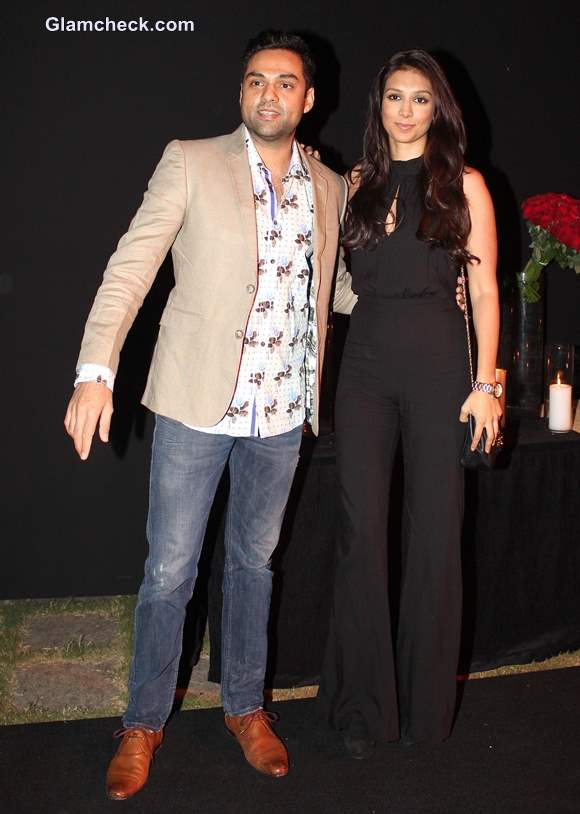 Abhay Deol along with Preeti Desai
Preeti Desai on the other hand got it right, she put on a key hole high waist jumpsuit which fit her like a dream, she left her long tresses down and put on minimal makeup.
Amrita Rao wore a heavily embroidered piece with gold and black dominating her dress, while the upper was high collared and structured, the lower part was as languid as the breeze.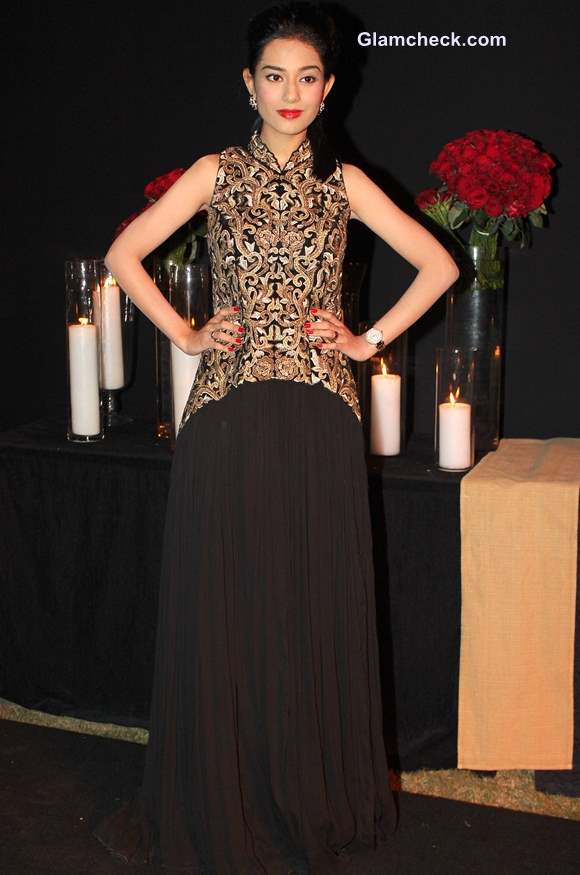 Amrita Rao 2013
She looked sharp with her hair pulled back and red paint on her nails and lips.
Arjun Rampal was present with his wife, Mehr Jesia. Arjun looked svelte in a black suit with a navy blue T-shirt inside and Mehr exuded elegance in a one shoulder floor-length gown.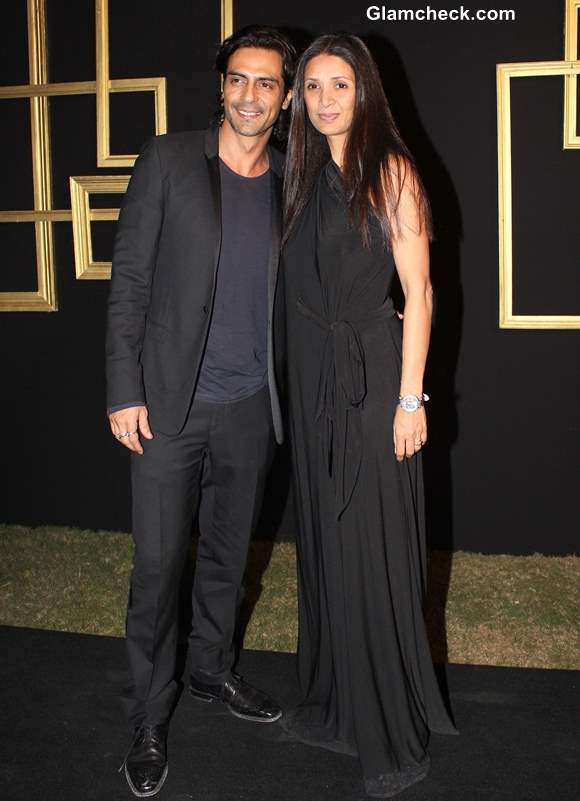 Arjun Rampal with his wife Mehr Jesia
The gorgeous Bipasha Basu slipped into an off-shoulder black gown with a heavy shimmering border and a copper box clutch. We hardly flaw her style but we have to say, that dress looked awkward with that attached border.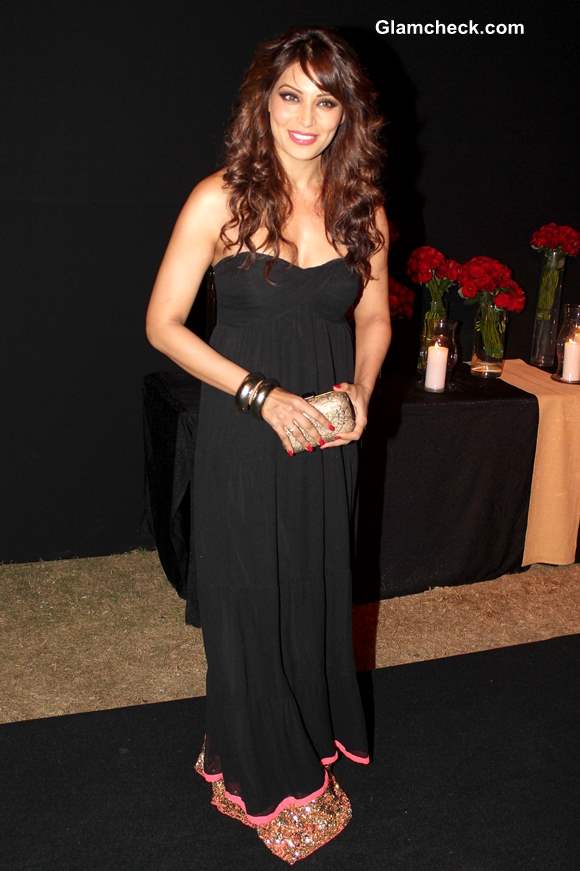 Bipasha Basu in Black Dress at Deepika Padukone's Success Party
She finished of her look with two thick bangles and winged eyeliner!
Imran Khan wore a classic buttoned up suit and his wife, Aavntika Malik looked like a doll in a short black glistening dress, cinched at the waist with a cute bow belt, gold cuff and spikey heels. Cute meets rebel!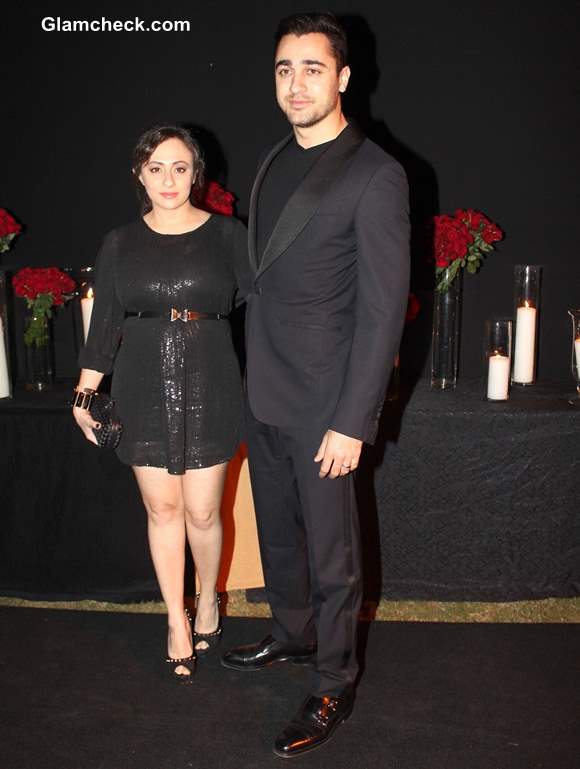 Imran Khan with his wife Avantika Malik
Ranveer Singh decided to grab all the attention at this party with his jacket shining in gold floral printing and his shoes encrusted in spikes.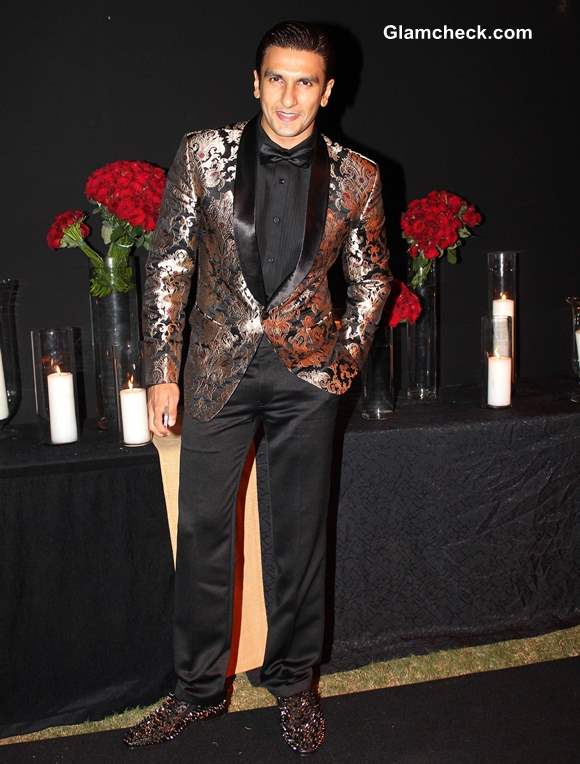 Ranveer Singh at Deepika Padukone's Success Party
He sleeked back his long hair and put on a bowtie to finish of his look, we quite liked the effort he put in from not blending into the crowd.
Richa Chadda also decided to play with sheer in her gown but sadly, got it all wrong.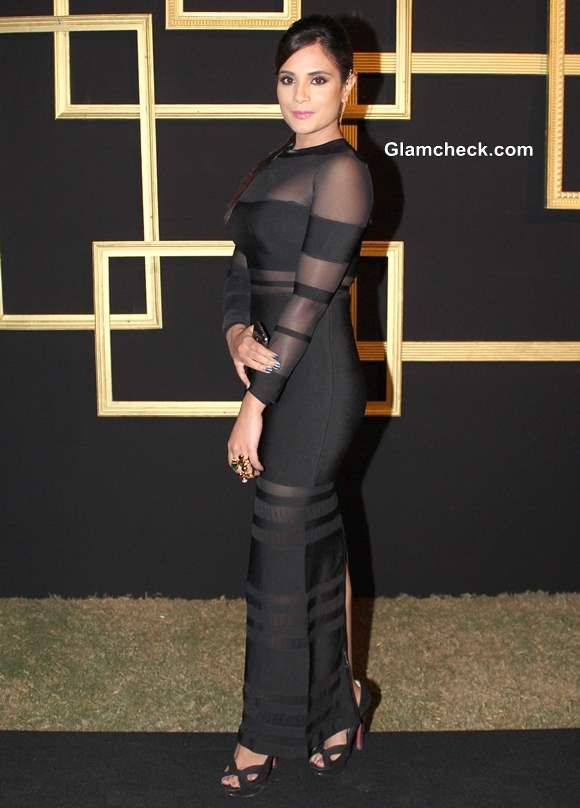 Richa Chadda at Deepika Padukone's Success Party
Her striped creation failed to flatter her body but we liked the cute side braid and the fuchsia pink lip colour.
Riteish Deshmukh wore a bandhgala waistcoat on white pants and his wife, Genelia D'Souza dressed the opposite- casual punk in faded jeans and a high low top.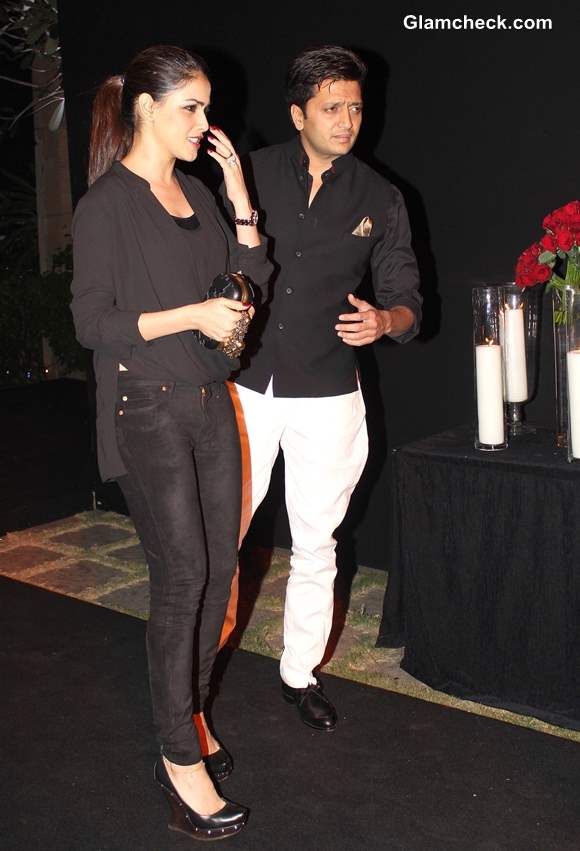 Riteish Deshmukh with his wife Genelia D'Souza
We loved the accessories on her, her knuckle clutch and her platform wedge heels.
Last but not the least, Shahid Kapoor was seen in a rugged look, he was sporting denim on denim, a faded grey top paired with a pair of two toned formal shoes, which were quite smart.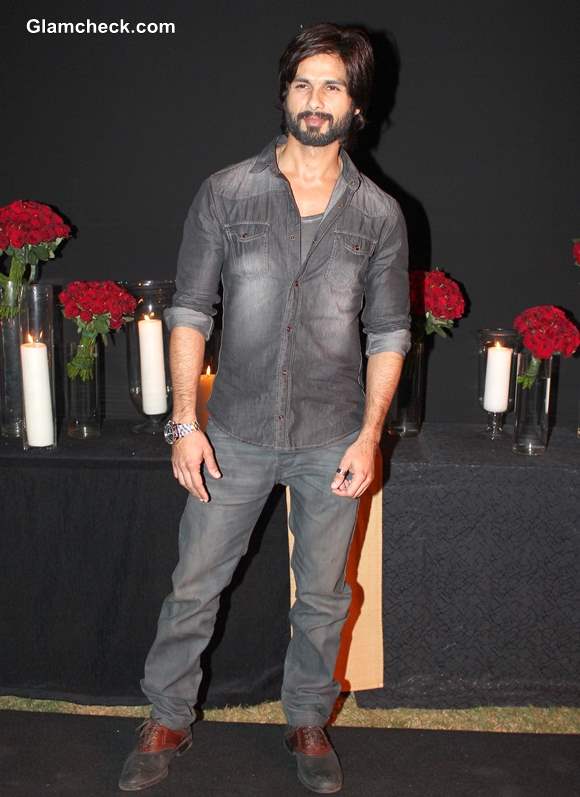 Shahid Kapoor at Deepika Padukone's Success Party
Solaris Images