Doesn't it feel like a ritual on its own to wear white on Holi? Yes of course your dear clothes will most often than not end up unusable after you play with all those colors on Holi. But that does not give you the ticket to dress sloppy. If you are due to attend a Holi 'Milan' (translated to meet in English) or any such Holi celebration party, then it is needless to say you would pay attention to how you dress.
So let's talk about ways you can wear white on Holi. Yes there are more ways than one. A lot of combinations are possible and so simple that you will definitely come up with an outfit idea for Holi reading this. And what's even better, you are bound to find some of these pieces existing in your closet already. You just need to pick them up and style well like we say and you are ready in your chic Holi avatar!
An intelligent idea would be to arrive in your good shoes at the party but change into a pair of slippers later for all the water balloon and color fights. Also pay attention your undergarments while wearing white. Unless you are in a particularly fashionable environment, that neon bra or underwear showing through your white clothes will be a big fashion faux pas. To avoid any untoward attention, wear white padded undergarments to match your upper garments.
Head to toe White
The oldest trick in the book is to go monochromatic; it is simple yet very effective and bold at the same time.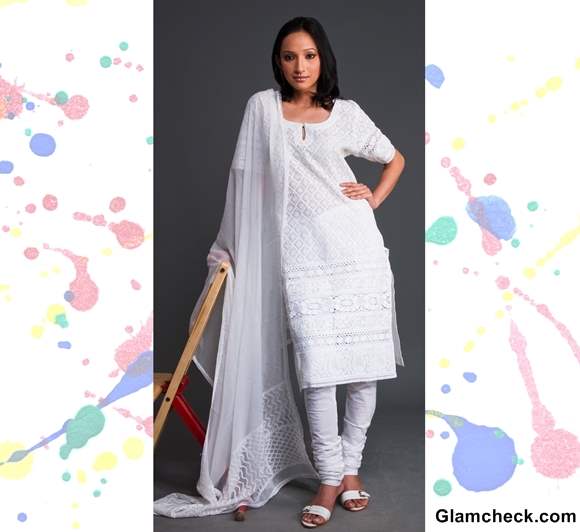 Holi Dressing Colorful ways to wear white
The traditional salwar kameez is a befitting choice for Holi. A pair with chikankari embroidery on it and a white churidaar and dupatta to match is exceedingly beautiful. This traditional look is a classic that can work for all.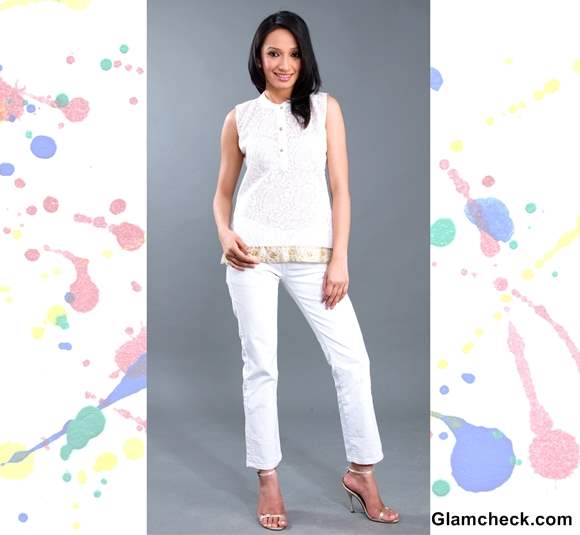 Holi Dressing Tips ways to wear white
For the east meets west take on the head to toe white look, choose a short kurti. Again a traditional one with same color embroidery and maybe an embellished border too, is perfect for this look. Combine this kurti with well-fitted white pants.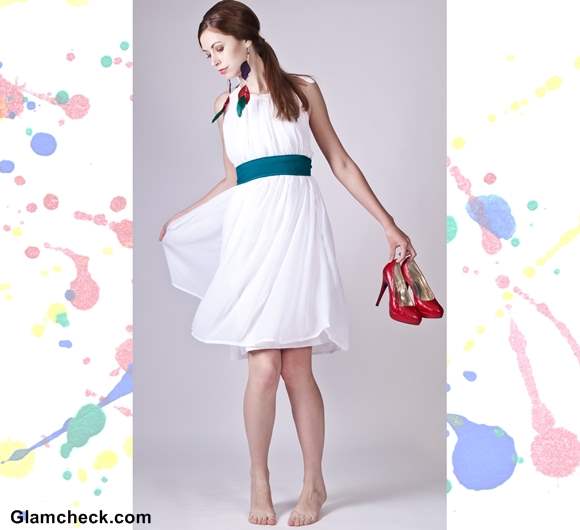 Holi Dressing tips wearing white dress
The all white look can be westernized by choosing a pretty summer dress. Though look for one which is lined with voil or any other fabric. Accessorize with colorful feather earrings and tie an obi belt or any other colorful waist belt with this dress, to make the look even more interesting. Colored heels for entering the party are welcome too.
Color blocking with white
This brings us to the second way to wear white. Told you it is simple right; simply color block. If you have your colored pants with you, you can simply pair them with a white tee or shirt. But if you are looking for a slightly fun and flirty take on the color blocking, skirts are for you!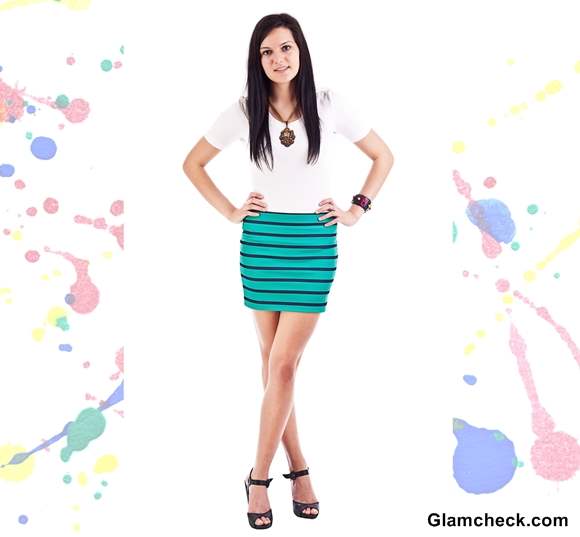 Holi Dressing tips wearing white with green skirt
Pair your basic white tee with a fitted bright skirt. We love it with this turquoise and blue striped one. But to add a traditional touch, you can wear a big ethnic pendant and a cuff.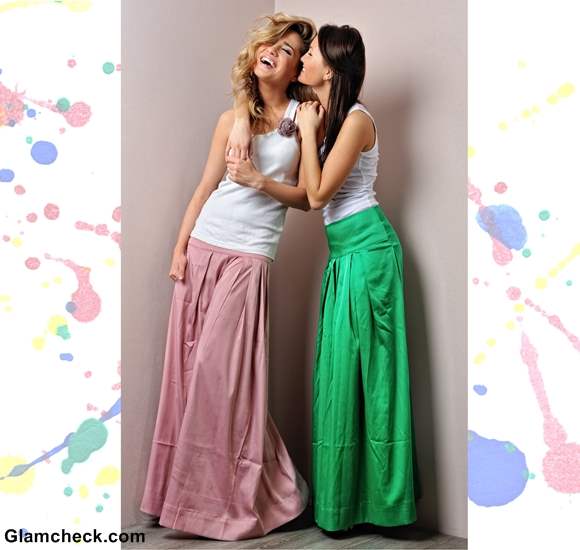 Holi Dressing tips wearing white
If you happen to own a colored maxi skirt or palazzo pants in cotton, well you are lucky. Because paired up with a white tank top, tucked in or out, you are bound to look stylish and ready for Holi. Don't be afraid to add a corsage brooch too if you may. Also this combination looks great with a side braid, as it is often advised to tie hair on Holi in order to avoid major after-cleaning.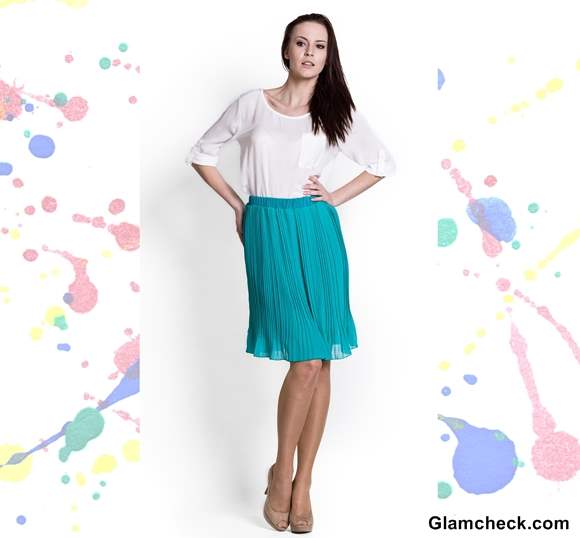 Holi Dressing tips 
A white blouse with minimum detailing will look pretty tucked into a plisse colored skirt. Do not add a belt to this one. If it is an accessory you need, it is a pair of statement earrings. Nude pumps will compliment your bright skirt well in this look.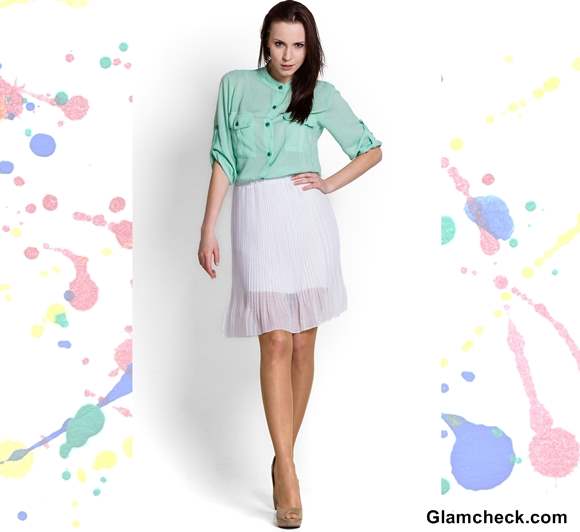 Holi Dressing tips wearing white and mint green
To reverse the combination, you can also wear a plisse white skirt instead of the other way round suggested above. Just pair this pristine skirt with pastel colored shirt, tucked in and sleeves rolled up.
Mix prints with White
The final way to wear white on Holi is to mix it with prints. After all it is a festival to welcome spring, and what could signify the exuberance of this festival more suitable then joyful prints.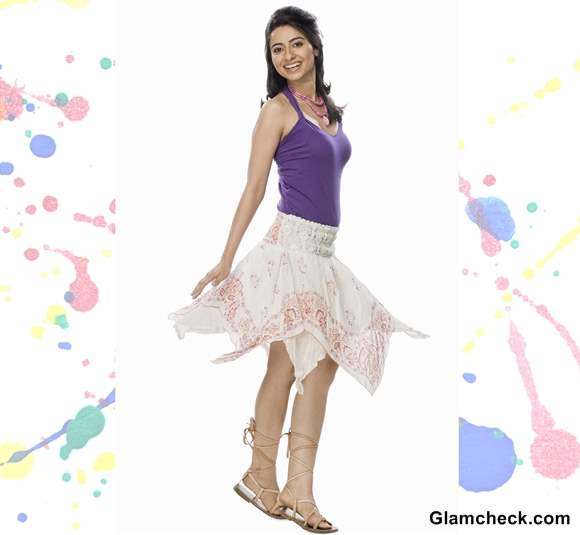 Holi Dressing tips wearing white skirt with purple top
Take out your scarf print skirt that you just saved and do not wear anymore, as it is ideal for this look. Pair with a bring tank top, and do not worry about matching as contrast looks great too. Wear a beaded necklace, the street jewellery kinds of course and you can pair this look up with tie-up sandals.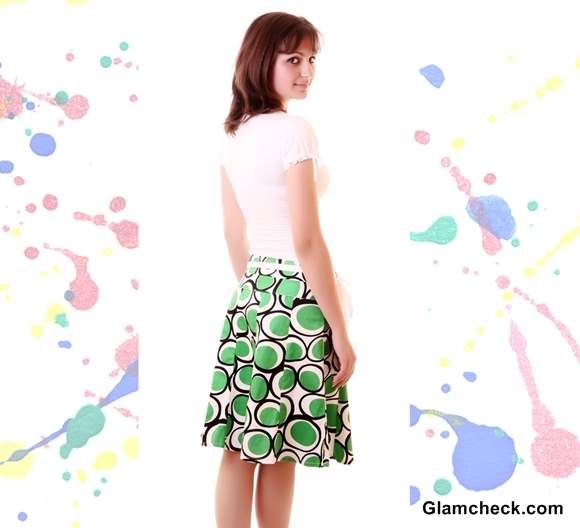 Holi Dressing tips wearing white with printed skirt 
A bold geometric print pleated skirt also can look ravishing with a simple white blouse. Tuck it in and wear a sleek white belt too for the added effect.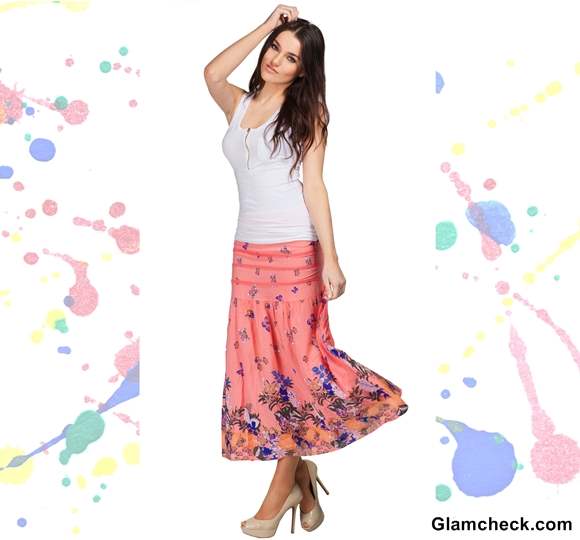 Holi Dressing tips wearing white top with peach skirt
Spring is about florals, and so your floral skirt is perfectly suited for Holi. The feminine colors will make even your white tank top, paired with it, look lady-like.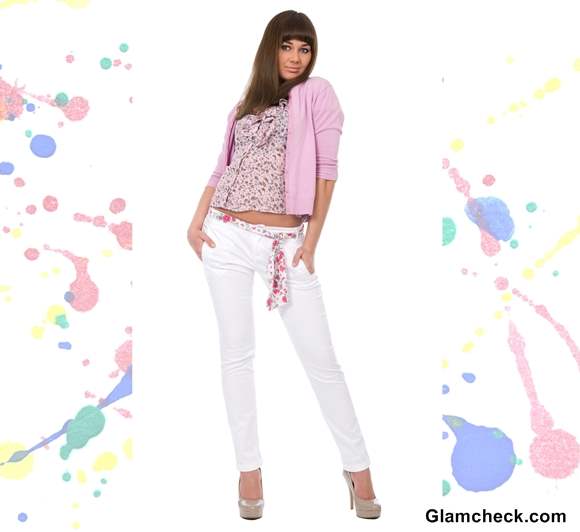 Holi Dressing tips wearing white denims with pink top
But not all of us are skirt fans right. Go for a white fitted pair of pants and wear your ditsy floral blouse with it. You can throw a solid color light cardigan on top and knot a printed scarf as your belt! What else can you need!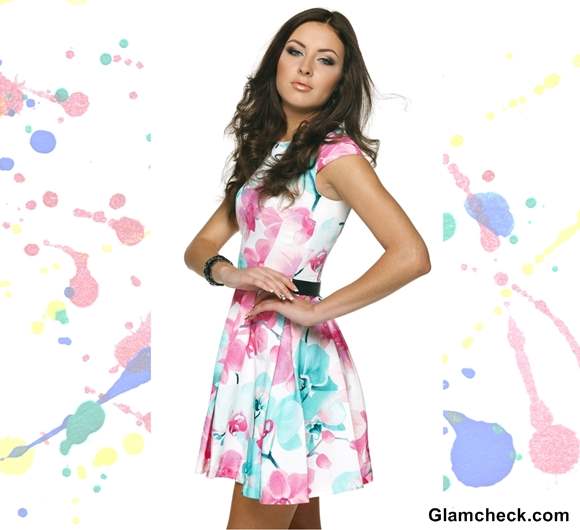 Holi Dressing tips wearing floral printed dress
All that said, there is nothing simpler than just putting on a printed dress. So if you have one with white as the dominant color, and pastel soothing print on it – you are good to go! Florals, geometric and even ethnic prints can work here. Accessorize with a black waist belt and a bracelet.
Hence we are through with our guide to wear white in colorful and stylish way this Holi. You can always add a personal touch to any of these looks and really make it your own. But whatever you do, stay chic even for Holi and enjoy this festival of colors. As Oscar Wilde put it so well – you can never be overdressed or over-educated!
Also Read:
Holi Special – The Right Makeup & Accessories for Holi

The Holi dream is to wear an all white attire and be smeared in colors right. If you are a […]
Dual Lip Color Trend for Holi

The recently held Wills India Fashion week Autumn Winter 2013 actually showcased a trend which is perfect for Holi. Dazed […]
Holi Hairstyle : Side Braided Bob with DIY colored Bobby Pins

So I have recently got my tresses chopped off into a bob and even though short hair is great, there […]
DIY: Holi Inspired Nails

The plethora of colors on Holi can sure get inspiring. Wearing white attire is great, but colored accessories and colored […]
Beauty Tips for Playing Holi

Holi, the festival of colors is an occasion that is enjoyed by everyone in India. Vibrant hues fill the […]
Shutterstock