The season of festivities and celebrations is here, as we all prepare ourselves for a merrier time, parties and entertaining guests. Diwali, the festival celebrating the homecoming of the Hindu god Shri Ram from a fourteen year exile, in modern times corresponds to a lot more.
It's the season of exchanging gifts, organizing card parties at your home and a lot of decoration. The home pretty much deserves a makeover at this time and without doubt it's the time of the year to polish your skills as a host.
All this remains incomplete without the traditional 'mooh meetha karna' or serving sweets tradition in other words. After all, happy occasions or celebration have a special place for sweets in our culture. But serving sweets also remains a thoughtful process if you want to make your hospitality felt by your guests. With some easy tips it is an easier and fun task.
The many sweets you can serve this Diwali
Visit your favorite confectionary around Diwali and you would know exactly how much spoilt for choice you could be. From a humble yet tempting gulaab jamun to the lavish halwa cubes – the options are many.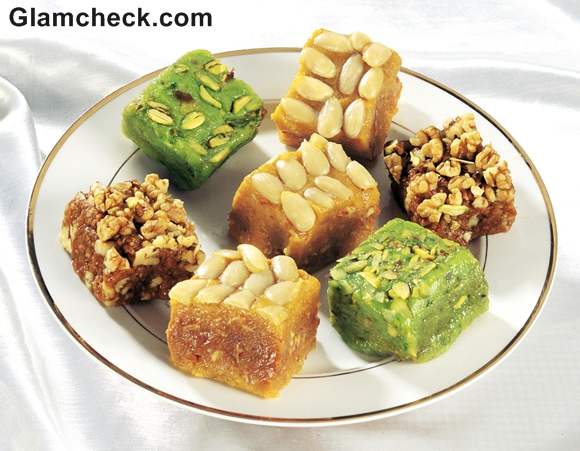 Diwali Sweets: Tips on how to serve sweets this festive season
Besan and motichur ladoos are ball shaped delicacies of flour, sugar and ghee. Contents vary but one and all share a love for this sweet
Belonging to a similar family is Pedas. While regular ones sans any decoration work equally well, but this season try out an apple shaped one or a colorful version instead and you will be stunned by the results.
Another variety is the chum chum, which is traditionally a Bengali Sweet but zestfully consumed in all parts of India now.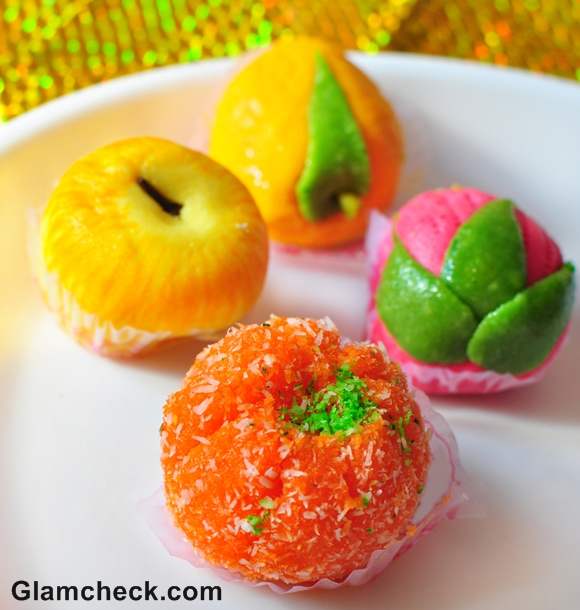 Diwali sweets chum chum 
It's available in a variety of colors and flavors like white, yellow and pink. Give the rose Chum chum a try this season
There's nothing like jalebi served hot. This uniquely shaped sweet with its many twists and turns tastes wonderful with rabri or even curd as loved by some states in India. The jalebi fried in desi-ghee tastes all the way better.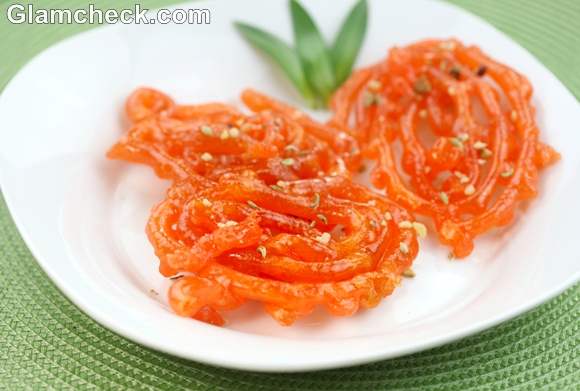 Jalebi Diwali Sweets
It's sister sweet, imarti can be consumed at room temperature and even served cold by some. Unlike Jalebi , it's shape is more defined and intricate.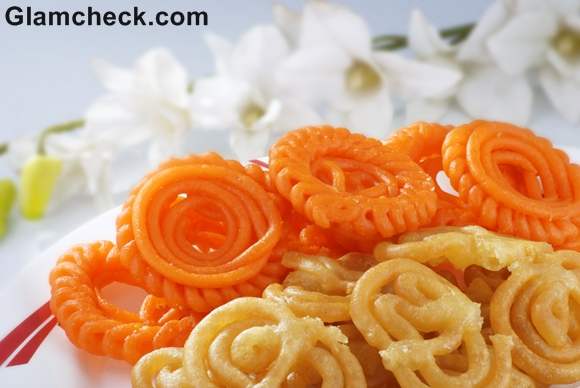 Imarti Diwali Sweets
Barfi in its many flavors and forms is a perennial favorite in many homes. The traditional varieties range from a milk barfi with pistachio garnishing to the cashew barfi.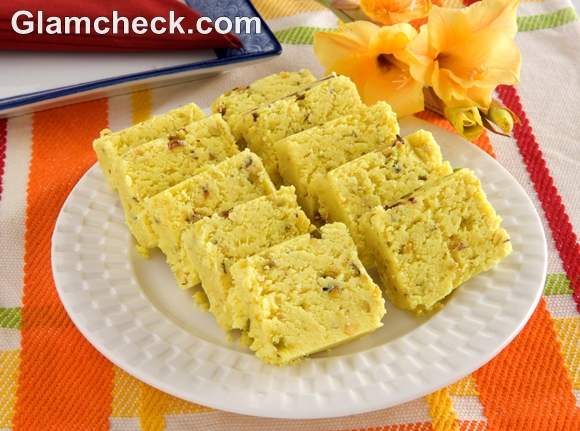 With the festivities round the corner, confectionaries are experimenting with new age flavors like pineapple barfi which is a must try.
There is no dearth of sweets to be served cold too, for those who like the chilled sweets. Ras Malai with ice cubes is a very delicate soft sweet which feels melting in the mouth.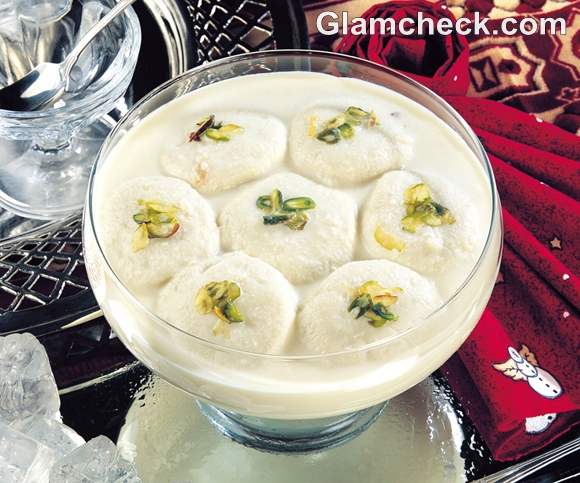 Diwali Sweets – Rusmalai with Ice Cubes 
If you wish to prepare a sweet at home, there are ideas for that too.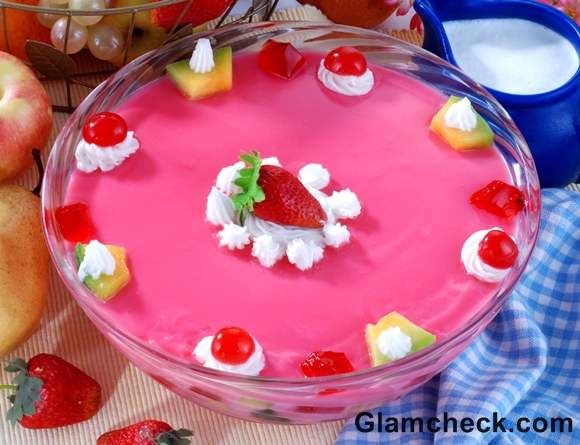 Strawberry Custard Diwali Sweets
Serve a strawberry custard garnished with cream , cherries and sliced strawberries and your guests will love this gesture. When effort is put in, it's always appreciated.
Kheer, which is a little time consuming but promises great results, can be prepared at home too. The rice kheer in milk tastes wonderful when served chilled with dry fruits.
Serving dish ideas
The sweet is as important as the dish it is served in. And why shouldn't' it be – the world we live in is all about aesthetics today.
An easy way is to take out your fine china ware with its gold borders or other such intricacies and make your guest feel that they are as special for you as your China.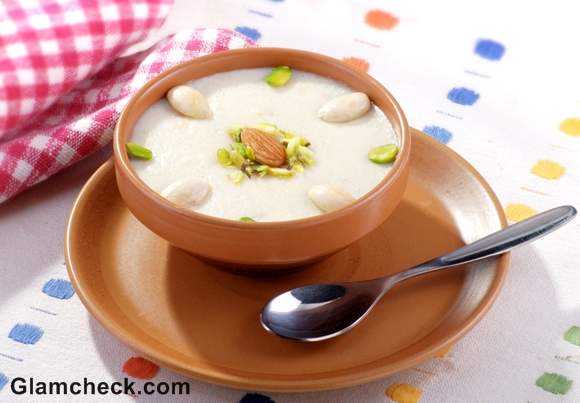 How to serve kheer in sand pot – Diwali
If you want to go down the traditional road, serving dishes in sand pots and sand baked bowls is truly magical. Revisit the old times, while you even serve your drinks in sand kulhars or sand glasses. These are easy to dispose off and your creativity will be the talk of the moment.
If you own a precious silverware, this is the time to serve in its carved beauty.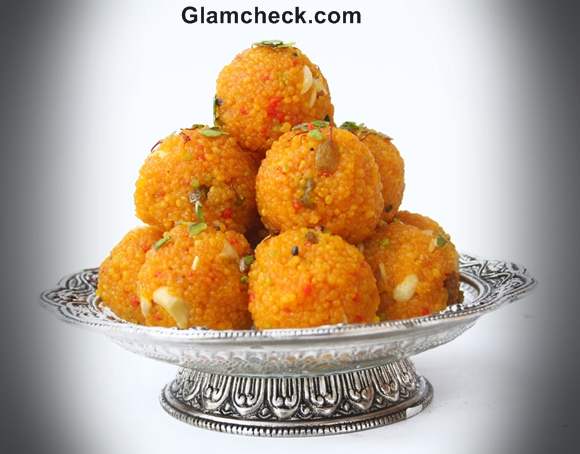 Motichur laddoo served in silver bowl -Diwali
If you don't' own one already, it could be a good idea to get one as it is auspicious to purchase silver around Diwali too. It will be a timeless investment.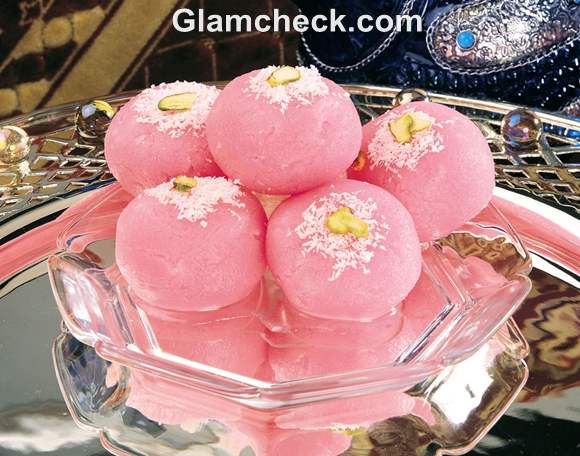 Rose Chum Chum served in glass dish – Diwali
Glass and crystal dishes often come in exquisite shapes and cuts. The reflective surfaces always look good against the pretty colored sweets. Traditional shapes like paisleys and leafs are also available as glass and crystal dishes.
Plastic-ware with its unbreakable qualities and variety in shapes and solid colors is unbeatable.
Gulab Jamun & Rosgulla served in plastic trays Diwali Sweets
Contours and proportions come out very well in this material.
Garnish your sweets with finesse
If you ever followed the masterchef or anything similar or noticed the food at a good restaurant – you would know the garnishing is the dimension much needed in food.
It makes the food look tempting and well finished. Beauty even in this department can never kill.
White coconut shavings, saffron, gold and silver leafs and dry fruits like cashews, pistachios, almonds are a traditional way of garnishing sweets.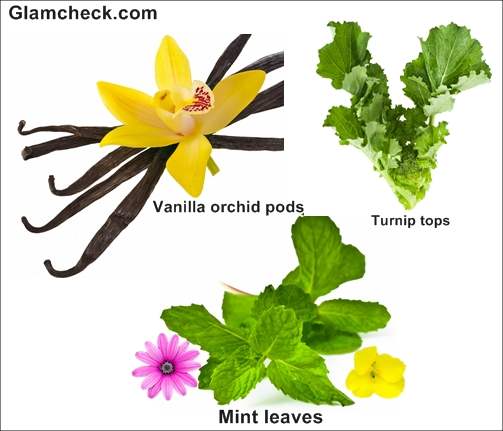 Sweets garnishing decoration ideas
You could get more creative and try out new ingredients like vanilla orchid pods, mint leaves and turnip tops too.
Other accessories for perfection
With this last attention to detail, winning applaud and smiles is one step away. Be thoughtful and arrange for napkins in advance.
While displaying the sweets, you can make use of various natural flowers too. They look beautiful and make the environment fragrant too.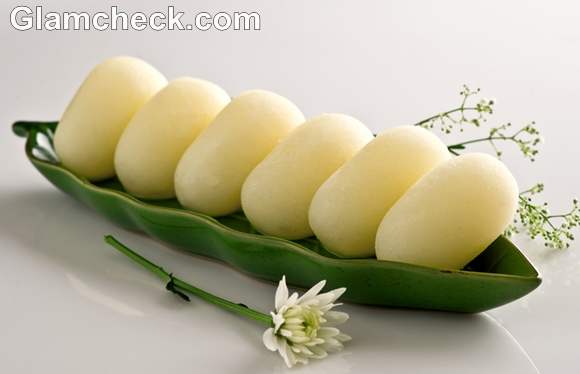 How to garnish sweets 
So, it only takes a little planning and a few ideas to make this festival season even more special for you, your family and guests. May happiness be with you!
Shutterstock