The tankini is a variation of a two-piece swimsuit. A tankini has a tank top combined with a bikini bottom. One can combine different bikini bottoms such as boy-shorts, low rise bikini or a string bikini as desired with a tankini. It offers a sporty swimsuit look. A tankini can feature a halter neck or a strapless style as well.

Tankini comes in different cuts and styles and has built-in push-up bras. It offers least skin exposure and provide a modest coverage to the wearer.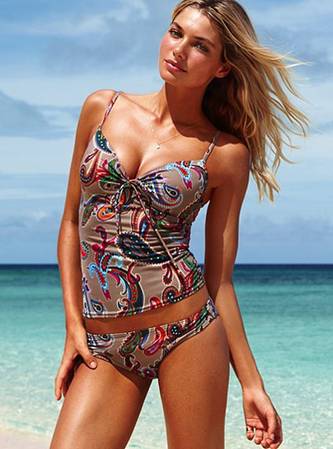 The built-in push-up bras in tankinis allow women to reveal their cleavage in a modest way. Ruched style tankini offers flexibility and allows women to vary the length of their top as per their torso size.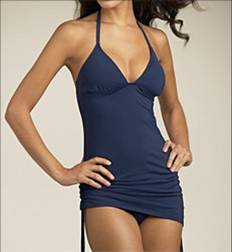 Camikini, a  tankini  variant, comprises a string bikini along with a camisole top. It is often paired with a string bikini bottom.
Tankini is also available in halter-neck, bandeau and racer-back styles. They are available at all leading swimwear stores around the world.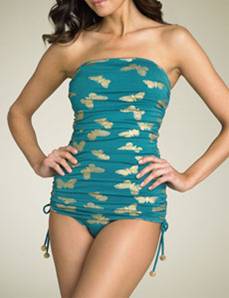 Bandeau tankini
 Tankini looks good on women of any body shape.
Tankini for petite women

Women with a petite body shape can highlight their waist by wearing a tankini top that has a curvy seam-line and is made of a good stretch material that hugs the body tightly.
A tankini with some detailing at the waistline also helps highlight the waist.
Team up your tankini top with a string bikini. Tie strings at the sides will give an illusion of distinct body curves and make you look glamorous.
For a more feminine look, go for tankini with frills and tiers. These look sexy and feminine.
Avoid bandeau style tankini as it will flatten your chest. Also stay away from boy-shorts.
Tankini for plus-size women

Plus-size women can also gain benefit from tankini. Choose a tankini that covers the torso completely and touches the waistline.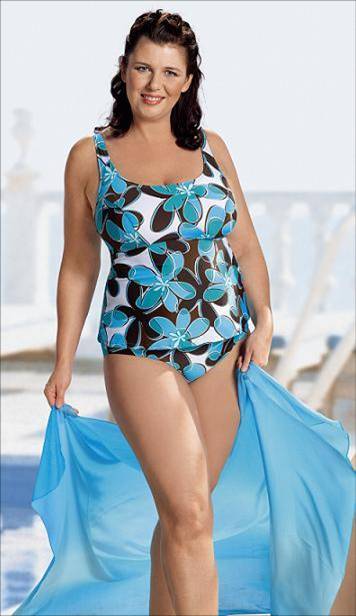 Team up your tankini top with boy-shorts as it provides maximum butt coverage and also creates an illusion of a less wide hip. Don't go for plunging necklines. You can also mix and match the two pieces of your swimsuit with dark and light colors. Avoid monochromes.
Tankini for pregnant women
Pregnant women, who feel shy about their bulge in a two-piece swimwear, can try out tankini.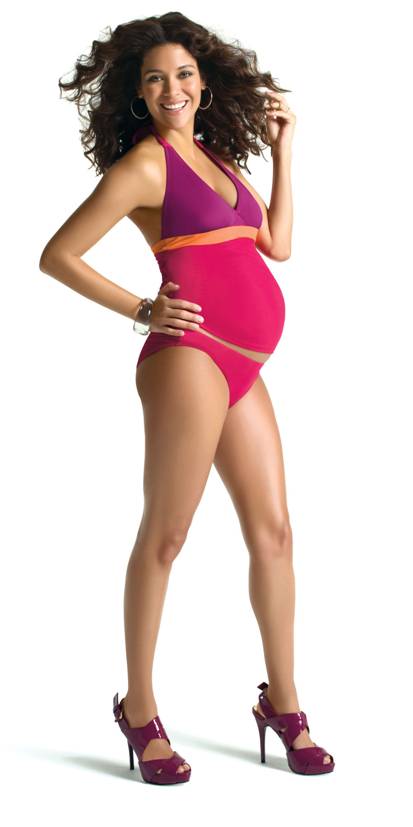 Tankini with tiers and frills camouflages the bulge and flatters the body.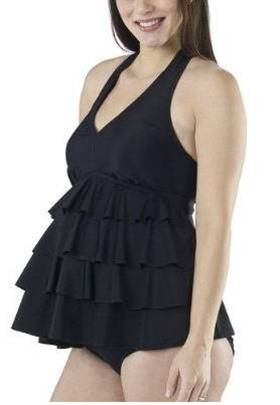 You can go for halter-neck, or racer- back styles for a sexy look. You can also go for styles done in empire-raised waistline.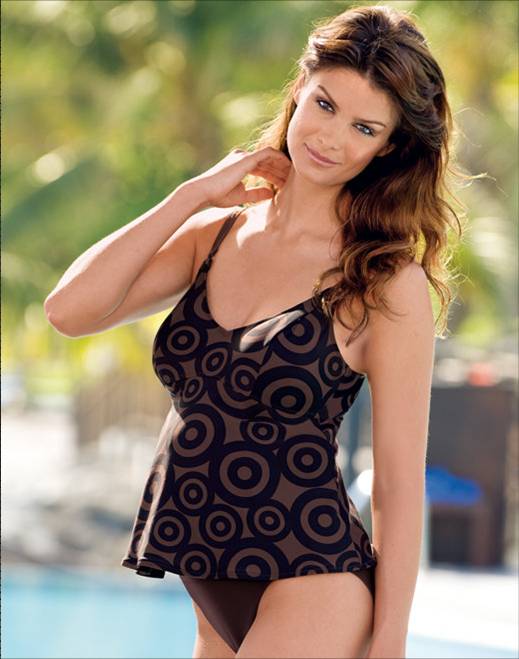 Tankini as a beach wear:
If you are not in the water, tankini combined with mini-skirts or hot pants serve as an ideal beach wear. They make you feel comfortable and you can relax on the sand and watch the waves wearing them.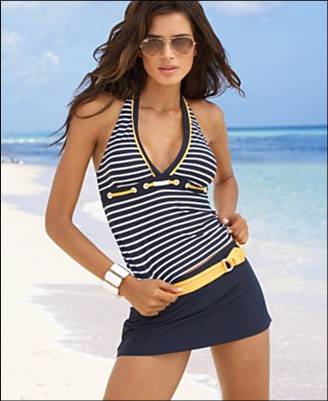 Tankini as a beach cover up