Bikinis / swimsuits  are a wardrobe staple. They are functional as well as glamorous. A real erotica, the beach essential promises you great appreciation provided you do justice to the garment. And this justice depends on two: Wear the style that suits your body shape well and also wear it with great confidence. Avoid wearing a style that is too revealing for you to carry and feel comfortable in.
The selection of a bikini depends entirely on your body shape as well as your individual choice as to how much do intend to reveal and how much you want to keep to yourself, covered.
Bikini and your body fixes:
You may fix the small body flaws and flaunt your body confidently, even while you sit back at home and avoid gym. The miracle can be felt by following few handy tips that may mend most of your problems.
Need an extra help at your bust area?
Small breasts: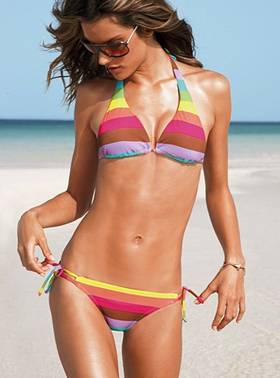 Victorias secret bikini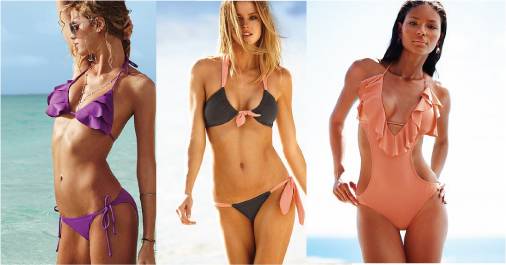 Bikini with runches, frills, ruffles, bows and tie-ups. (Best suited for banana body, petite)
Petite ladies, with

small breasts

may add shape and volume to the bust area by wearing padded bikini tops.

You can also create a greater decolletage by wearing padded tops.

Plunge bikinis,halter neck styles as well as triangle styles may be quite helpful.

Horizontal stripes and patterns on the bikini top will give an impression of a fuller bust.

Runches, frills and ruffles may add volume to your breast area.
Incorporate details:
Detailing such as ruffles, frills, rings, bows and tie-ups work to highlight the positive areas as well as camouflage the body flaws. Boyish lean banana  figure can be made apparently more feminine with the help of them.
Heavy breasts: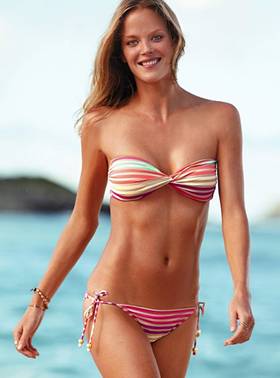 Victorias secret bikini (Bandeau)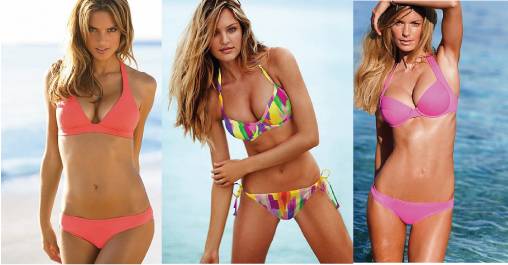 halterneck bikini with wide straps                                    Under wire bikini tops
Under- wired bikini tops may help provide support and control to heavy busts.

A halterneck bikini with wide straps will provide extra support to your heavy busts.


Darker solid colors may help you appear slimmer.
Want longer legs?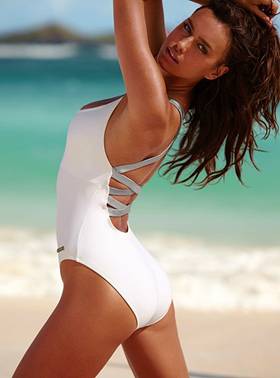 Victorias secret swimwear (one-piece, high cut bikini)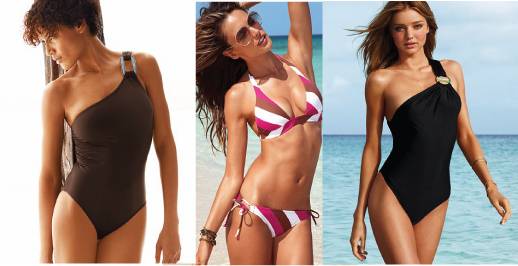 One-piece swimsuit  high cut          bikini with vertical straps One-piece swimsuit black ( high cut)
Wear high cut bikini briefs. Even a hipster may come to your rescue.

Wear a swimsuit with high cut on the thighs to help you give an elongated look.

Vertical stripes will help your body exhibit the illusion of longer legs.

Skirted bikinis and boy's shorts may make you look shorter. Avoid them.

Want to create hips?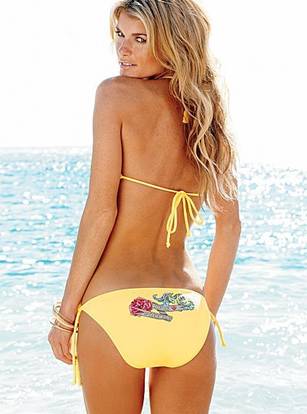 Victorias secret swimwear (two-piece, yellow string bikini)

bikini with horizontal  straps and tie strings at the sides
Wear swimsuits with smaller prints, lighter colors and horizontal stripes.

Bottoms with tie strings at the sides will give an illusion of distinct body curves and make you look glamorous.

Bikinis cut high on the thigh will help your slim hips appear wider.
Want to hide wide hips?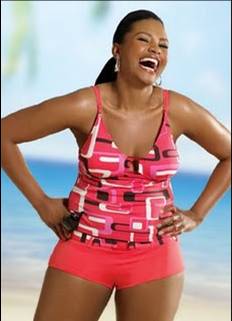 Plus size swimwear (boy shorts red )

Wear bold prints, dark colors and boys shorts.These will help you create an illusion of a slimmer hips.
Want to create a waist?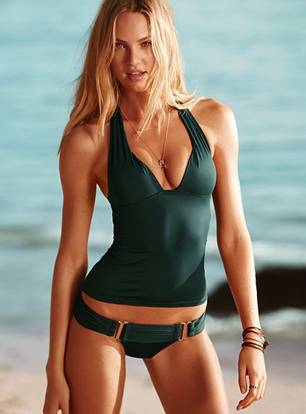 Victorias secret swimwear (Tankini green)
Tankini with a curvy seam line        Bikini with detailing around waist( Belt)       Purple bikini with tie strings

Wear tankinis with  curvy seam-line made of a good stretch material that hugs the body tightly while running down the torso.

Detailing around the waist will help create an illusion of waist.

Geometrical shapes, wrap around styles, tie strings as well as belts may come to your rescue.
Want to hide the extra fab on your abdomen and waist?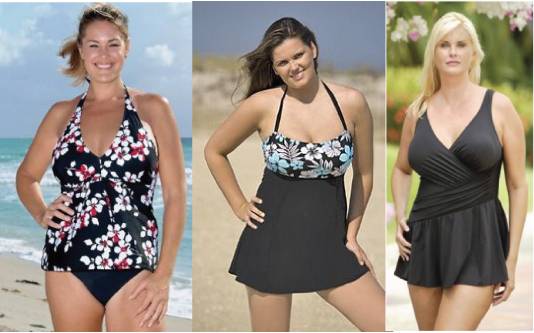 Plus size swimwear (Tankini)                                                                 Runches on waist (black one-piece swimsuit)
Wear dark colors and bold patterns, vertical or diagonal stripes. Avoid monochromes.

Mix and match the two pieces of your swimsuit with dark and light colors.

A tankini will help you hide the extra flab. A one-piece swimsuit with some draping around the waist or hips can also help to conceal the extra fat on your abdomen.

Mix match the top and bottom to hide body flaws.

Bikinis are mainly sold as separates. This makes it easy for you to alter sizes as well as styles.

Pair a plain bikini top with a detailed bikini pant to draw the eye away from your chest or vice versa. The first may help you hide your problematic bust area, small or heavy, and the other may help you with the problem at the bottom, heavy or slim.