During pregnancy your lingerie has to be of a kind designed for added comfort.  By wearing the right kind of lingerie, offering the right fit you can make your pregnancy a happy and memorable experience.
Things to look for in Maternity / pregnancy bras:
Breasts undergo major change in size, especially, during the first three months of pregnancy.  The breasts need room for unrestricted growth and proper support so that the ligaments remain un- stretched. Some may also observe sore breasts during the course of pregnancy.
Start wearing a maternity bra as soon as you start feeling restricted and uncomfortable in your regular bra. This time duration varies from a person to another.

Wear maternity bra that provide maximum coverage so as to ensure full hold to the breasts and control bounce on the upper bust area. Demi-bars are not suggested.

Wear normal cotton bras as much as possible. This may ensure breath-ability. Wearing a cotton bra for longer hours is quite comfortable when compared to bras of other fabrics.

The design of maternity bra should be simple yet highly functional.

A maternity bar should provide adequate support to the bust so as to help the ligaments remain firm.

For added support purchase a maternity bra with wider straps that don't dig deep into your skin. The weight of your bust should never fall on the straps as this may result in back pain and other related problems.

The bra should adjust with the changing size of the bust to accommodate and fit properly. Also the under bust band should have at least three hook closures to enable greater options of fit. The straps should be adjustable.

Comfort is the key to selecting any item of clothing, accessory or footwear. During pregnancy comfort become more of a need as you have to ensure not only your own health but also the health of wellness of the baby that is yet developing inside you.
Nursing bras are different from Maternity bras: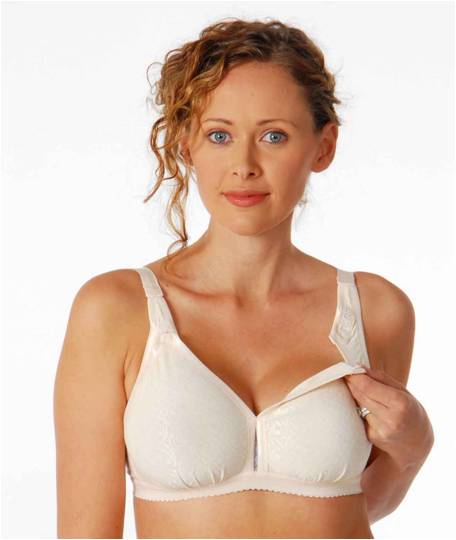 Nursing bras should not be confused with maternity bars. They are both designed to make motherhood a happy experience yet they have different functions. Nursing bras have fabrics made into flaps that can be unclasped or pulled down so as to make an easy access to the breast. This makes breast feeding an easy task even in public places. The design complete support to the breast even while breast feeding the child.

While purchasing a nursing bra, see to it that the fabric is stretchy, cool and comfortable. It should also be absorbent so as to absorb the extra milk flow. It should also ensure breath-ability. A cotton bra or a blend of lycra and cotton is recommended.

The bra should not fit too tight. A tight fitting bra may restrict normal milk flow and also block the milk producing ducts. This way you may suffer from chronic health disease like mastitis.
Under-wire nursing bras:
Nursing bras with under-wire can be worn for the added support. Avoid wearing them for longer hours. The under-wire should sit properly under your breasts and not dig too deep into your skin.
Sleep bra:
A sleep bra is recommended to be worn during the night. This may ensure good sleep and some support to your breasts.
What are Maternity girdles and how does it work?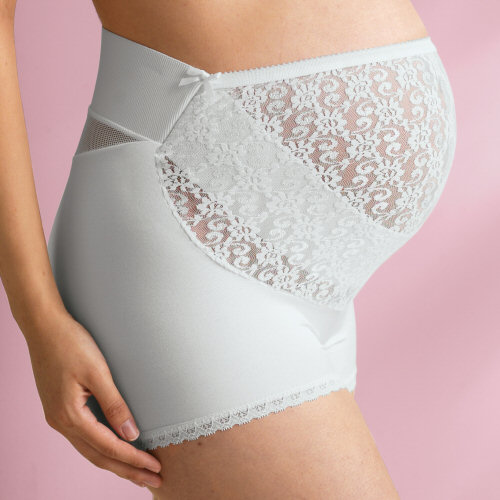 Maternity girdles are support garments that are designed to reduce the pain and problem associated with later pregnancy.

The girdle is simple in construction with smooth seams and light weight, soft, breathable and stretchy fabric. Cotton, nylon, lycra and spandex are recommended. It is expandable enough to accommodate the growing belly.

They run from the under bust area to cover the entire stomach up to the mid thigh or up to the knees. They are often styled on the lines of a panty.

A maternity girdle gives balanced and even support that helps reduce pelvic strain and back pain during pregnancy. The maternity girdle lifts the stomach and supports the pelvic area to distribute the weight exerted by pregnancy evenly. The center of gravity shifts once the pregnancy reaches the second trimester. They may also enable proper blood circulation that may reduce leg cramps and swelling. Some maternity girdles also feature a varicosity relief belt that provides adequate compression to the vaginal region to reduce swelling and sooth varicosities.

You can wear girdles during the later phase of pregnancy. However, some may start wearing them as early as the second phase of the trimester. Girdles provide abdominal support and ensure little pressure on the pelvic, spine as well as the abdominal muscle.

The girdle should be pregnancy specific and not just any regular one. Wear a size that is neither loose nor tight for you. A tighter one is quite hazardous to the health of the expecting mother as well as the baby. A looser one may fail to serve the purpose of wearing one. Don't wear them while sleeping.
What are postpartum girdles?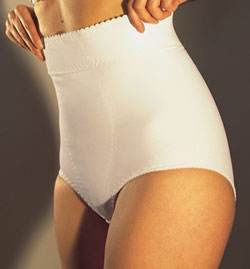 A postpartum girdle may help you retain your pre-pregnancy shape and also provide you relief from the back pain that most of them women are subjected to after delivery of the baby. The girdle may also held the abdominal muscle in the right position and prevent them from hanging loose.

It is recommended to consult a doctor to advice you when to start wearing one. You can wear them even after a caesarean section.

A cesarean section is quite a pain as the healing process is slow. A girdle with a c section may assist in the healing process and reduce muscle and back pain. They also support the muscle around the incision and reduce pain. Even lifting your little bundle of joy in your arms becomes quite comfortable with the help of a girdle.
Maternity stockings/ compression stockings:
During pregnancy you may suffer from swollen ankles and feet, leg cramps as well as varicose veins that hurts. The weight of the baby inside the womb exerts  extra pressure on your lower body and the veins dilate thereby.

A pair of compression stockings may help you reduce the problems. These stockings provide equal and even pressure on your legs and compression to the ankle to make it easy to walk.

They are quite different form a tensor bandage. Wearing a tensor bandage is not recommended during pregnancy as it may cut off proper blood circulation in the legs and cause more discomfort.

Don't wear them while you sleep.
Socks:
Wear soft cotton socks that are a bit loose in fitting. Keep them shorter in length. Avoid wearing knee length socks as they may restrict movement and add to your pain. Elastics should not be too tight as they may restrict proper blood circulation and increase your varicose pain.
Pantyhose:
Wear easy to wash and quick to dry natural fabrics. Opt for solid colors as they may appear unstained even if any sort of discharge takes place. The ones with substantial crotch width is recommended.
Pregnancy Camisoles/Chemises/baby dolls:
Now that you are pregnant, it doesn't mean that you can't afford to look sexy and attractive any more. You can still wear chemises, baby dolls and camisoles that are designed for expecting mothers.