Silhouette in dresses is many. Asymmetrical patterns, cuts are designs are no new introduction. Although the ramps are full of asymmetrical designs from various designers yet the concept is no new and can be traced back to the time the Grecian mythologies represent. The modern innovations are many yet the basic concept is the same. The entire geometry and symmetry involved in the design of dresses experiment complete freedom and break away from the rigid lines of symmetry. The asymmetric is bohemian yet sophisticated. It represents the human desire to break free from the traditional lines that creep like monotony into our lives. The asymmetry is bold, experimental, free, classy and timeless.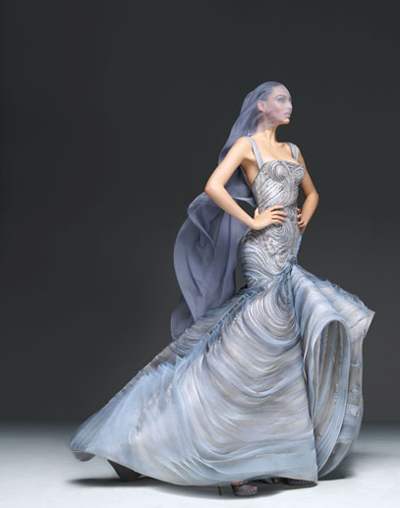 Asymmetric elements in garment are many and can appear in sleeves, necklines, hemlines, layers, gathers, shoulders, slits, wraps, prints, patterns etc. Unusual gatherings at various points in the dress also account for asymmetry.
Asymmetrical dresses are made of rich fabrics like silk, taffeta, velvet, satin etc. Fabrics like chiffon, jersey etc can also be used for making symmetrical garments.
What is Asymmetry/Asymmetrical Fashion/Dress/Garment/Gown:
Asymmetry in clothing can be understood as some sort of deformity that makes for a high fashion statement and that too without looking weird. Usually, the effect is created by incorporation of different cut, design as well as stitching techniques. Asymmetry can be created by stitching up pieces of cloth with some sort of inclining or sloping angle that dips at one side and rises at another. The asymmetry is also achieved by some deftly cut lines, at varying degrees at the hem, sleeves or neckline.
Asymmetrical garments encompass almost all garments including tops, skirts and dresses. Asymmetry can also occur with prints, patterns, designs and embellishments that follow no symmetric patterns.
What is Asymmetrical hemline?
Asymmetrical hemlines are highly fashionable. They are very feminine and attractive. The free flowing and soft texture goes well with asymmetric  hemline. Some asymmetrical hemlines are handkerchief styles, diagonal-cut hemlines and skewed hemline.
The hemline, when asymmetric, can be in the form of a mullet that is long at the back and short in the front.
The diagonal hemline plunges diagonally from one side to another.
Some asymmetrical dresses in classic styles are maxi dresses with handkerchief hemline, empire style dress with diagonal cut hemline and other wrapped style dresses.
While selecting asymmetrical hemline, keep the length under consideration. A length that hits the ankle in this style may not appear appropriate and make you appear like a dancer. Also, the look may appear out of time and outdated.
What is handkerchief and jagged hemline?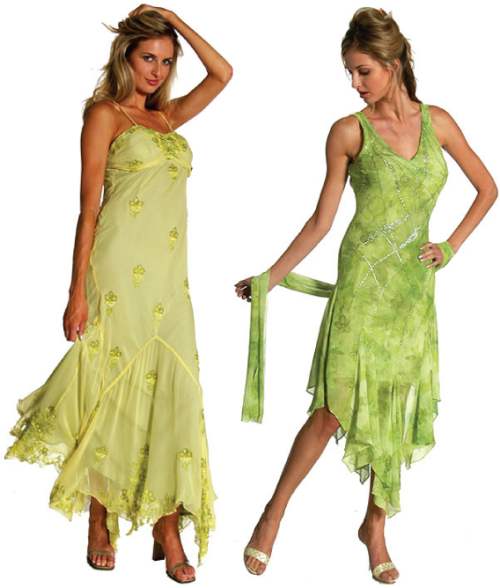 A handkerchief hemline features multiple soft layers that are of varying length, or same length, falling in same points or in different points at mid-calf length or tea-length. The uneven hemline dresses are very feminine and sensual. The varying length hitting different points at the hemline are quite flattering to the legs.


For small and petite women:
The handkerchief style hemline can make an petite and small women look smaller. The style makes the leg appear smaller. Avoid wearing mid-calf length asymmetrical handkerchief style gowns, skirts, frocks etc.
Jagged hemline makes the leg appear smaller. Petite women should avoid the style that hits the mid-calf length. A knee- length style or a mid-thigh length may look quite appealing.
The asymmetrical style with severely jagged design interferes and breaks up the line of the leg. Petite women should opt for jagged styles with an inch difference between the highest and lowest part of the asymmetrical hemline.
What is Diagonal-cut hemline?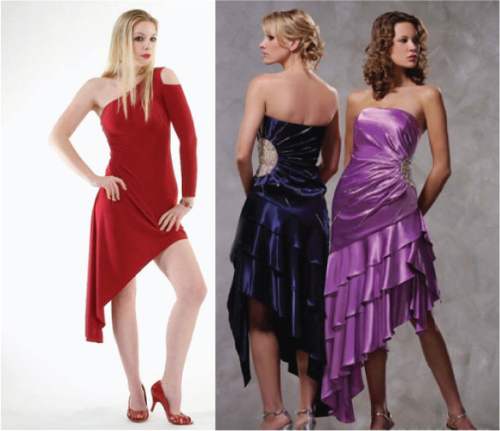 A diagonal-cut hemline is a hemline that dips at one of the sides and rises up to the highest point at another. A diagonal-cut hemline with frills and ruffles at the hem makes for a very sensual and feminine style.
Women with heavy thighs must avoid wearing a diagonal cut skirt that exposes the thighs at the lowest point as the style may make thighs appear heavier. The style is well suited to those with a petite body frame.
Asymmetrical styles are apt for all dressy occasions. Wear them to the ball parties, the beach parties or any other dressy occasion and you will grab the center stage. However, these are not meant to be worn at formal occasions and work place as well.
Dresses with Asymmetrical Shoulder/Sleeves: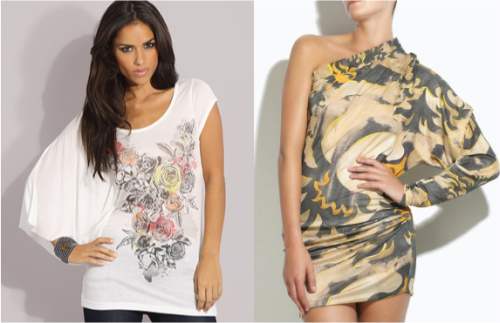 When it comes to asymmetry at shoulders, the asymmetry appears in the form of one-shoulder or off-shoulder styles. One such asymmetrical style may feature a totally bare side/shoulder whereas the other may be completely sleeved. Another may feature frills or puffed sleeves while the other may be straight and full sleeved. Puffed sleeves, drop shoulder, kaftan sleeves, cap sleeves, kimono sleeves etc are all experimented with.
The shoulder line is softer with one shoulder styles, halter collier lines, one-strap style-laced or beaded etc styles. The off-shoulder style armored with a strap of band running from one shoulder to meet the dress under the shoulder or other point is quite feminine. Depending upon the desired look, the band may feature some crafted flowers, buds and butterflies. Variations may feature some belted styles.
Further to add to the asymmetric element, shoulders are embellished with add-ons like flowers, bows, butterflies, chains etc. Braids, ruffles, fringes etc are also other addition.
The Greek Goddess draped shoulder style is quite fascinating. The look is very elegant and classy. Bold yet feminine.
Even the two sleeves of a dress can be of varying length. Some may be folded at the elbows with the help of buttons, bows etc.
One-shoulder styles are sexy and hot. It bares one of your sexy shoulders and one side of the sexy collar bone making you appear like a divine Greek Goddess.
Asymmetrical Neckline: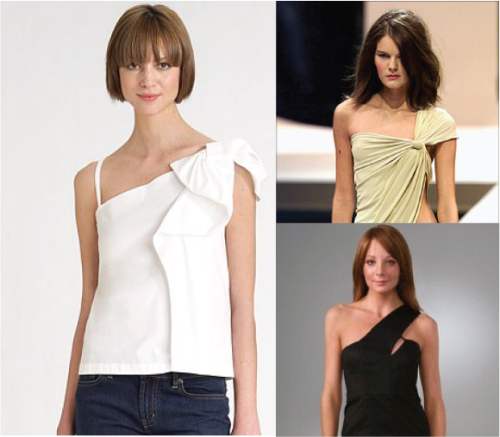 Asymmetrical neckline and asymmetrical shoulder style are inseparable and the line that divides the two is quite blurred.
The neckline has gone asymmetrical. The shape of the neckline, for example, may be a simple curve at one side and at the other it may feature a number of curves and shapes that bear no symmetrical geometrical shape.
The neckline is completely gone. There is no neckline at all. It is taken over by off-shoulder styles that are nothing but a straight line that runs under one armpit to another.
Two or more neckline can be incorporated into one. This provides a greater scope for experimentation. The style can be bohemian and elegant as well.
The neckline as well as the shoulder style can both be asymmetrical and Incorporated into one single garment. The sweetheart neckline can have a shoulder style in which one a band of cloth may run across the either shoulder to meet the garment at some point on the garment.
Asymmetrical elements: Asymmetrical drapes, folds, gathers, volume, frills etc:
The Greek goddess- like drape focuses on the waist and sometimes the side waist. The drape features in the form of tucks, pleats, ties, buttons, bows, strings, gathers etc. These Grecian folds and gathers add volume and dreamy silky free touch to the silhouette. The look is diva-like when in nudes, whites and reds.
Some times the asymmetry in shoulders is achieved through folds and volumes of cloth, in the form of ruffles, flounces, folds of cloth, frills, etc featured n either of the sleeves while the other being simple or completely absent.
Asymmetry can also occur when fabrics of two or more colors and texture come into interplay.
Tips/How to select/wear an asymmetrical dress/garment: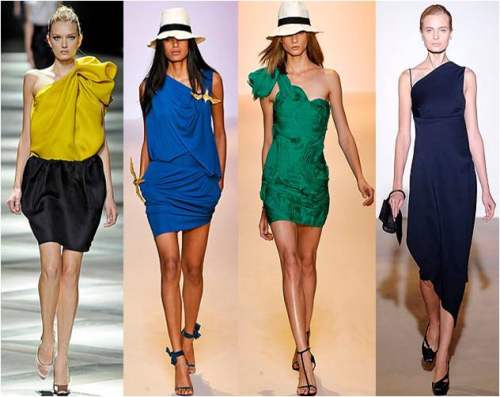 Select an asymmetric dress that has a classic touch and feel to it. The timeless dress in red, white or black may fetch you all attention.
Customized asymmetrical dresses are suggested. They offer perfect fit and a style that suits your personality and body type the most.
While selecting an asymmetrical dress, try various available elements of asymmetry like asymmetry in neckline, hemline, and shoulders as well as asymmetry in print, pattern and embroidery.
For a dress with asymmetrical hemline, go for a length, cut and style that looks flattering on your legs.
A black dress with asymmetrical silhouette is a must. It may serve you well no matter what occasion you need the dress for.
Keep your accessories minimal. Accessorize your asymmetrical clothes with simple pieces for a neat and refined look. This way you may let he asymmetry of your dress be the center.
Asymmetrical dresses and footwear:
They can be best paired with stilettos for a elegant party look. Strappy sandals with kitten heels or high heels are apt for asymmetrical party dresses.
Flats also look good with the asymmetrical styles. The length of your asymmetrical outfit is also a decisive factor in deciding the footwear.
Gladiators may add to the bohemian look of a not so elegant but wild looking experimental asymmetrical garment with varying hemline, sleeves and shoulders.
.