The fashioning of hair has been and will always be an important part of personal grooming and fashion. There is nothing better than a sexy and glamorous hair-do to pimp yourself up. Here is a rundown on the hairstyles that dominated the runways. See what will suit you the best and of course what you like best and take your pick!
Braided & Plaited hairstyle
Messy plaits have dominated the runways in Spring 2010. This year's plaits are the classic plats with just the messy twist.
An evolution of the milkmaid plaits popular last year, plaits can be done up in two distinctive ways: the long side braid, and the fish plait.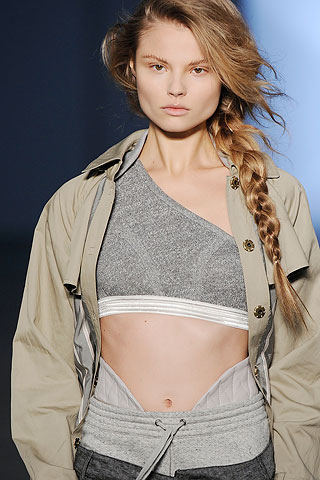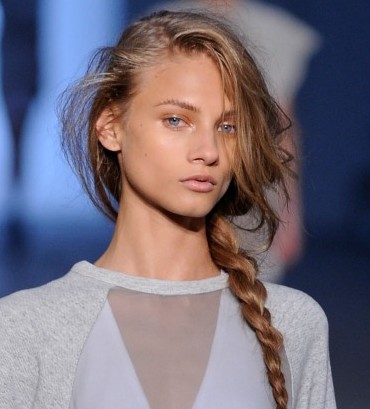 Who: This hairstyle suits almost every hair color. Go for this style only if you have long hair which falls at least a couple of inches below your shoulder. You can rock this look irrespective of whether you have straight, curly or wavy hair.
Where: Look best at a casual lunch with your girlfriends. Do not go to work in this style as it is too casual.
With: Team it up with a casual top, jeggings and some kitten heels and pull out your best attitude to turn heads on the street. You could also try it with a casual jacket. Remember, your look should be very relaxed and casual. Do not choose this hairstyle if you wish to look dressy.
Why: It is simple, stylish and very easy!
How: While Fish plait can be worn with a centre part, side braids look best with a side part. The part must be done such that the braid falls on the opposite side of the head. Try to keep your head messy and start plaiting from the nape of your neck downwards. You could also slick your hair for a distinctively chic look.
Style Tip: Wear just a statement piece of jewelry and do not go overboard on makeup or accessories.
Twists & rope braids
Fashion trends this year require the classic French Twist to be disheveled to give a look of careless chic. This look was prominent in the collections of Zac Posen, Matthew Williamson and Antonio Berardi. You can create any shape you want depending on the length of your hair.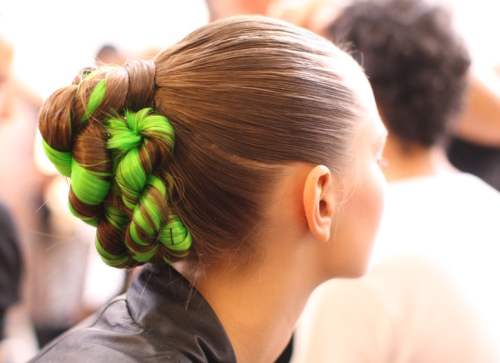 Who: Try out this style if you have long and relatively straight hair. Hair colour is no bar for this elegant yet sexy hairstyle
Where: Rock this look at office and work will never be boring again! You can also sport this look to a formal dinner or a party
With: Sport with your business suits at an important client meeting. Or pair with your most elegant gowns.
Why: Coz what is better than sexy yet professional and elegant!
How: You can get this look by twisting two strands of hair and then winding the strands around each other to form a 'rope'. These rope braids can also be left to fall over the shoulders. Or alternatively, you can twist them up your head in the shape of a milkmaid braid.
Style Tip: Weave Neon colour through ponytail twists to achieve a straight-off-the-runway look a la Zac Posen!
Top knot
Topknots have continued to rule the ramps. This year two versions of this hairstyle were seen: The Messy Topknot and the Sleek Topknot.
Messy / Shabby Topknot
Lanvin, Fendi, and YSL gave a newfound elegance to the messy topknot in their shows.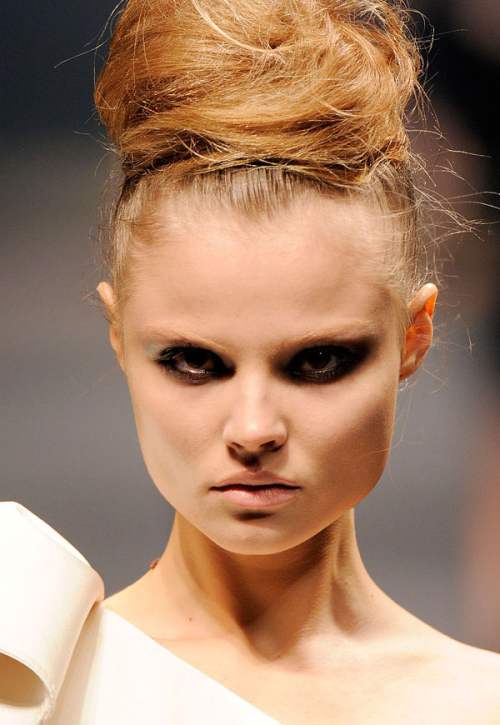 Who: Choose this style if your hair has soft waves and textures.  Light colored hair is a better choice for this look
Where: Perfect for parties as well as day wear as long you wear it with the right ensemble
With: Just about anything! Reduce the mess if you are taking the look to a party…
Why: Provides just the right blend of mix and polish…Best for days when you don't have much time to get ready, this is a quick and yet stylish solution
How: It is important to create a feel of effortlessness to achieve this look. Sweep your hair up and fasten in a haphazard way. Use hairspray and texturing gel to create volume. Your hair should feel loose
Style Tip: You could add a few highlights to your hair if you are going for this look. Go for some quirky colours depending on your natural hair colour.
Sleek Topknot
Marc Jacobs and Nina Ricci used the sleek topknot for their shows this spring. These knots are neat and tidy buns which sit right on top of the head.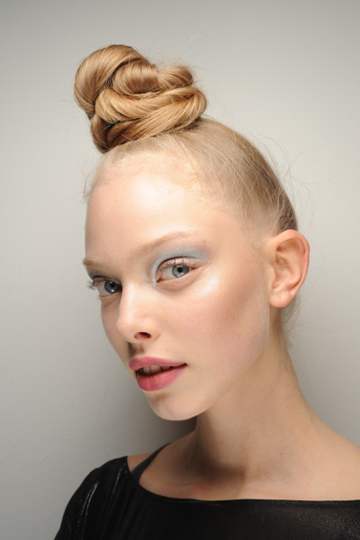 Who: Sleek Topknots work for women who have relatively straight hair. Length is also important for it.
Where: Good for cocktail parties. Try to avoid during the day. Messy topknots are better suited for the day.
With: Sleek topknots can look very uppity if not dressed down with overall look. Let your hair be the focus of your look and cut back on too much accessorizing.
Why: It is the cool girl's take on the informal ponytail… And gives you an illusion of height! Plus gives you a ballerina like elegance
How: You should neatly brush the hair upwards and then tie the knot. Another variation could involve first plaiting the hair. Experiment by placing your topknot slightly off the centre of the head.
Style Tip: Accentuate your femininity by adding a cute ribbon or clips.
Chignon Hairstyle
Chignons are elegant, lady-like buns which sit pretty on the nape of the neck. Karl Lagerfield's rampwalk and Carolina Herrera's show used this hairstyle.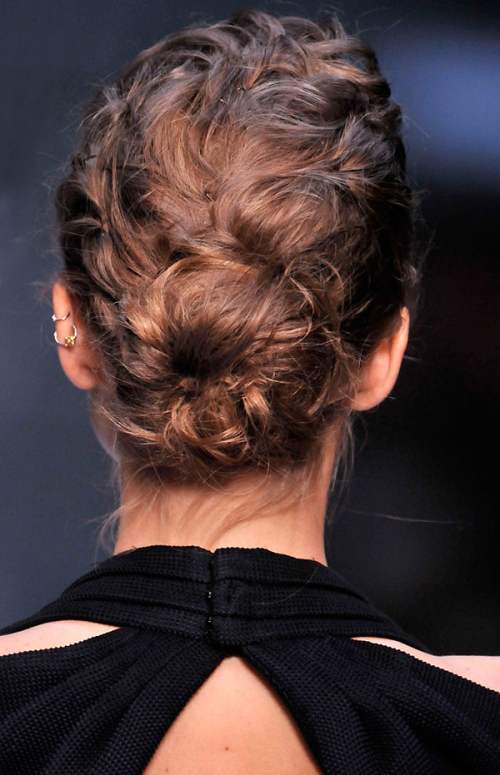 Who: Chignons can be worn by women who have shoulder length or longer hair. Waves and textures work well too.
Where: Though chignons have traditionally been worn for special occasions, a little messier version works well for both day wear and evening wear.
With: Wear with classy and lady-like dresses to add to your look of elegance
Why: It has been and still is a statement of polish, good taste, and chic.
How: Try pinning loose strands of hair in a messy yet textured way. Completely avoid the over-styled look and go for a highly textured low bun to achieve a natural yet sophisticated look.
Style Tip: Entwine strands of silver and bronze beads for an embellished effect. Or add a pretty flower if you are attending a formal ball or a red carpet event.
Slicked / Gelled Hairstyles
Gelled hair which yells chic is another entrant on our charts. This style is sure to find fans in the younger and experimental crowd. Check out these three styles and see what you like:
The Slicked Back Hairstyle
Thakoon's and Alexander Wang catwalks had models strutting down the ramp in the slicked back gelled hair.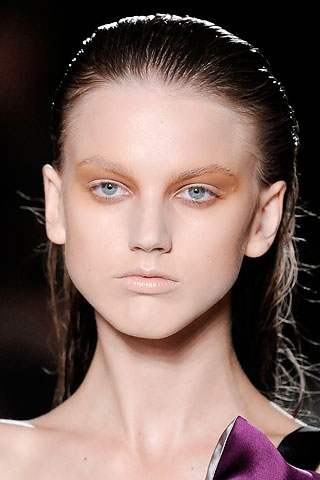 Who: Looks equally cool with both long and medium length hair. Hair color is also no bar.
Where: Wear this look in the morning to office to give a stylish start to your day.
With: Dresses or casuals or formals, works with almost anything
Why: Give you an instantly younger look
How: Use loads of gel to achieve the look. Back comb all your hair and make sure no strand falls on the face. Wet look suits this style best. Try it if you think you can carry it off.
Style Tip: Use a wide toothed comb to create the right effect.
The Slicked Side Hairstyle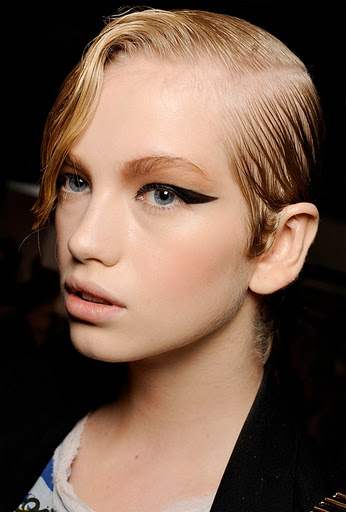 Who: Gelled super-short hair is the uber chic this season. You could also give this style a shot if your hair is of medium length
Where: To a night out in the pub or a date with your significant other
With: Pair it with a dressy jacket and jeans and you will be ready to rock the night
Why: Perfect blend of tousled and still slick and wet look
How: Opt for a side part and then gel your hair enough so that it looks slick but not too wet. Let the fair fall on your face only on one side and tuck the rest behind your ear.
Style Tip: For a unique effect, try braiding your hair into a wide braid and pair with a side swept fringe.
Masculine Slicked Hair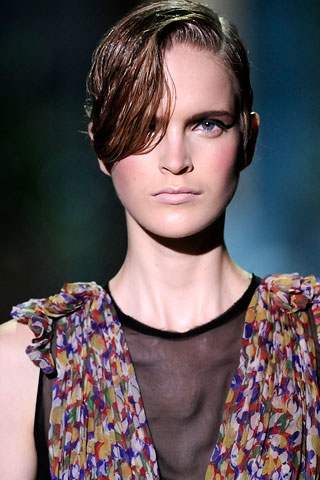 This masculine/androgynous hairstyle suits the boyish look that has been strongly advocated this season. This look was spotted at the Gucci ramps.
Who: Best for short hair. Work very well on women having straight hair; do not try if you have curly hair.
Where: Take this look from work to play with equal panache
With: Team up with androgynous clothes to give yourself the total boyish look. If you are feminine kinds, carry it off with a cute girly dress to balance it out
Why: One of the hottest hairstyles this season if you like your hair short and easy-to-maintain!
How: Use loads of gel and a very fine toothed comb. Opt for as side a part as your face shape will allow and comb your hair neatly.
Style Tip: If you have long hair but have fallen in love with this hairstyle, do not chop your hair off. You can keep this look in the front and tie your hair in a low ponytail.