Halloween is perhaps the only festival that celebrates spookiness, and where the scarier you dress, the better you look.  Adults and children alike, get costumes of the pumpkin, witches and the wizards, the Dracula and Frankenstein. Apart from getting the right ensemble, it is also important to apply the right kind of makeup and dress your nails in order to get into the right mood!
We discuss here some great nail art ideas, which are sure to get you noticed anywhere and everywhere!
Halloween Nail color
The easiest method is to paint your nails solid, in the Halloween inspired color palette – oranges, black, gold, green and get a top coat of glitter to complete the look. You could also go in for a combination of these colors done up together as well. Vertical and horizontal color bands look unique and you do not have to do too much of hard work too! These days you get nail paints especially for the Halloween festival – these are colors which perhaps you will not otherwise buy. Invest in these if you want to do the nails yourself.
For the more artistically inclined, there are quite a few nail art ideas that are available to choose from and look great. You could do these up yourself or get a professional manicurist to do it for you.
Halloween Nail art ideas
Since spooky and macabre are the themes of this festival, all nail art designs which fall under this theme are great. In most cases, paint your nails a base coat of the color you desire, then using the colors that you want, draw up the motifs.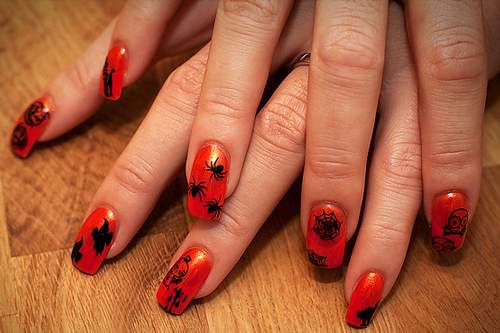 You could have patterns of the Jack –O – Lantern, a smoking cauldron, witches, their caps or brooms and Ghosts or vampires done up either on complete nails or just on the tips. To have the right effect, paint your nails a base coat of black and make patterns of the lantern, or the witches cap/ broom stick etc. in colors such as orange or red so that the patterns stand out.
Some people also prefer fauna and foliage painted in black and green dotted with some white and gold patterns on a clear base. You could use yellows or pretty pinks as well.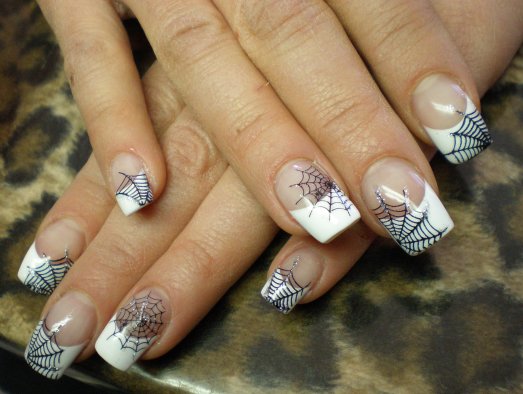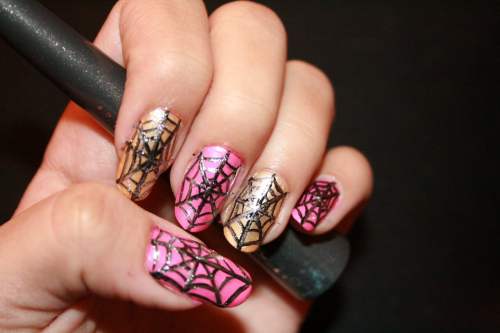 White Cobwebs, ghosts, stars painted on a black base also look spooky, though a trifle less macabre.
Use of motifs such as the evil eye ( a black eye ball painted on a yellow base), bats, a haunted tree etc. also looks scary and is fairly common. For this, paint your nails a base coat of the color you desire, wait, paint the yellow of the eye, wait for it to dry up and then finally paint the black eye ball.
If you are really not the spooky sorts and actually prefer the pretty look, try getting only the tip of your nails painted; you could try glitter on a clear base or you could go paint polka dots in interesting color combination and add some glitter.
Use of glitter and rhinestones in different colors including the standard gold and silver is also a great way to enhance a plain painted look.
Tips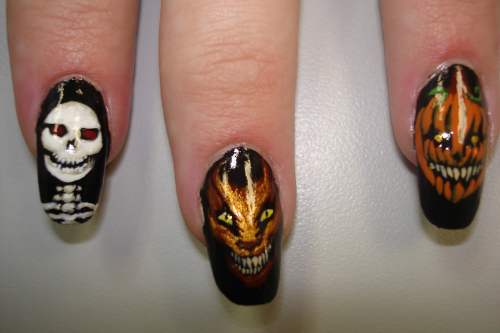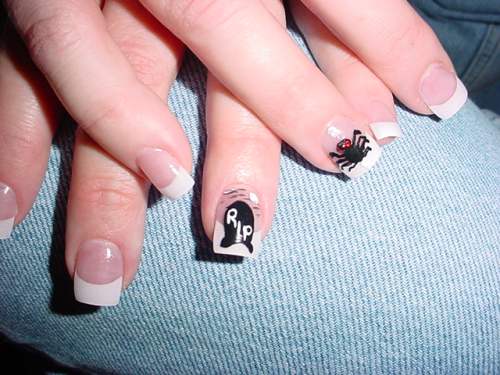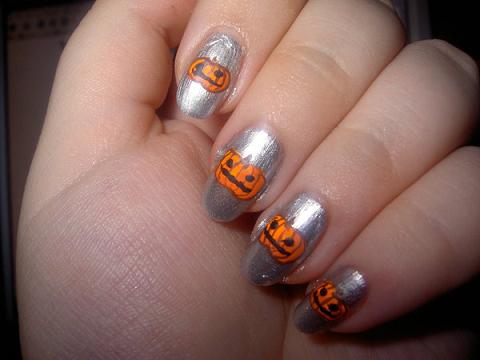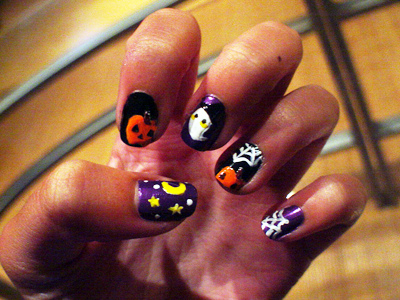 The trick to getting a great  nail art is the choice of colors and motifs….while this is one occasion where you can have your imagination run wild, do try to have some balance in your color choice of nail paint and the color of your ensemble.
It helps if you have structurally long nails; if you don't, try avoiding very intricate designs as they may look over the top. If you are blessed with natural, long nails you could opt for painting them in any of the above ideas and then applying a top coat of a clear varnish, to prevent early chipping.  You get your nails done
You could opt for going in for artificial acrylic nails. If you are a first timer with such nails, ensure that you are not allergic to any of the material used to make these, attach these to your nails or remove it, once you want them removed. The materials normally used to apply or remove the nails are acrylic, glue or resin and acetone. Not only do the fake nails look great, these days they are affordable and easy on maintenance too. Rim these to any length that you desire and apply nail art ideas as discussed above, and you would not regret.
Some manicurists also stock stickers. All that you have to do is buy these and stick them on and trim them as per the nail shape and size. These look almost as good as natural nail art ideas.
If you decide to paint the designs yourself, have loads of patience and time at hand. Of course, a steady hand at painting small motifs will go a long way! You will need to let one coat dry before applying another coat of paint. Be ready with a bottle of acetone, as you will require this to remove any designs that did not quite come the way you wanted them to.
You may need to apply layers of nail paint to create a design, so ensure that your nail paint is smooth and runny and not too thick.
Every festival is a great way to spice things in your life… this Halloween, get inspired and have a whacky nail art done! After all, it is not always you get to hear those magical words – Trick or treat?