A belt is perhaps the most understated accessory that is in our wardrobes. Used primarily to 'hold-our-pants up', this simple, yet necessary accessory has seen quite a transformation from the basic to the very chic. The use of a belt could be functional or ornamental.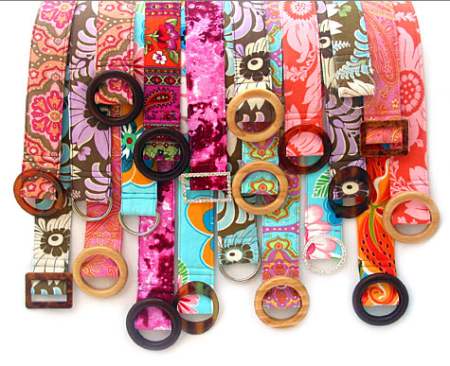 Belts come in a wide variety of widths. Choose the thinner varieties if the waist is your asset. Choose the standard size to the wider variety if you would want to hide your waist and your stomach. Belts can create a visual division of the body into the upper half and the lower half. If you have a small torso, you could wear a belt a little lower than your natural waist (provided what you are wearing does not already have belt loops) to give an impression of a longer torso.
Here we discuss the kinds of belts based on the occasion that you would want to wear them for – formal, casual /party wear.
What are Formal belts?
Belts which are worn to the office, board meetings or strictly formal sit down dinners are normally non fussy. A formal belt apart from being functional, could also define the waist of the wearer, especially when you are wearing similar colored top and bottom and a neutral colored cardigan or jacket on top of the ensemble. A skirt or trouser having belt loops should always be worn with proper formal belts.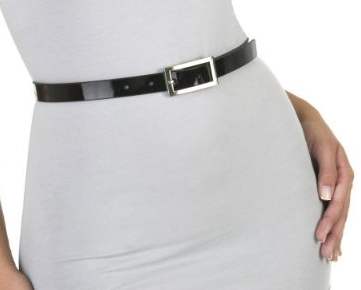 Formal belts are usually made of good old leather and avoid any sort of ornamentation such as beads, chains, embroidery etc. Fabrics such as denim or patent shiny /metallic leather are not suitable for formal belts. At the most, a formal belt may have some contrast color top stitch; the look however must be clean and conservative.
Big metallic buckles with elaborate motifs and designs are a strict no-no for formal belts. Normally inconspicuous buckles in standard metallic finishes such as copper, pewter and steel are chosen for making formal belts. Formal belts normally come in the standard width of 1.5 to 2 inches or sometimes thinner. These may be in the conservative colors synonymous with formal business attire such as – black, tan, cream, pastels and some times, cherry brown. Sometimes you could also have reversible belts which may be using two different colors of leather on either side of the belt and with a switch of the buckle; you could change the color of the belt to wear on two different attires. The color of a formal belt should be matched to the shoes, tonal to the bottom half of your attire.
Normally teamed with trousers, skirts or suits, a formal belt should gel well with the entire attire and should not stand out.
What are Casual and party wear belts?
Belts which you wear with casual wear, while going for a movie or on a drive or on a casual Friday to the office or to a party where you will let your hair down, will fall in this category. Contrary to formal belts, casual belts may be the highlight of your dress and are designed in such a way that they actually stand out and be the highlight of a plain dress. So, a casual belt could at times be worn only for ornamental purposes.
Casual and party wear belts are any designers' delight as there is no limit to the fanciful items that you could create. Materials such as canvas, denim, shell, suede, jute and plastic are popular, and so are different ways of using these. Buckles could be more stylish and less conservative. A variety of buckle material and finishes are used. Buckle could resemble a popular logo (such as batman, danger skull sign, superman's 'S' etc. ) or could be made using medallions or large stones of different colors. Some designers also have their initials in the form of a buckle such as Calvin Klein or Guess. These could be plain metallic buckles or the initials studded with crystals and rhinestones.
Width of a belt meant to be worn for a casual outing could vary from a few centimeters to being as wide as 6 inches. The idea of a casual wear belt is to have as much bling and be as unique, as the wearer can handle well.
Different types of Casual belts
Given below are a few kinds of casual belts which are most common.
Braided belts
Braided belts could be made in leather, faux leather, jute or fabric. These resemble a hair plait / braid, made by braiding three strips of material together. These could have proper buckles or could have ties at the two ends, which could be tied into a bow to give a unique appearance. These look best when worn on a loose long top or dress, to define your waist.
Sash belts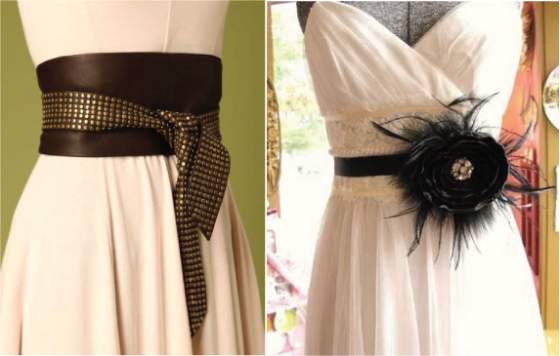 Sash belts basically a fabric belt, these are wide strips of fabric (mostly printed or contrast color to the main outfit) which could be worn on the main dress, to break the monotony of the dress.  These rarely have buckles and are normally tied at the side seam or made into a beautiful bow using both the free ends of the fabric.
D –Ring belts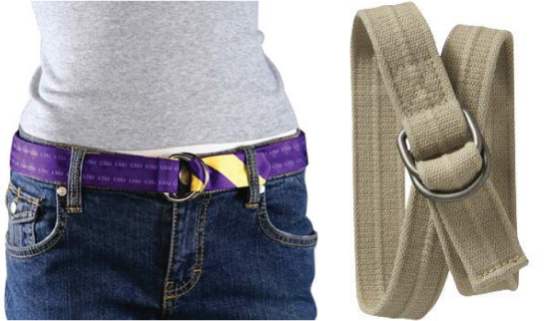 D -Ring belts are adjustable belts which does not have standard buckle and a pin, but a metallic or a plastic ring, roughly resembling the capital letter 'D'. The loose send of the belt could be adjusted by passing it through the D and tightening it as much as required.  Normally these kinds of belts are made in the same fabric as the main ensemble. These are normally seen on a trench coat or a dress shirt.
Conch belt

A belt made by using sea shells and conches. These could be pasted on a suede base/ canvas base or the shells could be strewn together on a thin strip of fabric/ nylon string. These look beautiful especially if you team them with beach wear.
Woven belts

Different patterns are woven while making this belt. Popular examples are multi-colored canvas belts. These could include multi-colors or floral or geometric motifs. These are usually expensive. These could be teamed with solid color jeans/ capris/ shorts to add some color to the outfit.
Kamarband or tagdi / Chain belts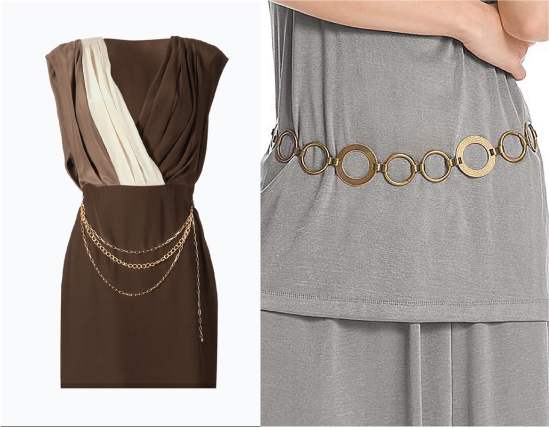 These are usually metallic chains – either plain or in intricate designs, worn by Indian women on their waists. These are purely for ornamental purpose and are normally worn to accentuate the thin waist and hour glass figure, when wearing a sari or lehenga.  A modern version of this belt is having small delicate motifs such as hearts or glass beads attached to a thin metallic chain or multiple metallic chains linked together at the end. The modern version could be worn either over the midriff (a short tee shirt and harem pants)  or also over dresses or skirts.
Embroidered belts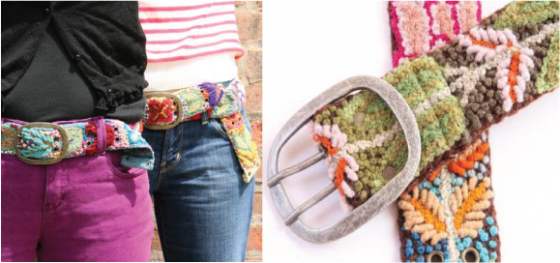 These are belts made in leather or fabric or denim which may have machine or hand embroidery on them. The embroidery could be done with tonal or contrast color threads, and may include sequins and appliqués. These could be in very bright colors and are most commonly worn by the college going girls on their jodhpuris or patialas, to give a unique style statement.
Patent leather belts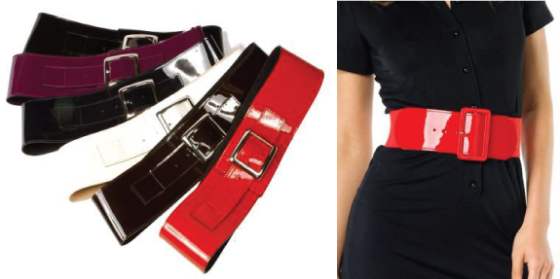 Picture a shiny belt in bright / neon colors, with a big buckle. Sometimes, this belt does not have holes and pin like normal belts, just a buckle, through which the belt is passed and the other end of the belt lies loosely on the wearer. This look is worn by the adventurous to spruce up a dull outfit.
Skinny belts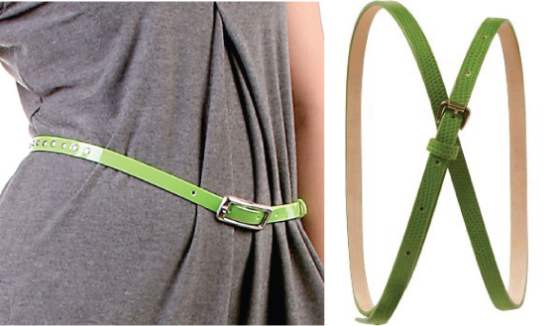 These are super thin belts and can come in a variety of materials and colors. These are used to accentuate your waist, so only the very thin can actually carry off a super skinny belt well. A novel way to wear a skinny belt is wrapping it as many times as is possible around your torso. You could wear this on a skinny jeans or any regular top and tights and have heads turn at the new transformed you!
Elastic belts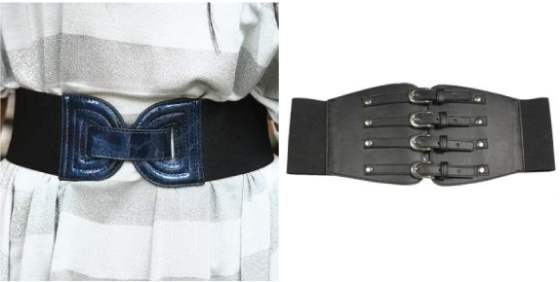 Those made with stretchable fabric are elastic belts. These are often a part of any dress and cinch the wearer's waist, making it look super thin.
Tapestry belts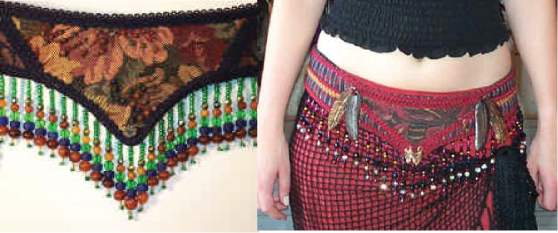 Also known as Gypsy belts, these use a jacquard fabric strip, roughly resembling a V shape. These belts are normally adorned with closely placed strings of colorful beads or leather strips ending with colored beaded knots, which fall beautifully on the waist and navel of the wearer. These could be teamed with single colored gypsy skirts or worn over plain sheath dresses.
Tribal belts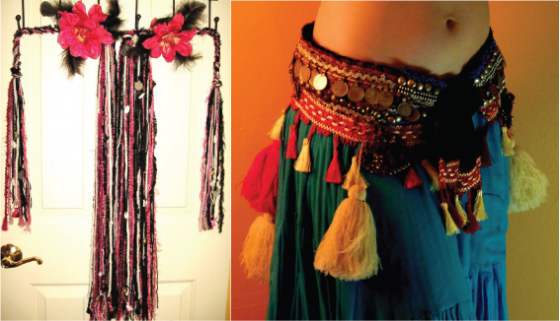 Picture a belly dancer, complete with her dress and accessories. A tribal belt could be fringed or with beads, sequins, braids and coins sewn on the fabric base or hanging from the colorful fabric. Normally it has a clasp to hold both ends together. Like Tapestry belts, it could add instant glamor to any dull outfit.
Fabric belts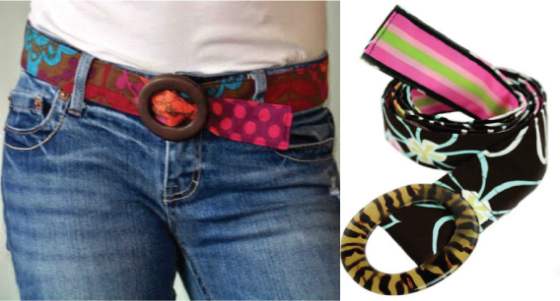 Fabric belts could be made of sturdy fabrics such as canvas and denim or of sheer fabrics such as net, satin, chiffons. Fabric belts could be printed or embroidered, with sequins and beads. These normally are a part of a dress or a top.
Cowboy belts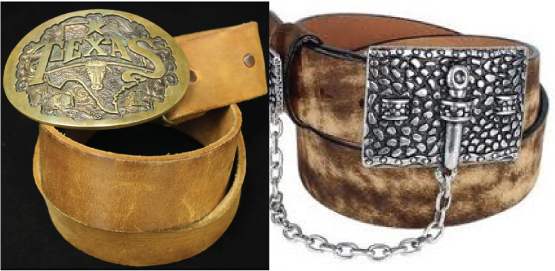 A leather belt which has a lot of metallic detailing like rivets, buttons, medallions etc and normally with a large buckle is a cowboy belt. These are best teamed with skinny jeans and with other cowboy accessories such as boots and hat.
Fringe belts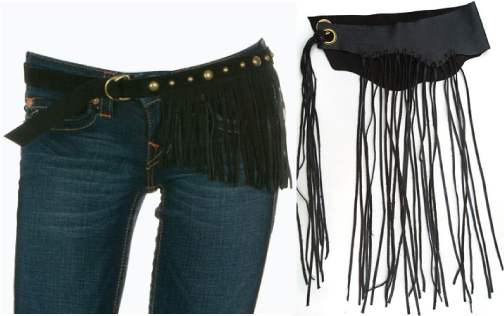 These belts are normally worn at the hip over a dress and are characterized by long fringes of the fabric normally shaped in a V. The Fringes could be made form a plain fabric belt or the base belt could be heavily embroidered and fringes could be plain.
Beaded/studded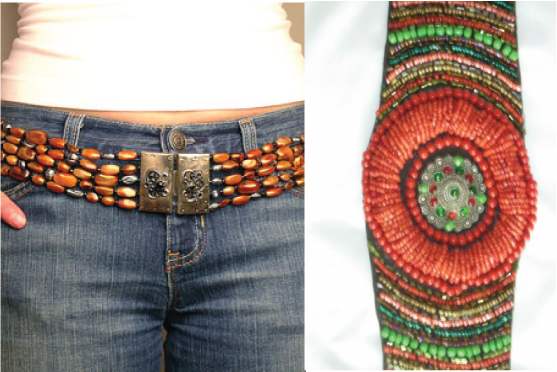 Belts having single or multi coloured beads and studs, either stitched or glued on the base fabric are called beaded belts. These look very chic and could be worn over casual jeans or the wider varieties could be worn on a plain dress.
Belts have the power of transforming any outfit from the mundane to the exotic and so investing wisely on these is the key to success!
.