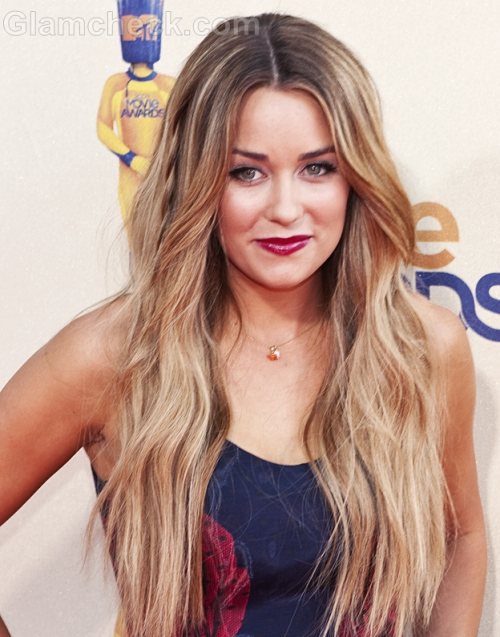 Lauren looks as enticing as a mermaid with her middle parted open wavy hair. She sure looks sexy. This hairstyle is great for a casual outing, it is low maintenance and also easy to achieve. You can sport middle parted open wavy hair with denims, shorts, maxi dresses – actually, near about everything.
How to do Lauren Conrad Middle Parted Open Wavy Hair:
Start by making a middle parting in your hair with a rat tail comb. After that curl your hair with a hair curling tong, but ensure that you don't heat up the hair too much. This will make the curls tighter, whereas we want a wavier look. Of course, you might keep tight curls if that is what you want because that looks great too.
Another way to achieve this hairstyle would be to apply mousse or a curling agent in your hair. Scrunch up your hair and tie it in a tight bun. Leave this on for 3-4 hours – you could also run the hair dryer on the bun. When you finally open your hair – it will fall down in cascading waves. You can then make a middle parting to get the Lauren Conrad hairstyle effect. However, this second procedure may not work with you if you have stubborn straight hair. In that case, stick to the earlier step.
You can modify on the style, by putting a nice hair accessory such a hair clip on one or both sides of the hair – near to your eyebrows. This gives an interesting twist to the hairstyle, just as Lauren Conrad is giving. A one side clip also gives a very demure yet enticing look to the wearer – so you could wear your hair like this when you are going to meet a cutie you have a crush on! You never know, the hairstyle might do the trick – by getting the guy to fall for you.
Image: Shutterstock, P R Photos