Digital, geometric and abstract prints were the next dominating prints after the floral, seen on the runway, with almost all designers having a few pieces done in these prints.
Cacharel:




Rich bright colors, very summery and beautiful were the highlight of the trends. Solid colors ruled the roost, though abstract smudge prints were also seen in beautiful hues of black, orange and white with some yellow and lime thrown in.
Anna Sui:




Anna Sui is known for her choice of designs which represent her roots – her designs this season yet reflected the same dreaminess, vintage inspired and youthfulness. The prints were intricate, elaborate, digital, geometric and abstract patterns using lots of complimentary colors such as navy, black and hints of blue.
Marc Jacobs:



Marc Jacobs used small digital prints on everything – gowns, coats with bell sleeves and covered feminine and beautiful colors such as – pink, coral, mauve, cinnamon, burnt oranges and copper. Digital abstract and small ditsy prints were the highlight of his show apart from color blocked outfits. His show has always been a hit, with the fashion fraternity aping his look and he seems to have come with a winning formula this time too!
Emilo:

Rich Ibizian abstract Hippian prints have been a signature of Emilio's collection always. This time too, the collection did not disappoint, there were beautiful blue prints and tonal earthy colors with a hint of orange on a few gowns and tops and showcasing the free spirit and casual and carefree summers.
Etro:


Etro used Intrinsic, detailed, abstract, geometric and bohemian patterns in multi colored in natural print on gowns and shorts. Mismatched geometric prints were used in the same ensemble with floral prints and solids to create a unique yet classy look.
Elie Saab: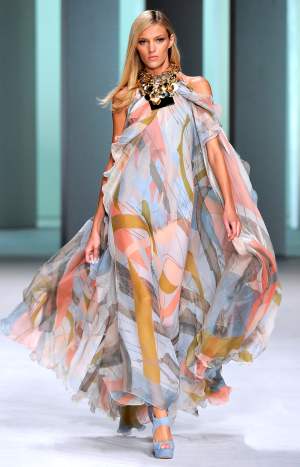 known for his feminine glitzy design meant mainly for wearing at the red carpet, the gowns were bang on. He used soft flowy abstract print in soft pastels on short dresses and gowns with bling accessories to further add an element of glamour.
Iceberg: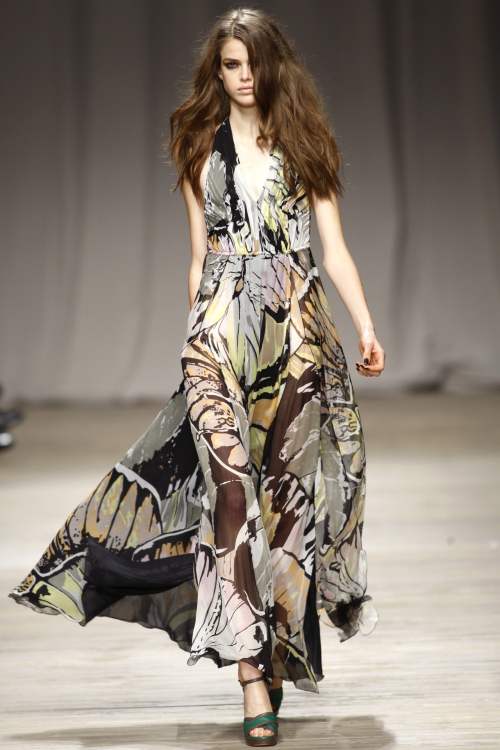 Iceberg used a lot of muted solid colors and though there were a few gowns with abstract patterns and geometrical small prints, this look was not the main look by Iceberg. The colors used were inspired by natural palette for example, turquoise and green tropical flower abstract print, browns, blues and tans.
Moschino RTW: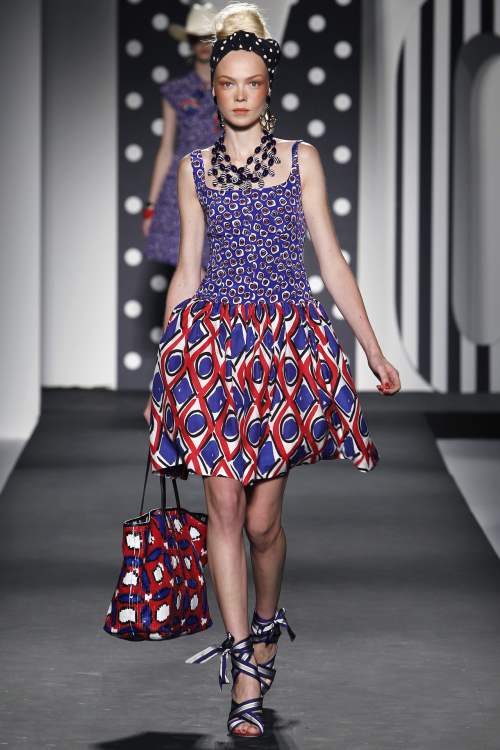 Moschino used geometric patterns on dress in beautiful hues of red and indigo and the same print was also used as detailing on sleeves of some outfits and scarves. The abstract and busy prints in bright, summery, tutti fruity vibrant and vivid colors were used in abundance in the Moschino Cheap and Chic range. The prints used  were a heady mix of dots, stripes and even abstract all in a voluminous blouse and large diagonal gingham checks.
Prada:


The fashion leader Prada used a lot of prints in the entire collection. The collection surprised the audience by having a swirling rococo print mixed with illustrations of naughty monkeys and bananas, in blues, greens and yellows. The collection also had a placement print of vines, flowers and a shadow of a nymph on one of the sheath dresses. Stripes though dominated the Prada collection. One of the fashion experts explained the entire collection as "It was beautifully precise, with wonderful colours and minimal shapes all getting mixed up together"
Versace: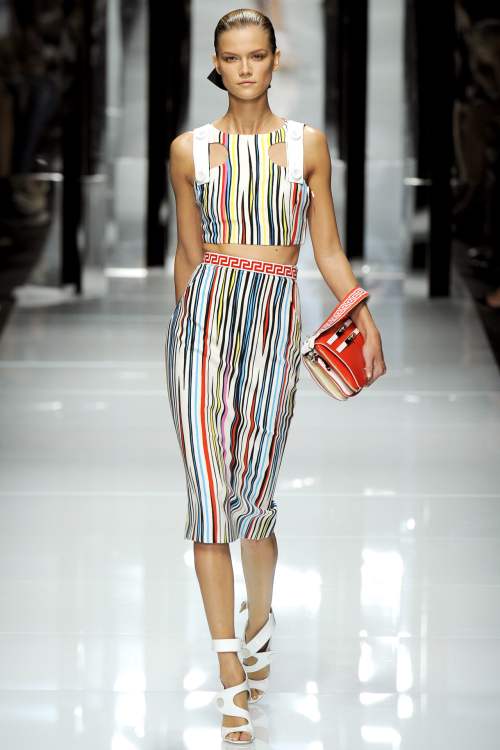 The highlight of the Versace show was a stunning array of geometric prints repeated in both the top and bottom, sometimes fringed, and sometimes embroidered, sometimes both as a part of the same ensemble. The colors used were primary and these looked fresh and new.
Rag and Bone: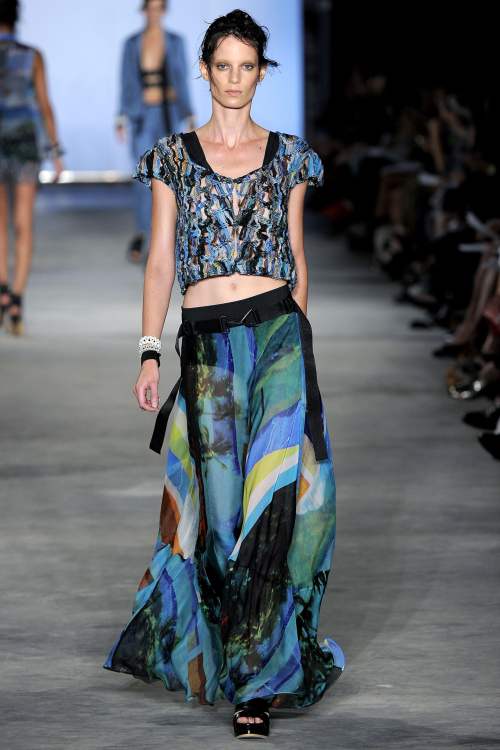 Mostly tailored, fitted clothes and inspired by the Air force and the military, the designer duo of this upcoming brand did use some colors and abstract print on a few items in their spring summer 2011  range – long flowy skirt and dress. The colors were beautiful blue, turquoise and greens interspersed with a dash of yellow.