Up Do Hairstyles
Hair Up-do styles were the next popular ones for elegance and functionality. Both casual and formal up do hairstyles were interestingly represented by a plethora of designers.  Once considered the most stylish with Audrey Hepburn taking it to a cult status in her 'Breakfast at Tiffany's' movie, the bun tied in different, innovative ways promises to be a big fashion statement the coming S/S.
Buns tied at the nape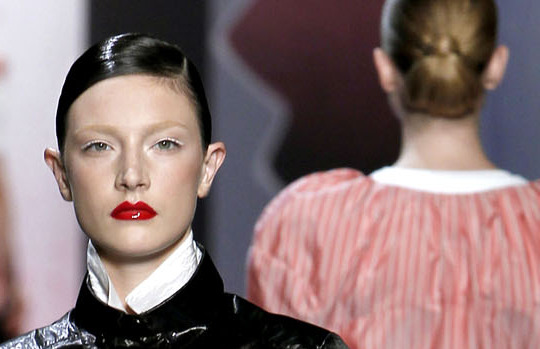 Viktor & Rolf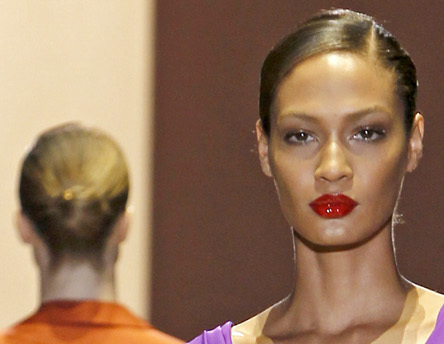 Gucci
It is interesting how many different kinds of looks can a bun convey, when used with some styling products and method of tying it or parting it. The look showcased by Viktor and Rolf and Gucci was a neat bun made with sleek and gelled hair, with side partings resting at the napel.  Prada models sashayed down the ramp, using extreme side parting with heavily gelled hair and put in place by a generous amount of spray. The models in the Prada show wore heavy look as if to compensate for the plain Jane look.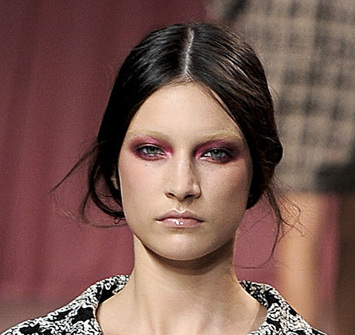 Nina Ricci also used the look of buns resting at the napel, which were neatly done with central partings.
Buns neatly done with Extreme side parting with heavy usage of hair gel and spray (Prada)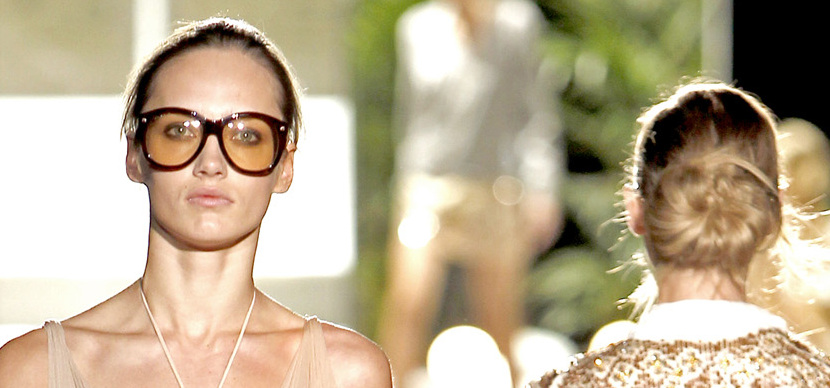 Dsquared 2
Lanvin                                                                           Versace
D Squared, Versace and Lanvin had buns neatly done with no partings but again, used gels and hair spray. The look created was casual chic with a good use of accessories such as big framed colored sun glasses used by DSquared and dark aviator sunglasses used by Lanvin.
Styling ideas and best for –The gelled, hair held back look is the most preferred look in the board room. It conveys a serious  ' don't mess  with me' look in a way, very seldom others can. The upcoming spring, play around with this look and wear it to formal sit downs as well as fun time out with girls and enjoy the admiring looks that come your way! Play around with different partings or even braid your hair to have a new look!
How to achieve the look – Buns can be a disaster if not made properly or not held by pins / bands properly. Try this look at home, on your own, only when you have the confidence of carrying it out well. You could use the services of a professional if you are not so sure about your tying capabilities. Your hair needs to be at least shoulder length or more, hair extensions could be used if normal hair length restricts the making of a good bun.
If you want to create the gelled , sleek look of Gucci, Viktor and Rolf, use copious amounts of gel or a styling product and use a fine toothed comb. Part it the way you would like it to. Hold the bun with hair pins or a clear elastic band at the napel.
For less formal events and even wearing to the beaches, use lesser styling products and tie up the buns loosely at the napel. The look is guaranteed to turn heads.
Extra glam solution and pair with tips – Color color and more color. The look may be the same , donned by many people on any single day, what distinguishes your style from the others all boils down to the unique color that you choose to don! As if to prove a point, the same bun held at the napel was looking different when used by different designers – so you had the shiny Auburn by Nina Ricci, an almost black by Viktor and Rolf, grayish black on Prada and shades of brown used by Gucci, DSquared and Lanvin.
Pair this hair style with strictly formal accessories such as a string of pearls or ear studs and formal attire if the look is formal and business. Pair the look with fun hair accessories such as a shell hair band, a shell hair pin, long gold chains or even a trendy colorful hobo bag if you are headed for the beach! You could even try replicating the look propagated by D squared and Lanvin of using bold, stylish sunglasses.
Top Buns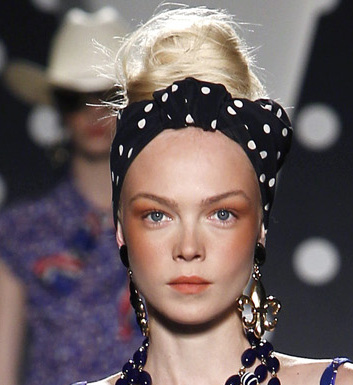 Moschino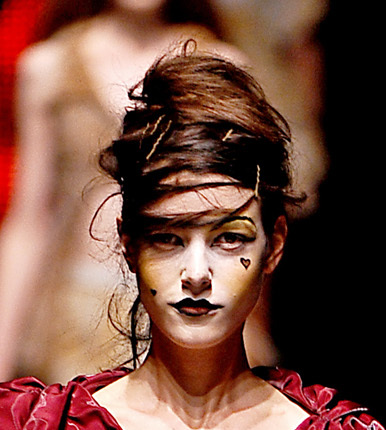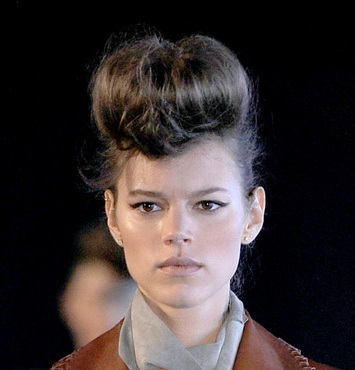 Messy top bun (Vivine Westwood)   ;      Extreme top bun towards the forehead (Diesel black gold)
Another look which aims to be a big hit is the bun which sits on the crown of the head or a top bun. This avatar of the bun was used by the designers Diesel Black Gold, Moschino and Vivienne Westwood. The top buns promise to be fun, flirty and enigmatic. Color of the hair again plays an important role here to differentiate the same look from one another. Where Moschino used bandanas to add glam to the top bun, Diesel had a bun which was almost falling forward towards the forehead and Vivienne went all playful with messy and tall top buns held together by the very visible hair clips!
Styling ideas and best for: Looks great on all face cuts, especially for the round face as this adds a dimension of length to it. Great to wear to parties or even a fun filled day at the office( only if you are working at a fashion house.) You could team it with chic semi formal wear – as propagated by Diesel on the ramp or  with fusion clothing ideas as used by Vivienne in her collections – well cut blazer with a wrap around knee length skirt, a structured wrap dress etc.
How to achieve the look: Use hair extensions for this one, as otherwise the top bun will not be either full or tall enough. Gelled hair is passé as the look to be conveyed is gruff and messy, which cannot be achieved with sleek hair. Use whackily printed and painted bandanas, bands and hair pins to add to the look. Use a hair spray to hold up the top bun.
Extra glam solution and pair with tips: Since this is a glamorous fun filled look, go ahead and try whacky bandanas – Moschino being a case in the point where the models wear a polka dot one. You could even try tattoos as in the case of Vivienne Westwood. Try bold ear rings and dramatic make up to up the glam quotient and look surreal. Color your hear a rich red, a caramel brown or a popcorn blonde to make the style really stand out!
If you have ever wanted to increase your hair length, hair up do styles and the buns described above may just be your answer!