Monsoon is that time of the year that we wait for eagerly, especially in India. It is a relief from the heat and the sweat.
The weather is beautiful and romantic. This is the time not to feel gloomy but to feel happy and cheerful and enjoy the showers of rain with a splash of color, variety and glamor. And what better way to celebrate than to dress for the occasion.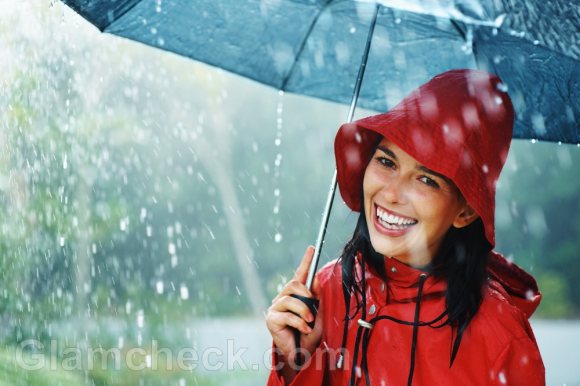 Monsoon accessories such as umbrellas, raincoats, gumboots etc in bright and vibrant colors are a wardrobe staple. Light fabric, bright colored accessories and 'no leather' could be a slogan for the Monsoon season.
During monsoon season, focus your attention on the bold colors instead of pastels. Blended cottons and synthetics are the ideal choice for this season.
Monsoon Dresses
Experimenting with colors is the key word this Monsoon. In monsoons, it is all about brightening your wardrobe. Do not opt for cottons in very bold colors as the color might bleed. Synthetics, on the other hand, dry faster and are color fast. Bright scarves give the much needed color to your attire. Do not wear well ironed crisp clothing as it will, in any case, get ruined in the rain. Go for flimsy garments in light, synthetic materials.
Monsoon Accessories : Umbrellas and Raincoats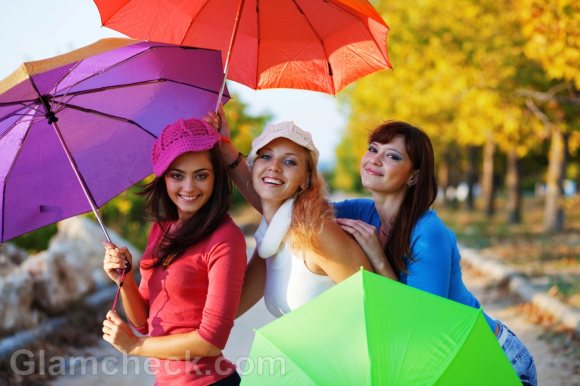 Umbrellas and raincoats are the magic words in monsoon accessories. Leaving your house without either one of the accessories would spell disaster. Instead of just being a necessity these have become fashion-statements and trend setters. Opt for umbrellas that are flooded with colors. They are the silver lining against the dull, gloomy rainy skies.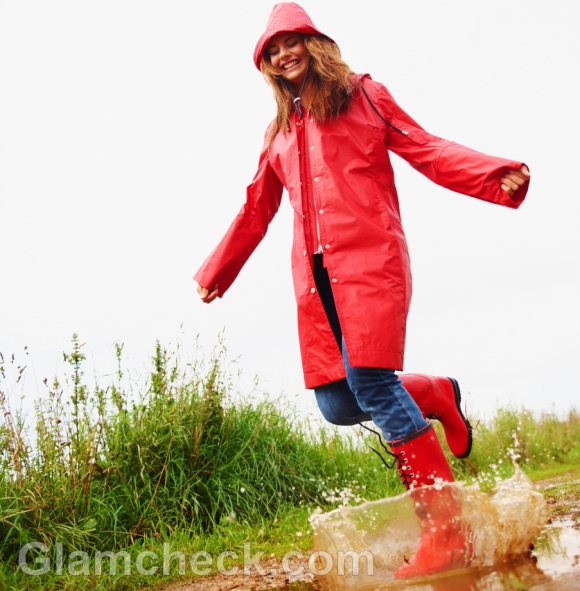 Raincoats have under gone a world of change since their origin. They are no more just child wear. There are so many trendy and fashionable rain coats available in the market to suit your personal styles. There are rain coats and wind-cheaters that are made to flatter the body. Always choose a rain coat with a belt attached for the purpose of a better fit.
There are umbrellas and rain-coats that are transparent. Through which your dress can be visible and you could still be dry.
Then there are 'haterellas'- umbrella that can be worn as head gear. They are also available in different shapes and colours.
Monsoon Accessories : Footwear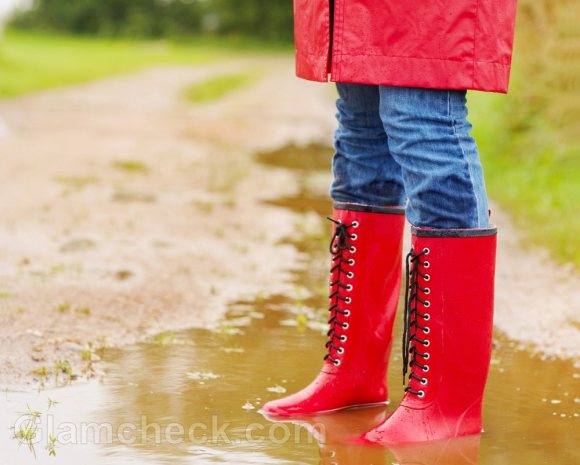 Footwear is a very important point to keep in mind before leaving the house during the rains. Leather and suede are a strict no-no in the rains. Instead try easy and washable footwear like flip-flops, rain-boots and sandals or sneakers. Depending on the occasion you could make your choice in footwear. Many brands make rain-proof monsoon footwear for women which can be worn formally.
Rubber 'chappals', gum boot, floater, plastic pumps are just a few of the vast variety of choices. Crocs and ballet pump are other very trendy options for the rains.
You could match you accessories like your umbrella and your footwear. Use footwear that will keep you comfortable through-out the day.
Though, if you must wear leather shoes to work, do not forget to wear socks as it prevents bacterial infections and also protects the foot from stinking.
Monsoon Accessories : Handbags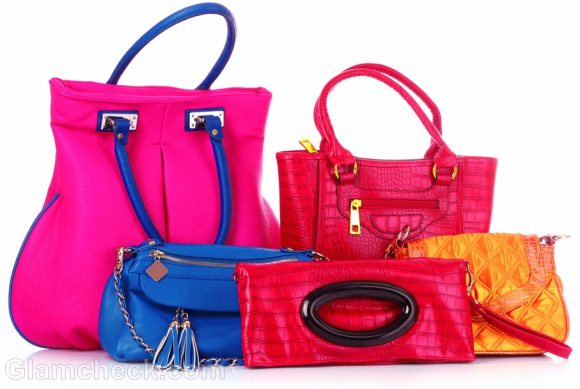 Just like footwear you must avoid leather bags in the rains. So where do you keep your belongings, that you cannot leave home, without?
There are a wide range of handbags available in high-fashion brands designed specially to escape the rain. These are very trendy and are very safe place to keep your belongings. These plastic bags come in different shapes, material and colors.
There is an endless choice when it comes to these essential monsoon accessories. Transparent bags, very bright, neon colored bags, and water-proof nylon bags to name just few.

Other Monsoon Accessories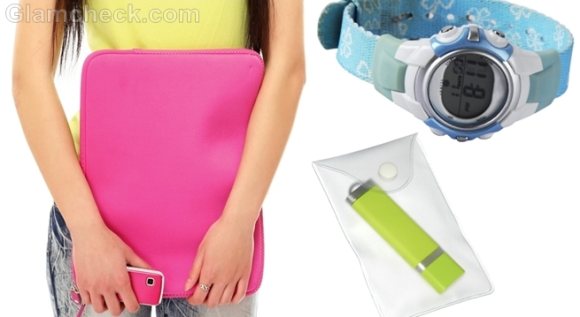 There is lamination available for almost every electronic item that one would generally carry with them. You could get covers for phones, i-pods, music players, et al. Some electronic companies have come up with water-proof music-player just like water-proof cameras.
Regular steel, non- water proof watches are another accessory that you must keep away from the rain. You would not want your designer watch to stop working just because you were careless. Water-proof watches have a very huge market to choose from. They are fashionable and very chic.
Belts and scarves are a very appropriate choice for monsoon accessorizing. They add glamour to the ensemble and don't spoil in the rains.
You could choose from the many options available in the market.
Monsoon Accessories : Jewelry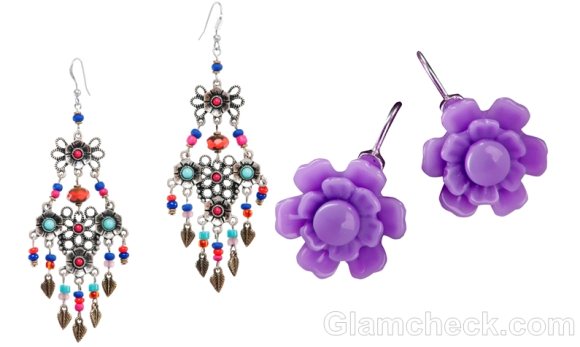 Dressing up is never complete without some jewelry. These essential monsoon accessories promise to brighten up your look. Find a pair of bright, neon acrylic earrings that match with your umbrella or rain-coat.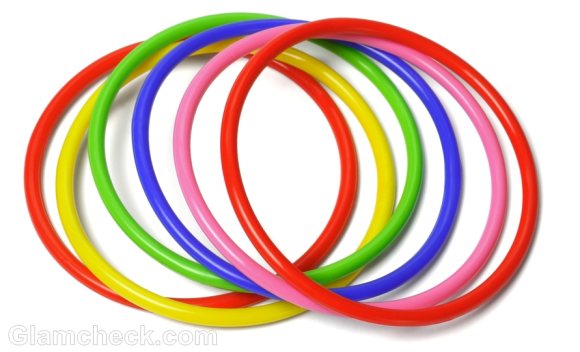 Big, plastic bangles, in various bold colors are a rage in the monsoons. Bangles always complement the dress, no matter what the choice.
Plastic beaded accessories, like necklaces or bracelets, add the much desired colour to the outfit.
Glass beaded jewelry is also a very cool option for the monsoon accessories.
Monsoon Makeup
Remember it is very important to keep your makeup light and water-proof during the monsoon season. Do not use eye-liners or very heavy mascara- it will just start bleeding or clotting eventually-even if it is waterproof.
Use pastel shades for the lips and cheeks and stick to non-gloss, matte lipsticks.
When you are all set to get wet, welcome the monsoons with style and a smile and a rain-coat of your favorite color. These monsoon accessories will keep you dry and very fashionable.
Image: Shutterstock