Coco Chanel once said "Dress shabbily and they remember the dress; dress impeccably and they remember the woman".  However you dress, whatever you wear, apart from your clothes, what really stands out is how you are accessorizing it. An accessory can make or break your look.
The upcoming season different hair accessories promise to be big. They promise to add something extra to the smart and chic hair styles. So, even if you wear the same hair style every day of the week, you could make it look different by trying out one of the various hair accessories.
Floral Hair Accessories:
Just as the hair styles this upcoming Spring promise to be feminine, so does the biggest trend in hair accessories – Floral theme, which represents the ultra feminine power. Whether the flowers are ornate arrangements or just plain simple wreaths – they are everywhere. The floral theme is very romantic and a must to try out in the season.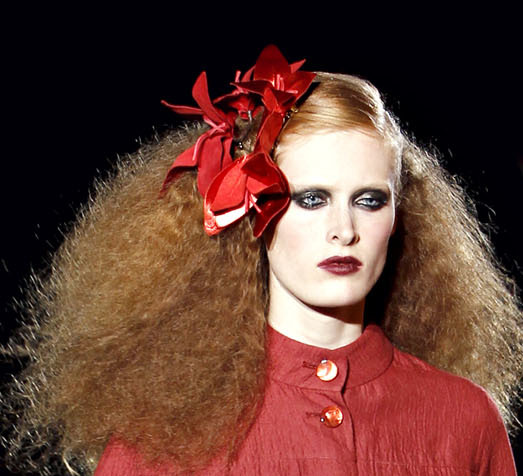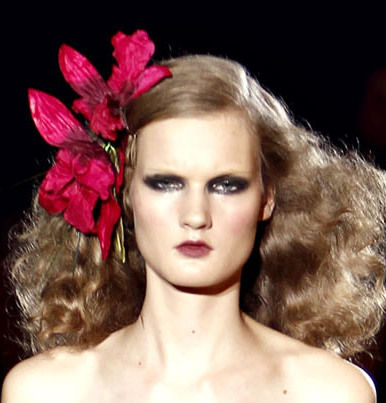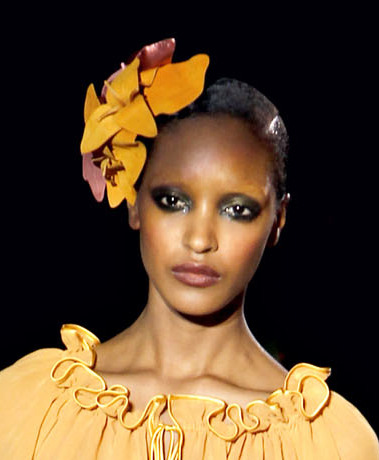 Who used the theme– Made popular on the runways by fashion classics Anna Sui and Marc Jacobs, who used big fabric flower corsages as a part of their ensemble. Designer Oscar De La Renta used minimalistic discreet floral bands as a part of the hair accessories on the run way.
Marc Jacobs   &   Anna Sui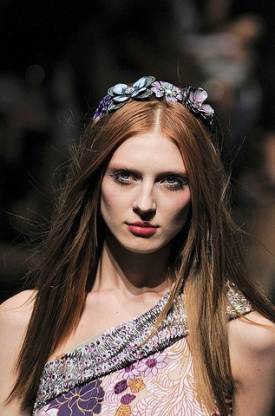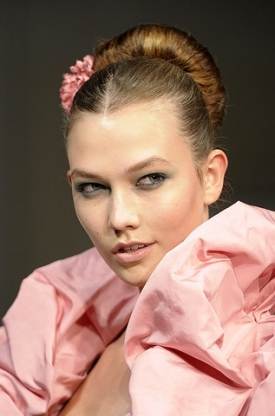 Colors – Bold colors, sometimes matching with the ensemble and sometimes contrast. Marc's entire collection was very colorful and very inspired by the swinging 70's. His flower corsages reflected the 70's theme every which way.  Anna Sui collections have always been big on feminity and beauty – what best way to represent the two classics than flowers. Where Marc Jacob and Anna Sui chose to go bold with their flower accessories, Oscar chose to have simple, non fussy arrangements and even half a hair wreath as a hair band on his models.
Hair styles to wear on – spring promises to be big on loose curly hair trend.  The flower corsages used on the runway were on either one side or both the sides of loose curly hair parted on the side or with a central parting. The corsages also make for a great adornment if the hair is gelled and tied into a neat top bun or bun at the nape as was cleverly proven by both Anna Sui and Oscar. Hair neatly arranged to form a band or half a wreath is a very fresh and summery look and can be practically worn on all hair styles – be it long or loose, or short and bob.
How to interpret the look – Chic is what you must be searching for when you want to look for the readymade fabric corsages. Opt for neutral colors such as whites, beiges and blacks as these can adorn any outfit that you are wearing. If you plan to match it to a particular outfit, do invest in a matching or tonal fabric corsage. For a special event, you could even have fresh flowers put up in a bun. Opt for exotic flowers such as fresh orchids or lilies to look different and feel special. For everyday use, choose hair bands with multi color flowers sitting pretty in a row or a large single colored flower mounted on a black band to quickly make over your plain outfit.
Where to wear the look – Elaborate floral corsages looks great at semi formal and formal chic events such as weddings, evening parties, sit down dinners and even casual pool side parties. Never wear this look to your office. The look is bohemian and looks best when worn to a casual or semi formal event. For a more every day look, invest in a floral hair band instead.
Hot tip – Silk, taffeta, satins and lace are the most popular fabric choices for making fabric corsages, as these can be easily molded and can retain the shape have a natural sheen as well. Most corsages also have real twigs, vines etc. to complete the look. These are expensive, but if stored and taken good care of, you could wear these to another special occasion too. You could also find corsages made with plastic. Choose corsages which resemble a true flower as artificial flower corsages may end up spoiling the look.