Trench coats are a must in every girl's wardrobe for the simple reason that they are evergreen classics and a definite must have every season!
While the trench coat can be traced back in history to primarily a need based, military man's coat worn to give protection from rain and cold, the new avatar of the trench coat is stylish, seductive and fashionable. Not surprisingly therefore, trench coat in today's date and time is worn by more and more women and the best part – it is flattering for almost all body shapes, when chosen with care and worn well.
So what qualifies as a trench coat?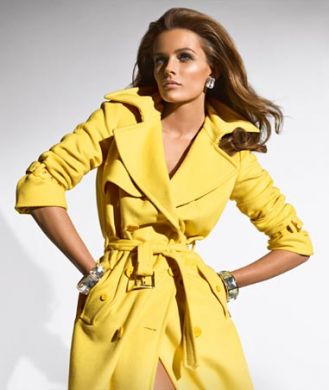 Traditionally, a trench coat is a knee length or longer coat, made mostly of rainproof material and offering protection from cold as well. It is made of thicker fabrics and is usually with belts and deep pockets. Of late, the classic style has seen some metamorphosis, with the length varying from knee to thigh and even shorter length; belts have often been replaced by buttons and the colours that they are available in are far from the usual – khaki and beige to any color under the sun that you can possibly imagine.
Trench coat dresses are also a fall out from the classic trench coat; however, such is the popularity of the classic coat that, women still prefer wearing these dresses as trench coats themselves!
What to team trench coats with and where to wear them?
Virtually everything looks great with trench coats. You could pair the same trench with different bottoms and tops to get a very different and new look. The look could vary from casual chic to formal depending upon how you decide to accessorize and decide to carry the look forward.
Trench coats for Casual occasions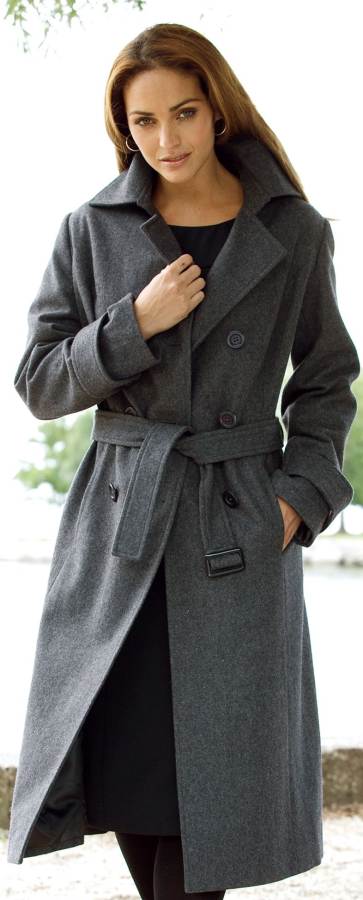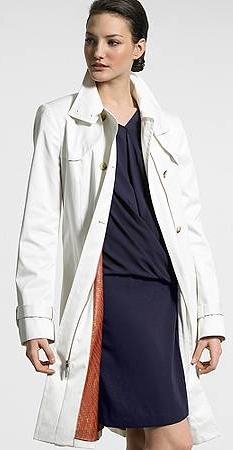 A simple tee shirt and well fitted jeans worn with high heeled pumps and a neutral knee length trench, paired with sunglasses and big statement jewelery is a great way to dress up smartly for a casual Friday at office! The coat could be worn unbuttoned and the sleeves could be rolled to be ¾ length. Keep an eye on the length of the trench coat when pairing with the jeans. Knee length trench coats look the best; always remember to pair these with heels to give an illusion of added height.
Another way to wear the trench coat to a casual occasion is to wear it over tee shirts or cardigans and light weight cotton cargo pants. You could team it with everyday jewelery and flat soled shoes or not very high boots. To complete the look, you could add on a colorful scarf. Comfy and chic – this look is great when you are meeting your girlfriends for a fun filled afternoon.
You can also wear a trench coat all alone for a more chic look.
Trench coats for Formal Occasions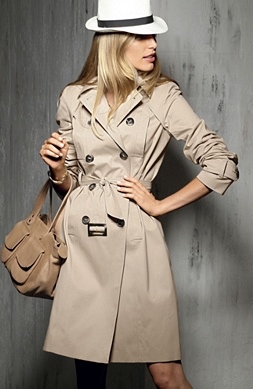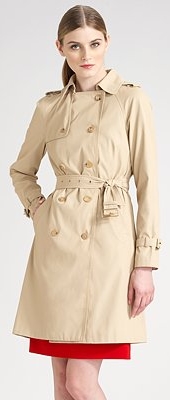 Team a trench coat with colored tights (do refer to a separate article on different colored tights on this site) worn over a knee length sweater dress and a pair of boots. The alternating look of the stiff and formal coat teamed with soft and flowy feel of the sweater dress is bound to get you the attention. Great for wearing at formal dos, the essence here is to wear boots and classic minimalistic jewelery to highlight the unique combination of soft sweater dress and formal trench coat!
Over a sheath dress or a skirt – a simple straight line dress or a skirt is a great contrast to the voluminous trench. The trench should be ideally the same length or a bit longer than the dress so as to offer a streamlined look. A shorter trench coat can also be worn with the sheath dress, however always remember to wear heels with your trench coat to provide the desired effect of length to your silhouette.  Pair this ensemble with simple yet classic pieces of jewelery to add an air of elegance and sophistication fit for a formal do!
Wide legged trousers – Choose a well fitting pair of neutral bottoms and team it with a brightly colored trench coat, with the belt tightly strapped on to highlight your waist. This combination is bound to cheer up anyone on a dull wintery morning and at the same time will get you noticed for your eclectic choice. Wear boots with the trouser to complete the look.
Tips for buying and wearing a trench coat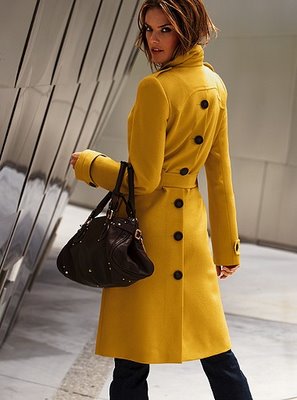 If you are of a petite fame, do not go in for trench coats which are below the knee length as this may look a little larger on your frame and you may end up looking shorter. Also avoid too many details on the trench coats as these details may dwarf you further.
Trench coats are great for apple shaped and pear shaped women too! They hide those parts of the body you are not really proud of without you really making any efforts to. Avoid double breasted coats, wide lapels or big epaulettes if you are top heavy, as these details bring more attention to your top.
The fit of the coat is very important; avoid too loose or big sized trench coats as they may end up looking overwhelming on your frame. Well fitted shoulders and figure hugging coats with lapel sizes to match are the best bet.
Heels make a women feel sexy, and they look the best when teamed with the classic trench coat – so invest in a good pair of heels to wear with your trench coat! Other important ways to transform your look from casual to formal is changing your jewelery to suit the occasion, as advised above.
While it makes sense to buy a trench in neutral colors so that you can mix and match it with as many outfits as you can, try buying  a few pieces which are bright in colors like an indigo or a bright pink to brighten your day. Remember to team the bright colored trench coats with neutral colored bottoms.
You could tie the trench coat belts in innovative ways as well. Tie it into a loose knot and keep the loose ends of the ties in the pockets to prevent them from being caught in the car. You could tie the belt at front, at sides or even at the back. Taking off the belt makes the look unkempt and sloppy, so work out an innovative way to look great with your trench coat belt.
Cropped trench coats, or coats which end at the hip bone, trench coats with rouched and  / or shorter sleeves and other such variations are slowly but surely creeping in on the fashion scene, these look great during spring and autumn and offer a playful change to an otherwise formal look.
A good trench coat is like a well fitting pair of jeans, you cannot do without it and will always remain in style come what may!