Wills India fashion week day 4 promised to be much more fun and colorful with many more new designers showcasing their collections along with the already established and industry big names.
Designer Pallavi Jaipur A/W 2011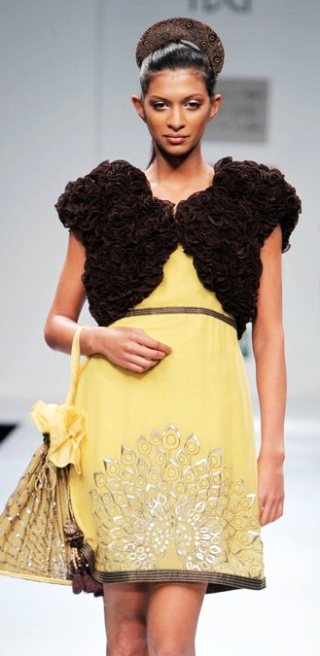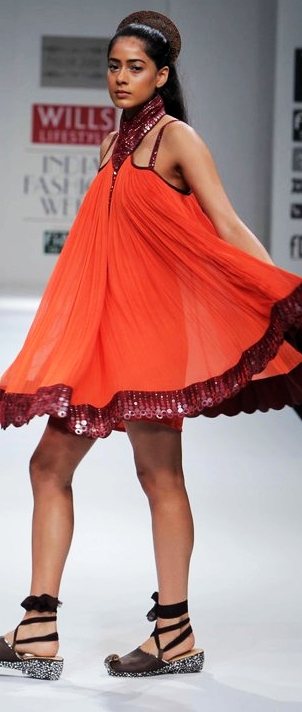 Designer Pallavi Jaipur A/W 2011 collection

The day began with Pallavi Jaipur's show. Her main theme of the show was the pink city of Rajasthan – Jaipur. The forms, colours, designs all were inspired by this culturally rich city. No wonder then, the collection had images of the famous Jantar Mantar and had mirror work resembling the intricate work done at the Royal palace – Shish Mahal. Colours were rich – pink, oranges and golden yellows and ombre effect was prominent. Forms were free flowing – there were voluminous ghagharas with a modern twist – worn with draped blouses and tunics, sheath dresses embroidered with the traditional motifs and mirror work etc. Fabrics included the flowy chiffons and rich velvets, doing full justice to the forms. Trend to watch out for is surely the mix of Indian ethnic forms of embroidery with contemporary silhouette.
Designer Karthikey & Isha A/W 2011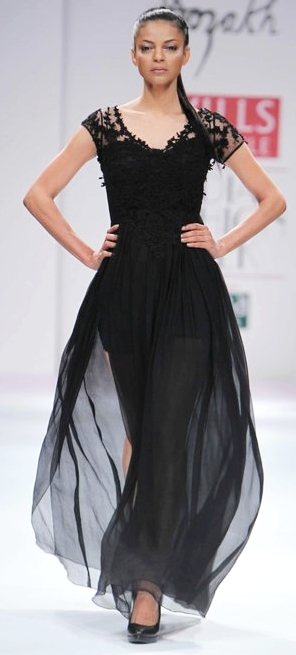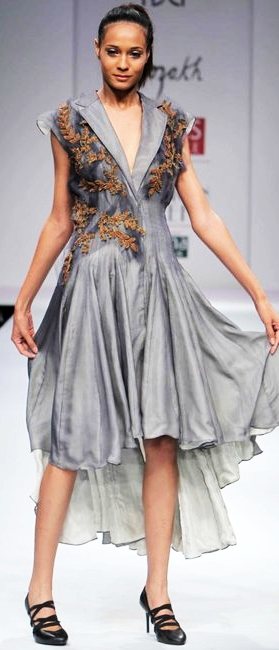 Designer Karthikey & Isha A/W 2011 collection
Dozakh by Karthikey and Isha showcased a rather morose colour palette and it was a sharp contrast to the colourful collection presented just before their show. The collection was primarily in blacks, greys and navies with sporadic usage of the bright red in the form of embroidery or a print. The duo drew inspiration from the Shakespearean play – Hamlet's famous line – To be or not to be. The fabrics used were rich with a strong usage of silk and worsted wool. The designer duo had draped dresses and tunics, cropped pants and sleeveless jackets in their collection .Layering in tonal colours was a common feature and a sure shot way to beat the chill. Adopt this trend, in this otherwise passable collection.
Designer SadanPande A/W 2011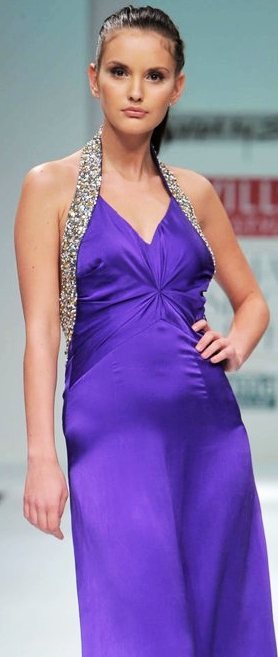 Designer SadanPande A/W 2011 collection

The next collection was Sylph by SadanPande. His collection named "Quilted Desires" showcased beautiful and delicate garments in rich brocades, velvets, Tulle and silk chiffons with fine and most importantly neat quilting and embroidery techniques. The silhouettes included dhoti pants, short asymmetrical hem jackets with voluminous panelling, Anarkali kurta worn over fitted churidaars, straight panelled jackets worn over breeches and layered dresses for the women. For the men folk, he presented well fitted blazers with contrast detailing at the lapels and raw silk suits. The colour palette was a mix of greys, blacks, rich greens, violet and maroons. The trend to watch out for is the intricate quilting and the delicate work of crystals and embroidery used over layered garments – feminine and beautiful!
Designer Niket & Jainee  A/W 2011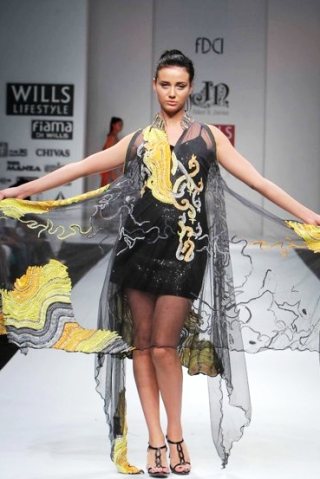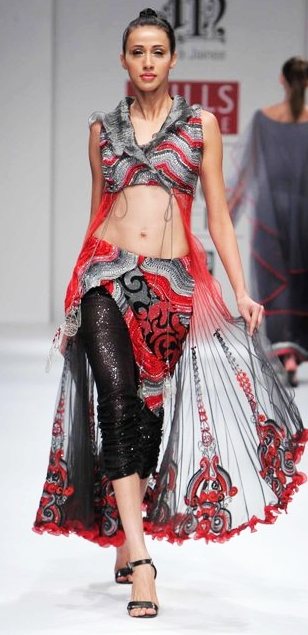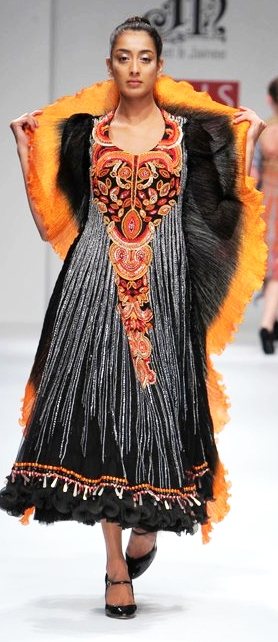 Designer Niket & Jainee  A/W 2011 collection

Niket and Jainee in their collection JN presented what seemed to be the flavour of the season – Fusion of rich tradition with modern contemporary form. Colourful , kitsch prints and embroideries were found aplenty. So was panelling and pleating – sometimes in contrast colour and sometimes ombre dyed. The shapes included voluminous kaftans, draped knee length dresses, voluminous panelled skirts teamed with long sleeveless jackets. Colours were primarily greys, blacks interspersed with oranges and yellows. Fabrics included net and chiffons. Go in for the unusual ombre dyed colours these winters as an inspiration from this show.
Designer Sonia Sarin  A/W 2011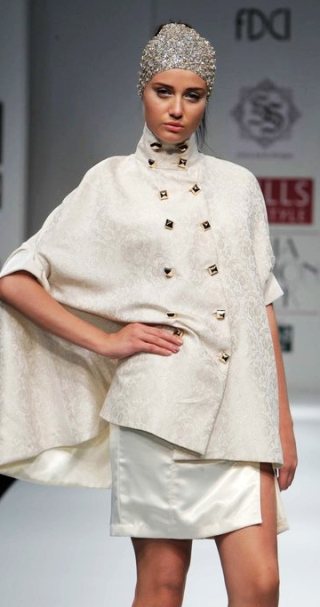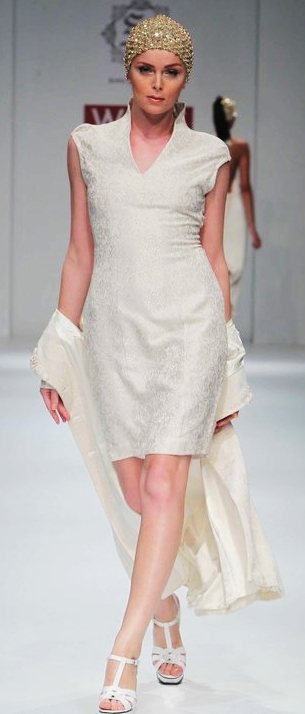 Designer Sonia Sarin  A/W 2011 collection

Designer Sonia Sarin used the very summery hue – off white to showcase her winter collection. The unusual main colour theme was however, complimented by the wintery silhouettes – capes and draped dresses in wool, satins, chiffons and jacquards. The collection used satin rose corsages and metallic silver and gold work accessories and detailing. Worth watching out for – liberal use of fabric corsages and draped silhouettes.
Designer Anand Bhushan A/W 2011



Designer Anand Bhushan A/W 2011 collection

Designer Anand Bhushan put textures to the best use in his collection 'Worm'. Colours were androgynous –  blacks, ombre dyed pinks, corals and silhouettes were edgy and sharp with padded shoulders and sequinned roses. Silhouettes included jumpsuits made in sheer fabrics, scalloped skirt, mid calf length cropped pants teamed with straight jacket and a blouson, draped dresses etc. What worked for him in this collection is definitely the juxtaposition of sheer with sudden and extreme textures and sharp silhouettes.
Designer duo Gaurav & Ritika A/W 2011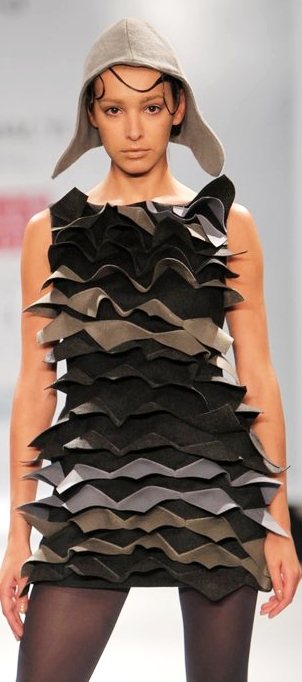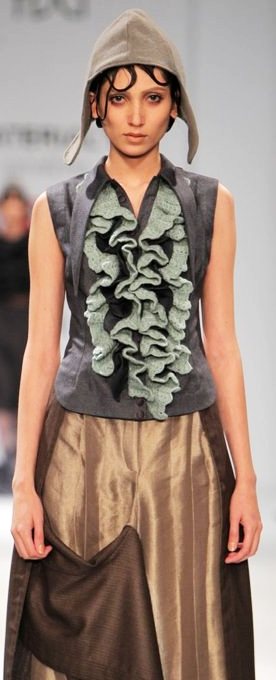 Designer duo Gaurav & Ritika A/W 2011 collection

Designer duo Gaurav and Ritika put their imagination to great use as was very evident in their collection inspired by the works of Japanese furniture and ceramic artists. The collection, I would like to describe it a bit  "Over the Top" was a good blend of 3 D details with some neo-aesthetic detailing. Multi colour panelled dresses, loose dhoti pants, open cardigan worn over pencil skirts, ruffled tops all were worn with felt top hats with ear flaps over their heads and fabric bags covered over the shoes. For more reasons than one, this one collection was quite tangent to the normal fashionista's sensibilities.
Designer Jenjum & Jasleen  A/W 2011



Designer Jenjum & Jasleen  A/W 2011 collection

Koga by Jenjum and Jasleen showcased textures , new forms of embroidery and mixing of fabrics. There was an abundance of rich colours such as gold, orange mingling with the staple black, ombre dyed yellow and blue etc. Silhouettes were mostly fitted and included sleeveless tops, sheath dresses made in two or three different fabrics, cropped pencil pants worn with waist length fitted jackets. Frills and drapes were two techniques which were found in quite an abundance on the designs of the duo. Fabrics included – rich jacquards with lurex, brocades and chiffons.
Designer Alpana & Neeraj A/W 2011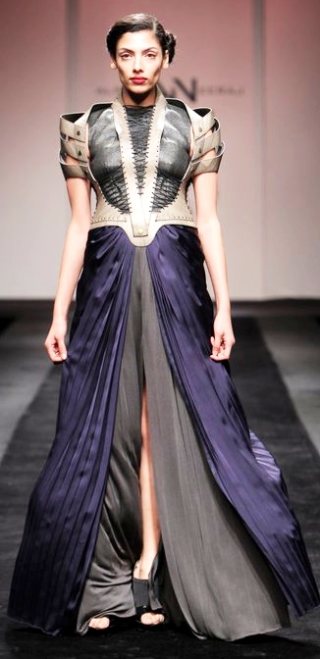 Designer Alpana & Neeraj A/W 2011 collection

Alpana and Neeraj showcased their sharp silhouettes with a revolutionary 3 D dimension – wood finished mouldable materials blended into garment  designs. The collection was futuristic while keeping in mind the contemporary silhouettes to come up with something unique. The wood was interlaced in to the fabrics to give the entire appearance a softer look. Colour palette included the wooden hues of  dark teal, mahogany and rosewood intermingling with navy, blue and black. There were splashes of colour too such as orange, ruby red and purple. Evening gowns, draped dresses, fitted knee length dresses were all a part of their collection. Alpana and Neeraj showed in their collection what the future of fabrics could be – and it was surely inspirational, Practical or not at this moment, is a question we need to ask ourselves.
Designer Atsu Sekhose A/W 2011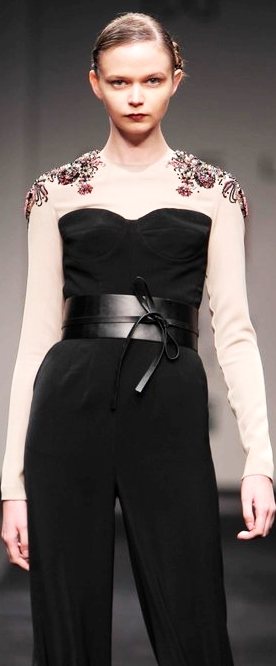 Designer Atsu Sekhose A/W 2011 collection

Atsu by Atsu Sekhose presented his very chic, very wearable and very feminine ready to wear collection in sombre tones of blacks, browns and deep maroons. The silhouettes were contemporary and fitted – straight skirts, draped blouses, lace leggings and no nonsense dresses. There was glimmer in all forms – tonal, gold, silver and contrast, which added a bit of enigma to the designs. The fabrics were rich silks, satins and very fine wool. Atsu's collection is highly recommended to be included in your wardrobe this winters – the colours, fabrics and silhouettes all will work for you!
Designer Rimzim Dadu A/W 2011



Designer Rimzim Dadu A/W 2011 collection

Rimzim Dadu's collection – PM my village was born from the idea of how the city evenings begin with being dark and sombre and start glowing. The show began with dark and strict silhouettes and climaxed to an electrifying finish, with the blacks turning into rich indigos, pinks and reds. There were short dresses, draped tunics, jackets and cropped pants. The prints were psychedelic, with a riot of unusual colours in unusual mish-mash patterns, heavy usage of sequins ensured that the collection was shiny and bright too. All in all a great evening wear collection!
Designer Aneeth Arora A/W 2011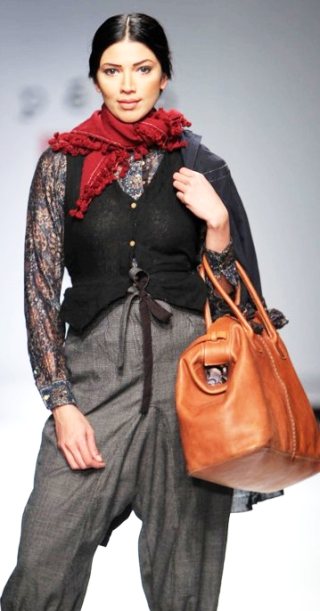 Designer Aneeth Arora A/W 2011 collection

Aneeth Arora's collection- "Pero" drew its inspiration from the region of Marwar in India. While the materials and techniques were drawn from this region, the collection designs and silhouettes were global. The collection included – checkered merino wool dungarees, vegetable dyed prints, hand knitted mittens , cashmere jackets and crocheted inners. The colours while being cheery were still subdued. – browns, blacks, rusts and blues. All in all, very ethnic in soul and very modern in usage, this collection was surely a surprise from the young designer!
Designer Anupama Dayal A/W 2011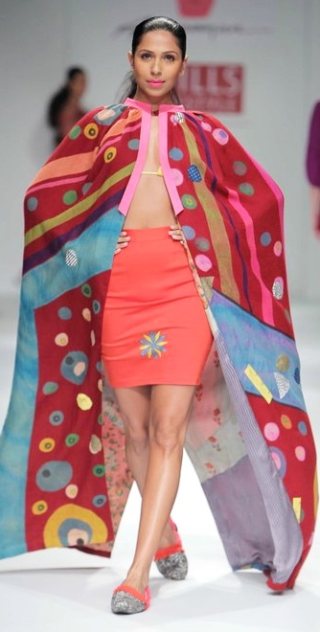 Designer Anupama Dayal A/W 2011 collection

Anupama Dayal's collection " Anupamaa" was inspired by a huge diamond called the Shalimaar. The collection was a mix of colours, pop art and rich fabrics. The colours included acid pinks, bright citrusy orange, canary yellow, Shrek greens and black. There were floral prints, dots and stripes motifs, animal prints and abstract prints, sometimes all in a single garment making the designs unique. The silhouettes were chic and very comfortable and included Loose flowing dresses, tunics, parallel pants, kaftans and long capes. Fabrics included pashminas, silk, taffetas, stretch cottons and wool blends. Fun, fearless and comfortable is the best way to describe Anupama's collection for this winters.
Designer Ashish Viral & Vikrant A/W 2011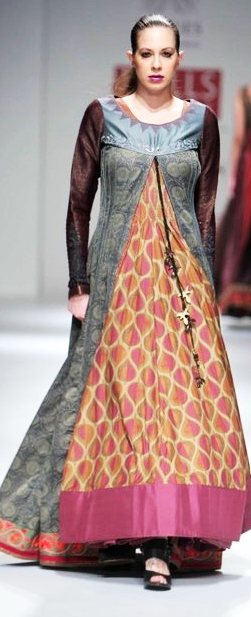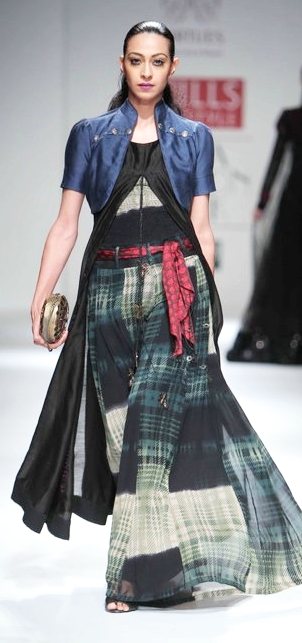 Designer Ashish Viral & Vikrant A/W 2011 collection

"Virtues" by Ashish Viral and Vikrant in one word was gothic – inspired by pointed arches. The inspiration resulted in having extra dimension  in their silhouettes. The colours were primarily darks – blacks, browns and darker and muted tones of pinks and greens. Silhouettes included voluminous dresses, flared pants for women and crossed over jackets, dhoti pants and embroidered shawl for men. There was a distinct shift from straight cuts to easier, more fluid ones, which made the collection look rich. The fabrics included nets, satins, silk and wool blends. The mix of prints with solid panels was a great feature on most of the designs. The trend to watch out for is the colours and the lovely, fluid shapes.
Designer Gaurav Gupta A/W 2011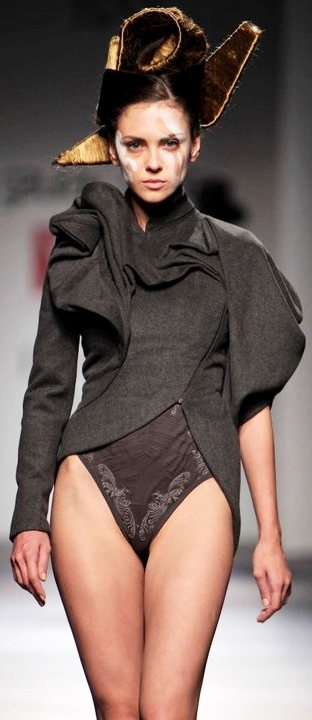 Designer Gaurav Gupta A/W 2011 collection

Gaurav Gupta's collection was inspired by the illusions and fluid elements of the underwater. His designs were mesmerising, vivacious and fluid. The silhouettes included dresses with ruffles at the sleeves and shoulders, draped dresses and asymmetrical jackets. The fabrics were drapey – satins,  stretch jerseys and velvets. Colours included blacks, reds, muted oranges, greys and off whites – the effect of translucence and transparency was played around with using these colours and abstract splash prints. A trend we would love to watch more of – the fluidity in the splash prints, beautiful and ethereal.
Designer Niki Mahajan A/W 2011



Designer Niki Mahajan A/W 2011 collection

Niki Mahajan's show captured the feminine vintage elements inspired by the "Modern day Maharani". Her collection put the ancient tradition of block printing to good use. Colour palette included – pinks – dull and shiny, blues and shades of it – turquoise, teal, sea, lilacs and reds combined interestingly with indigos and greens. Detailing included border prints, panelling , embroidery ombre dyeing and pleating – all used effectively to create the magical vintage effect. Dresses, saris, kaftans were included in silks and satins. Rich colours and revival of the block print made Niki's collection a definite show stealer.
Designer Anamika Khanna A/W 2011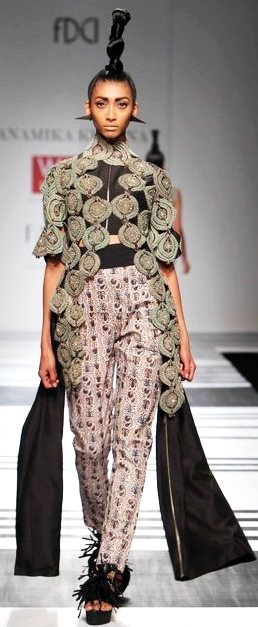 Designer Anamika Khanna A/W 2011 collection

Anamika Khanna's show was marked with layering – jacket worn over a tunic and paired with awide legged trouser; cropped top, pencil skirt over skinny pants – but we are surely not complaining – after all, layering right is surely the best way to beat the chill! Colours included turquoise, blue green, hot pink and mustard , detailing included metallic cord embroidery, fringes, crochet and floral prints. Black pants with different widths at the hem were also emphasised upon. Smart, sharp and suave cuts underlined the silhouettes – well fitted black pants with tops, draped dresses, smart jackets all underlined the perfect fit. Anamika's collection was great and the embroideries worth dying for.
Designer Abraham & Thakore A/W 2011



Designer Abraham & Thakore A/W 2011 collection

The day ended with the collection of Abraham and Thakore. The show  was a new take on the Women's Indian wear, drawing inspiration from the classical men's wear. There were crisp white shirts, slouchy trousers and the evergreen pinstripe jackets, which directly reflected on the inspiration. The good old saris saw different kinds of drapes and were teamed with jackets, worn as a stole, draped with a belt etc. Colours were androgynous- black, white, hounds tooth check, muted gold and shimmery greys. The collection was surely a way to look forward to the upcoming winters.
Image: WIFW