Retro is back and so is feminity and happiness. The 50s and 60s were a memorable era in fashion and designers ever so often take inspiration from it. Wear a polka scarf or sport a bouffant – feel the retro chic as Glamcheck guides you on hair and makeup ideas.
Pinup sexy
Marliyn Monroe is the inspiration and we do a modern day look.
Tip 1 – For the 50's pinup sexy you will need to use curling iron and apply heat protective spray before hand.
Tip 2 – Finish off each time with a hair spray.
Look 1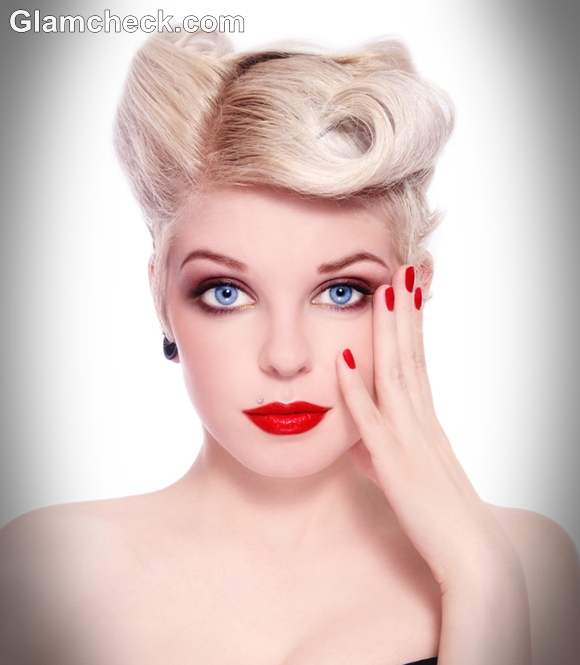 Pin up Retro Look : Marliyn Monroe inspired Retro hairstyle & makeup 
Hairstyle
Section your hair wide and pin each section before curling. Hold the iron in place for 3-4 seconds each time
While your bangs should be curled forwards towards the forehead, the direction of the hair curl on the other side of the part should be towards the back of your head.
Makeup
Plucked eyebrows and smoky eyes using kohl and mascara.
A red lipstick on pre-mosturised lips.
Match the color of your manicured nails to the lips.
 Look 2
Pin up Retro hairstyle & makeup look
Hairstyle
For finer curls take thin 1" sections of hair and curl the section all the way to the tip with a curling iron.
Be sure to start the curls below the crown of your head.
Makeup
Try a glossy red lipstick.
Match the nails and the rim of your sunglasses to your lips
Look 3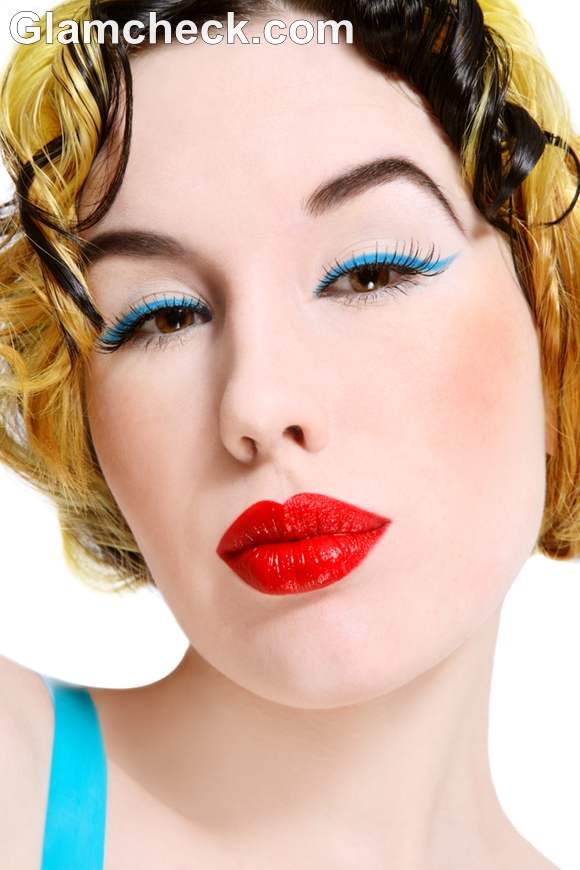 50s Pin Up Retro Hairstyle & Makeup 
Hairstyle
This time take wider sections and start curling leaving only about 3" at the top.
Make sure to make your curls frames your face from both sides. After the curling iron, set it with your fingers lighlty.
Makeup
Choose a bold glossy red hue for your lips and define them well.
Apply kohl to your lower lash line and a cyan eye liner in a cat-eye way on the upper lash line.
Define cheekbones with a little rouge.
Look 4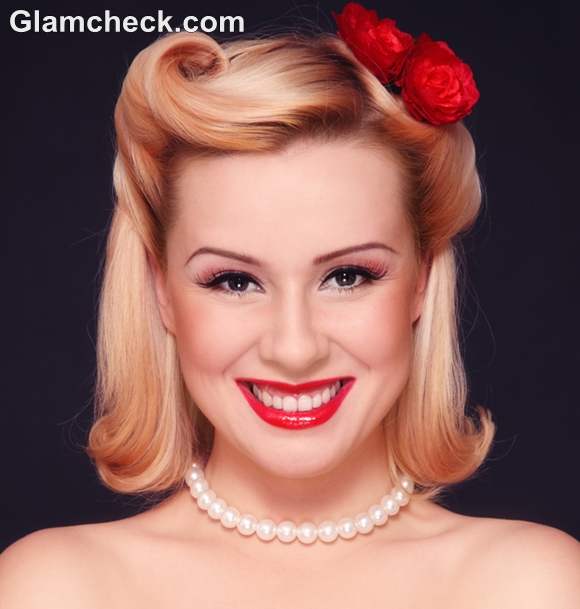 50s Retro Pin Up Hairstyle & Makeup Look
 Hairstyle
Starkly curl only your bangs towards the back and the opposite section puff up and curl and decorate with red roses.
Curl the ends of the ret of the hair outwards.
Makeup
Bold red lips and light rouge on the cheekbones.
Thin eyebrows and mascara defined eyes
Finish with pearl necklace.
Feminine is back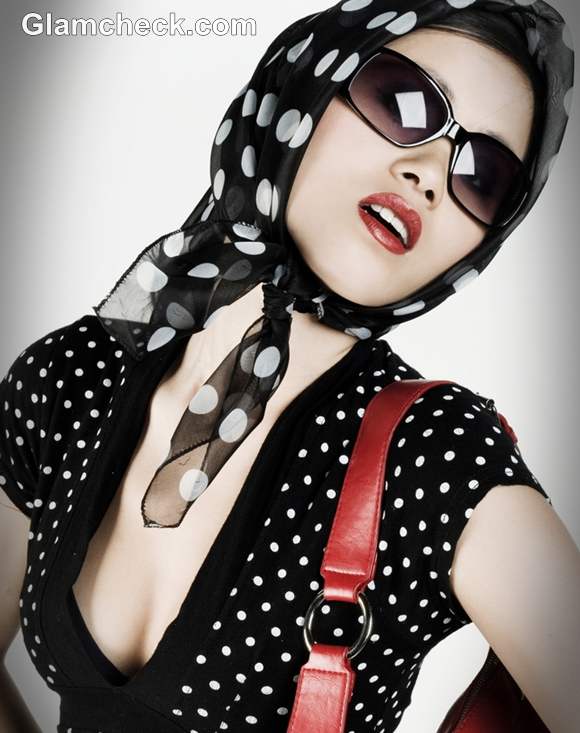 Polka dot scarves are the greatest classic fashion invention there is.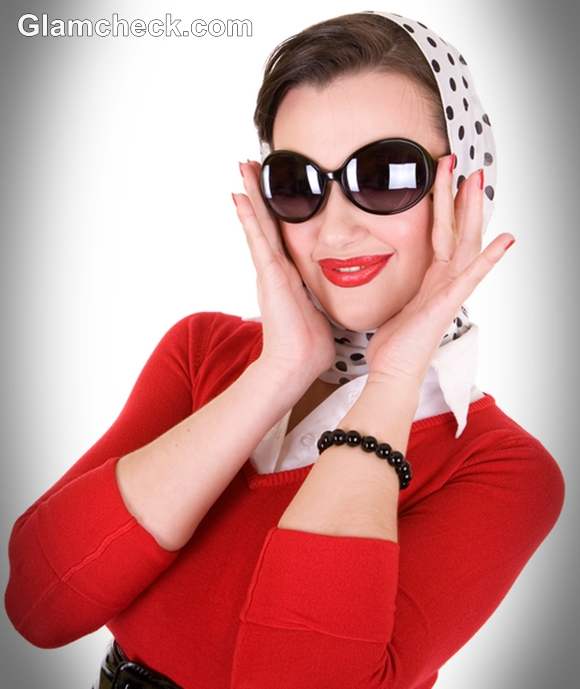 Retro Look with Polka Dot Scarf
Hairstyle
Comb back your hair and tie them in a ponytail with a rubber band.
Fold a square polka dot in triangle and wrap it around your head to tie at the bottom of your neck
Makeup
Red lips bring out the scarf and your femininity
Choose a round pair of framed sunglasses in black.
Beehive Bouffant
Tip 1: To create the bouffant take sections of your hair and tease (back-comb) them.
Tip 2: Apply hair spray to each section and when done comb them slightly and pin them up with bobby pins. Push the teased hair upwards while pinning.
Look 1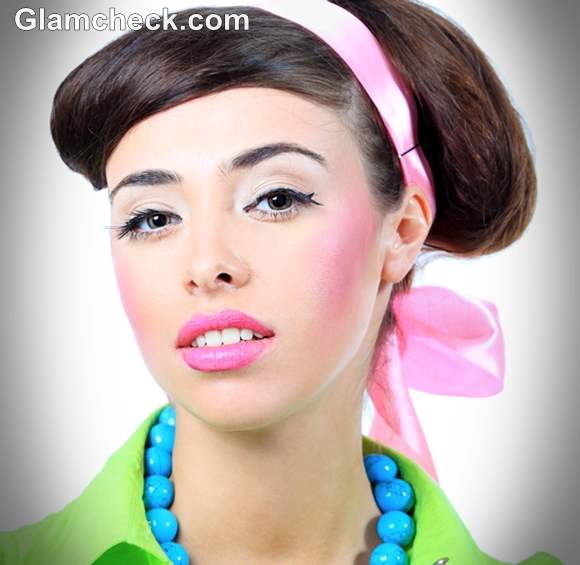 Beehive Bouffant Hairstyle 60s retro look
Hairstyle
After pinning the bouffant tie straighten your bangs and set them towards the side.
Tie a pink ribbon like a headband.
Makeup
Go for pink lips and mascara clad eyes with pastel pink eyeshadow.
Wear a cyan bead necklace along.
Look 2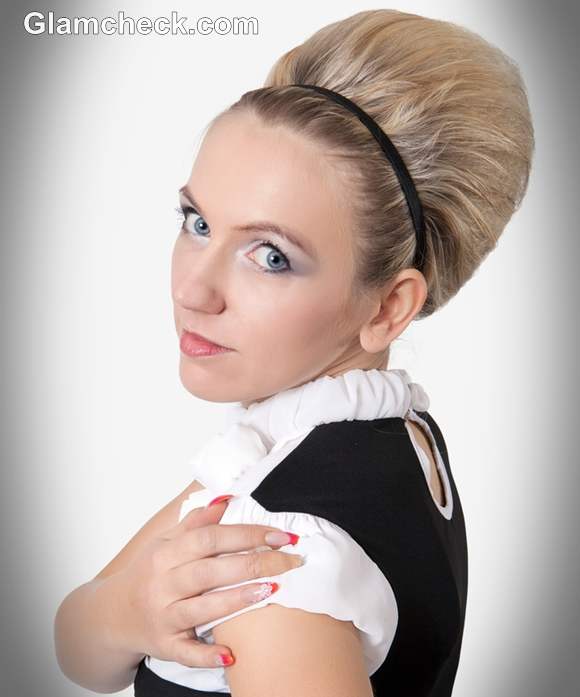 60s Retro Beehive Hairstyle & Makeup
Hairstyle
Comb your hair sleek and wear a hairband first before making the bouffant.
Makeup
Go for soft natural color on lips and light silver eye shadow on the eyes.
Paint nails red
Vintage Buns
It is a great way to add volume to the back of the head.
Tip 1 – Tie your hair up in a ponytail first.
Tip 2-  Roll and wrap the hair around your hairband.
Look 1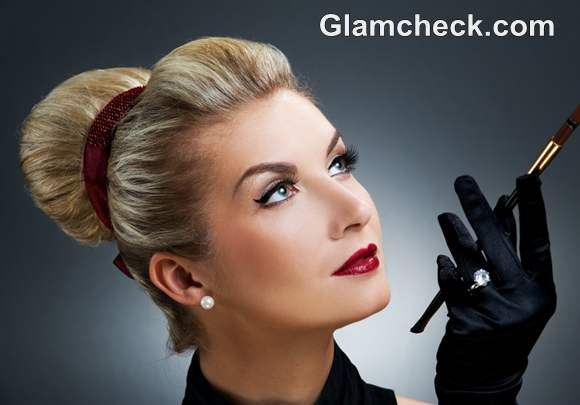 Vintage Bun Hairstyle Retro Look
Hairstyle
Puff up your hair by back combing before making that ponytail
Makeup
Try a deeper shade of maroon for the lips.
Go high on mascara, use slight kohl and wear pearl earrings.
Look 2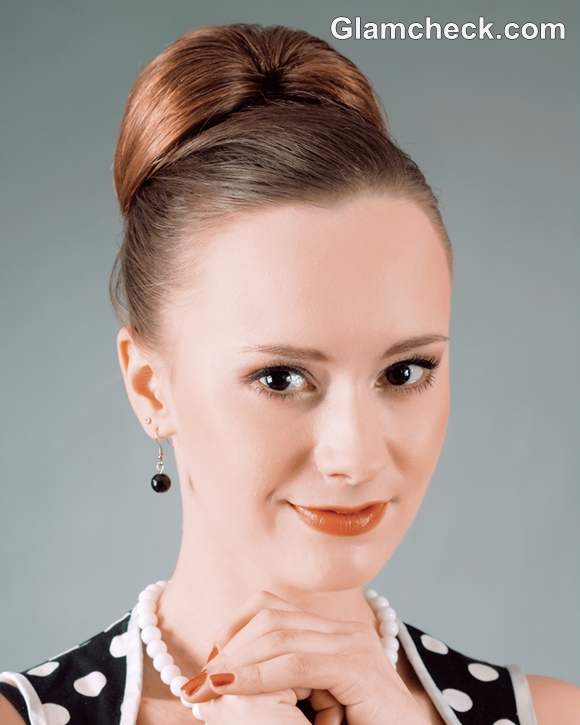 50s 60s Vintage Bun Hairstyle
Hairstyle
Comb your hair back neatly into the ponytail and repeat process
Makeup
Go soft on the lips, towards a natural tangerine.
Soft brows and kohl defined eyes with a little eye liner.
Finish with a pearl necklace.
The Headband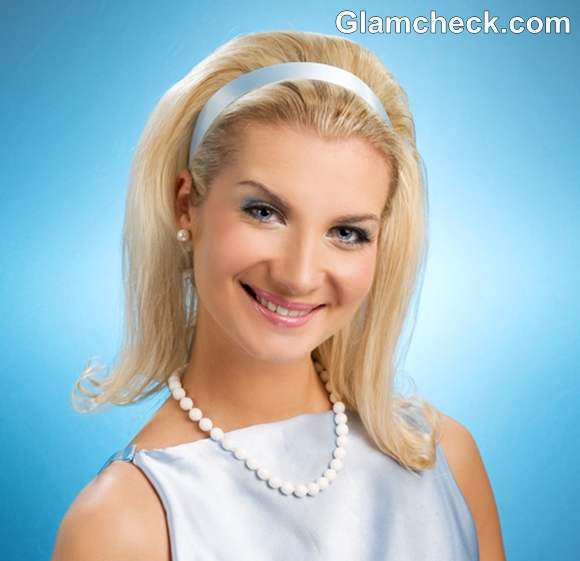 Retro Hairstyle with Headband
Hairstyle
A cute and quick style. Blow dry your hair with ends turned outwards.
Wear a regular headband or fold up a scarf to tie one at the back.
Makeup
Soft pink lips a little pastel eyeshadow with mascara
Pair up with a pearl necklace.
So, choose a look perfect for your style and occasion and enjoy bringing back the good old times.
Shutterstock