The globalization boom in the 90s brought to us countless beauty potions by the biggest brands in world promising a 'beautiful' you only possible if you apply that particular crème or mask. No doubt a lot of these work very well for us.
But a lot of us are now looking again at nature to bestow us with our beautiful self. And why not, staying beautiful naturally is effectives, easy, inexpensive and sans any side effects. The only reason some of us are intimidated is – not knowing the correct ingredients and procedure. Also afraid of the mess it might create or the time. But you can believe me on this, that the results of investing that time are a lot safer and gentle for the body.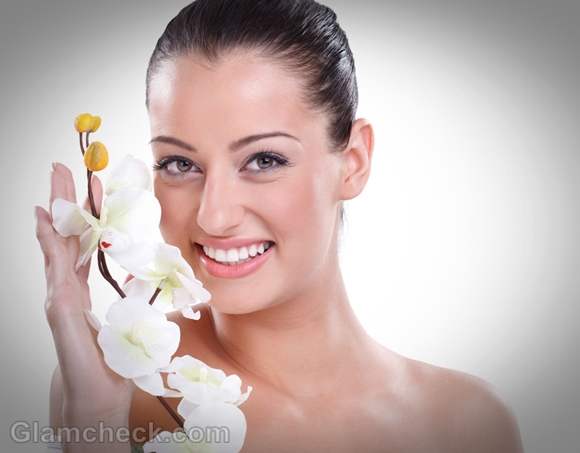 How to stay bBeautiful naturally
And mind you, being beautiful is more than just a pretty face. It is head to toe and that what we will look at here.
Hair
Washing your tresses with your favorite shampoo and conditioning and still facing dryness surely breaks anyone's heart.
Massaging with almond oil the night before hair wash lends shine and softness.
Even when you apply shampoo, massage it into scalp as massage improves circulation.
Fresh Aloe Vera pulp mixed with mustard oil or olive oil and massaged 2 hours before hair wash results in softness.
Apply mayonnaise in your hair, concentrating more in the tips. Wrap with a shower cap or hot towel. Wash off in 1 hour.
If dry hair is undesirable, oily greasy hair are even more so.
Minimize brushing your hair as it releases more oil.
Dilute apple cider vinegar with water and rinse with it after shampoo.
Heat water and put a tea bag in it. Dilute it enough that the color is slightly visible. Rinse after shampoo.
Remove blackheads
This problem actually pesters us all. Here's what you can do.
Steam your face once or twice a week to visibly reduce blackheads.
Use a hot compress for 10-15 min to open pores and then scrub with a mixture of milk and nutmeg.
Mixture of baking soda and water also works well.
Pink soft lips
A sensuous feature on the face; dry lips are always a turn-off.
Before your beauty sleep, coat the lips with olive oil and then a thin layer of honey on top.
Clotted cream ( malai ) mixed with glycerin and rose water can be applied the same way overnight too.
Once a week exfoliate your lips with a toothbrush (soft bristles). Damp lips and use circular motion. Do NOT press hard.
Shiny white teeth
You can never really be beautiful without a hundred million smile, can you?
Recommended only once a month. Brush and rinse normally and afterwards rub baking soda onto the teeth with flat motions. Brush and rinse again. Do NOT swallow.
Mix salt with mustard oil and massage teeth with it. Rinse and brush afterwards. A caution though, it is not the best tasting mixture in the world.
Fight a pimple
Let's face it, we all have them at one point or the other and any beauty advice is incomplete without an overnight tip on this frightening issue.
Reduce swelling on a zit by using a hot compress for 10 minutes and a cold compress for the same amount. Another way is just pressing an ice cube over it for 20-30 seconds a couple of times.
Mix a little baking soda with water and dab the paste on the pimple and leave it overnight.
Apply lemon juice on the pimple and leave overnight.
Face Mask
Each skin type requires a different mask. Read below.
Oily skin –

Save your orange peels and dry them in the sun. Powder them and store. Whenever you need a mask just add rose water.
Dry Skin – Mix 1 table spoon milk, honey with 1 tablespoon aloe vera gel. Add 2 drops of essential oil. Apply the mask for 15 minutes.
Sensitive skin – Blend one ripe mango with 6 tbsp yoghurt. Rinse off in 15 minutes.
Normal skin – 1 ripe banana kept in freezer. Add one tablespoon honey to it and a few drops of lemon. Apply for 15 minutes.
Homemade Pedicure / Manicure
For a pedicure/ manicure the pre requisite is dipping your feet or hands in warm water. Mix it with shampoo, an essential oil or even olive oil and salt. The options are natural scrubs are multiple.
A very effective one is – gram flour, sugar, lime juice and curd.
Sea salt / sugar with olive oil and add aloe vera gel (for dry feet)
To remove tanning make a paste of oat flakes, honey and curd. Keep it on after scrubbing for 20 minutes. If you are very prone to tanning, keep it upto 30 minutes.
Tip – For cracked heels; mix olive oil and apple cider vinegar in equal amount. Apply on clean heels and wear socks for the night.
Body Scrub
For silky smooth skin – grounded coffee with sugar and oil. Add an essential oil instead for fragrance.
Squash a melon slice with 2-3 cucumber slices. Add brown sugar or rough salt and a few drops of oil.
Beat the tan
Cut tomato slices and rub over face, neck or arms. Squeeze as much juice out as possible. Follow this regularly and reduce tan considerably.
Apply buttermilk regularly on tanned area. Or take a cup of yoghurt and dilute with 2 liters water and rub it on the skin. Rinse off with soap and water.
The good thing about natural remedies is, you can add ingredients and subtract as per your particular need. Substitutes are easy and custom recipes often make you reach the beauty you desire. So give these tricks a shot, and find out a regimen that suits you perfectly.
Image: Shutterstock.com