What is bohemian clothing? Bohemian literally means unconventional. For generations women of all ages have been inspired by the free spirit and defiance of the usual standard norms of dressing. Fashion pundits the world over, believe that dressing up in the bohemian style is a state of mind, something that will never fade in time. If you thought bohemian clothing was difficult, this could be your guide!
Bohemian clothing

Bohemian clothing
Picture the very famous 60s and 70s Hippie era, where spirits were free flowing, the look was unconventional and ethnic and comfort was of key importance. Yes, the look was Bohemian or Boho as it is called in the fashion circles. Casual comfort is the key word for the bohemian clothing and is hence a look which dominates every girl's spring wardrobe.
Bohemian clothing colors, prints, textures and fabrics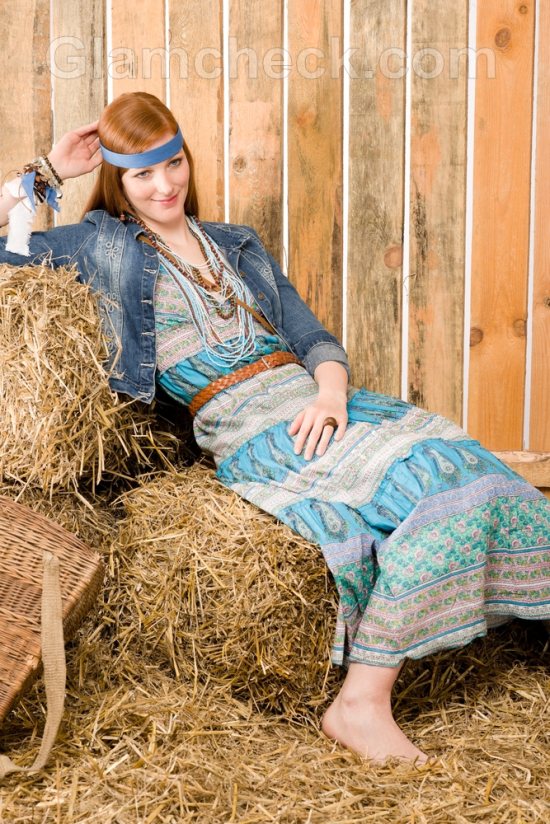 The ground rule of bohemian clothing is ethnic. For bohemian clothing choose colors which reflect the oneness with nature and all things natural – choose muted tones and earthy colors such as browns, olives, khakis and egg shell whites. Anything which is too pretty such as baby pink and blue or too bright and warm such as a bright red, yellow, and orange or indigo can be given a miss. Choose toned down versions of these bright and pretty colors – perhaps with a tinge of brown and black mixed into these colors will do the trick! You could opt for matt silver and gold to team with the above colors to get the classic bohemian look.
Floral, geometrical, folk art or psychedelic prints in colors stated above are great, so are Moroccan kitsch prints or prints with ancient Sanskrit or Devanagari scriptures. While choosing prints for bohemian clothing, go with busy prints but try not to overload it with too many colors – a medley of three to four colors will look great! Again colors should complement each other without being too bold and loud.
'Simple and raw' is the look that should be conveyed while choosing the fabrics for bohemian clothing. Choose natural fabrics such as linen, cotton – linen blends, wool and silk. Steer clear of manmade fabrics such as nylon , chiffons, polyester etc. The fabrics should be soft and smooth flowing and texture should be soft to feel and touch. No over the top patterns or textures, anything that ensures that you are at your comfortable best is fine for choosing fabrics and textures.
Embroidery plays a very important role in creating a bohemian clothing. Opt for big floral or geometric embroidery. Again, to have an ethnic feel, go for hand embroidery which is beautifully imperfect and so much better than the mass produced machine embroidery. Play around with embroidery colors and techniques to have your signature bohemian look!
Bohemian clothes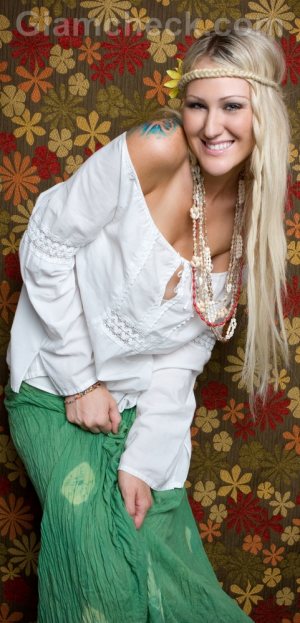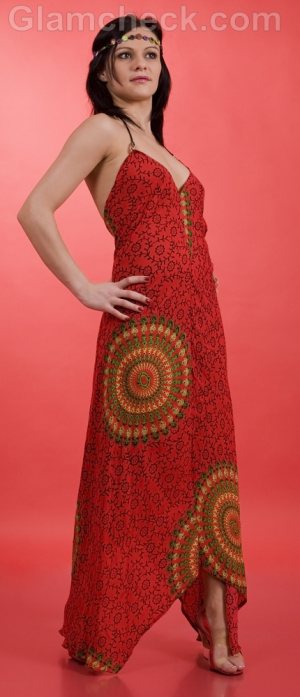 Loose flowy dresses
Loose flowy dresses in solid colors or prints such as paisley, tie-dye, ikat, large floral or folk inspired are great for getting bohemian style. Border prints look great too! You could choose from a variety of lengths, starting from just above knee to the ankle and a variety of dress styles too – such as a simple tiered maxi to a kimono dress . Ensure that you choose a length and shape based on your body shape and to highlight your pluses. You could team your dresses with cardigans and boleros to complete the bohemian style.
Tiered and wrap around skirts
Tiered and wrap around skirts in ankle lengths with sequins or embroidered belts are a staple in any Bohemian wardrobe. Choose printed ankle length skirts, which are fitted at the waist and go into a smooth A line as they go down. Bohemian style is great for people who are bottom heavy as well as who want to accentuate their behind. If you are short, opt for skirt lengths which end at the knee to give a longer impression. If you have short and stout legs, choose skirts which end at the thinnest part of your ankles. Ankle length skirts suit most tall women. Pair these skirts with a well fitted tank top or tunic. Avoid loose flowy shirts and tunics as these along with the flowy skirts will make you look unshapely.
Loose gaucho pants
Loose gaucho pants reaching mid calf, harem pants and loose pants reaching below ankle are great for creating the bohemian style. Pay attention to the fit as most of these pant styles are loose at the crotch, butt and thighs and you may end up looking fat. Choose  a size that is correct, not too big nor too small. Pair it with well fitted bohemian tops. In order to not have a very busy look, team a printed bottom with a plain top and vice versa.
Tunics and tops
Tunics and tops can make or break a bohemian style. If you are unsure of what to buy, stick with slightly loose, just reaching hip to mid hip length. Tunics could be sleeveless, with kimono sleeves or a short baby doll dress with thin straps. Experiment with colors, shapes, neck styles and fabrics. Opt for embroidered and lace inset tunics for party wear and team with a short mini skirt or skinny jeans to complete the bohemian style. For a more casual look, opt for printed tunics and team with tights or shorts. Again, ensure the overall look is not too cluttered and is in fact uniform and presents a pleasing picture on the whole.
Bohemian clothing accessories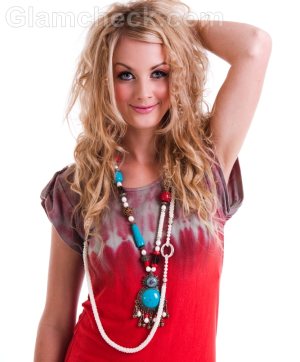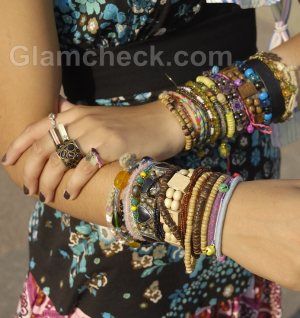 Bohemian jewelry
Bohemian clothing is incomplete without bohemian jewelry. Choosing the right kind of Jewelery to create the bohemian style is really simple.  Neck pieces with charm pendants, multi link chain in antique metal finish, multiple bangles, beaded ear rings etc. are all pieces of jewelery that you may own already. Wearing bohemian jewelry over a solid tired skirt and a vest can instantly translate your look. Try using one signature piece as a part of your entire bohemian clothing instead of dolling up with too many pieces at one go. You could opt for bohemian jewelery made of metal or for a funkier look, choose materials such as glass beads, wood, shell and even bone and horn.
Bohemian shoes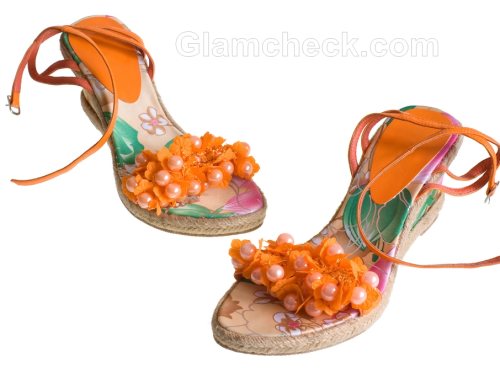 Flat, open comfortable sandals are the best footwear to carry forward the bohemian style in summers. Gladiator sandals look great! You will find most of the footwear in neutral earthy tones such as browns, beiges and olives. The material will mostly be good hardy leather. Boots in ankle or mid calf length are a favorite for winters. Choose suede and leather. Simple boots look great with almost all types of bohemian clothing. If you prefer wearing boots with design features such as fringes or studs, ensure that the main bohemian outfit is simple and preferably solid colored in order to avoid an over the top look.
Elaborate, embroidered belts worn around your waist on top of a skirt of long dress can be that one signature piece that instantly brightens your bohemian clothing. You could also opt for braided fabric or leather belts, belts made of sea shells and conches, pearl buttons and metal coins. These belts are very versatile and can be teamed with most of the outfits in your wardrobe.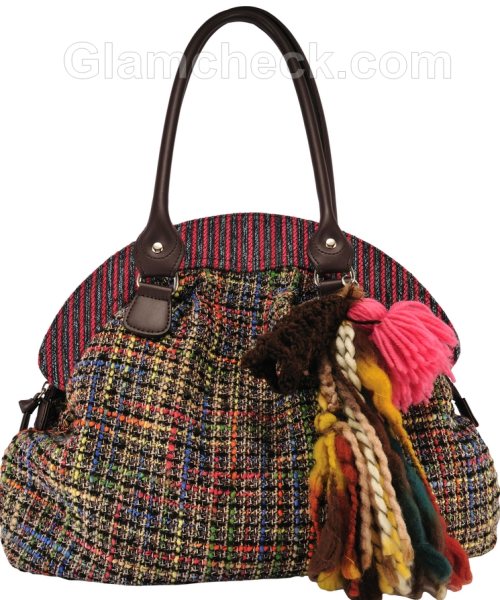 Handbags with braided tassels, studs or embroidery in leather or woven fabrics look great and add to the entire bohemian style. Choose soft leather in earthy tones to complement your paisley printed tunic or ikat dress. Patchwork bags in multi-color prints and solid colors look great too and add an element of casual chic to an otherwise plain dress or tunic. You could choose interesting shapes such as the hobo, tote or the shoulder bag, apart from the regular rectangular shape. Clutches or other hand held bags normally do not form a part of the true bohemian wardrobe.
Bohemian Makeup and the complete look
No look is complete, until we discuss your own look!
Bohemian Hairstyles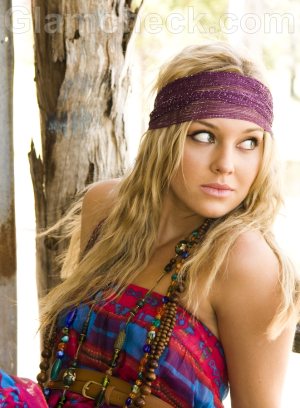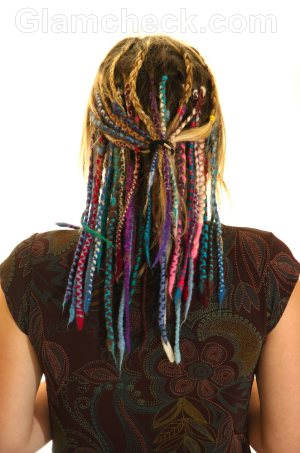 Braids, open hair resembling the just-out-of-bed look and loose buns are great hair styles which complement the bohemian style. Remember, the look is casual comfort, so any efforts of looking too done up and tidy will defeat the entire purpose. You could opt for woven tapes in the bohemian color palette to tie your hair in interesting ways or hair pins in bone, horn or wood to hold your bun together.
Bohemian Makeup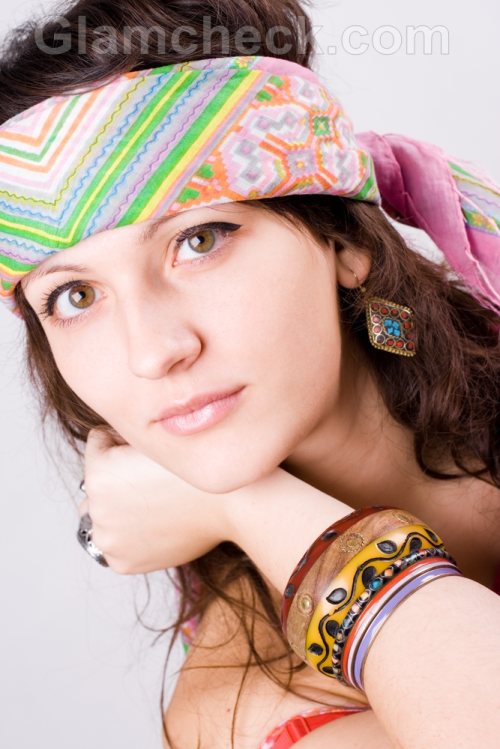 Make up needs to be natural (read a separate article on nude makeup on this site) and avoid any dark and bright colors which make you look 'dolled'. Kohl, mascara, some color on your lips and cheeks is at best the most that you should apply to complete the look. Avoid smoky eyes or too much color and bronzer on the face as this will completely take away from the bohemian style.
Bohemian clothing is all about color, comfort and casual chic. While working on bohemian style, don't work too hard and remember to carry your casual and devil may care attitude! After all, what you lack in dress, you can make up in your attitude!
Image: Shutterstock