Nude make up refers to wearing very little make up, or wearing make up which does not show. Nude make up is a timeless, classic make up style and any woman would do great by knowing how to achieve the nude make up look.
How to achieve the nude make up look?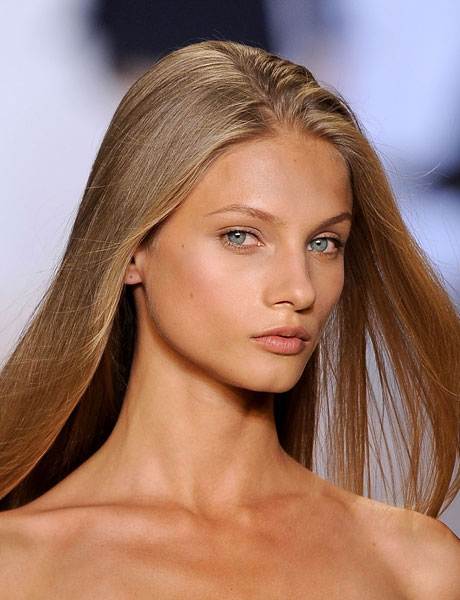 The best way to carry off nude make up is to not have any make up at all. For this of course, your skin needs to be impeccable. While regular care regimen of cleaning, toning and moisturizing along with enough rest and importance to diet and exercise will go a long way in ensuring a great skin, nude make up is the next best alternative to show off a great skin without actually having one.
Getting your face ready for nude make up:
This involves selecting the right color of cosmetics that will go on to help you create the perfect nude make up look.
Cleanse your face well with a face wash that suits your skin and dab it dry. Ensure that the face is free of oil, dirt or any make up traces. A good and clean base is most essential to carry off the nude make up look flawlessly and for a longer period of time.
Some makeup experts suggest skipping the foundation completely to achieve nude make up look. However, foundation does have some benefits as well. They are great for smoothening the skin tone and preparing a base for the rest of the make up to sit pretty on the face. Choose a foundation tone that is the same as your natural skin tone may be tough, but try to do just that for achieving the nude make up look. If you do not find an exact match, opt for a tone lighter than your skin tone.
To avoid the chalkiness of a foundation, pick up from the variety of bases that are available and which are suitable for your skin– from the mousse, oil or water based formulae or even the powder foundations.( Do read up more on this in our separate article on this site).
Whether you decide to choose foundation or skip it, a concealer is a must. A concealer helps to hide the flaws of the skin. For the best application of a concealer, stand in front of a well lit mirror so that the flaws appear very clear. Dab/ roll/brush on a concealer and even it on the spot that needs to be concealed for a flawless appearance.
With this your facial skin should be looking flawless and radiant. Keep an eye out on any excess caked up look. While you still need to work on the eyes, lips and cheeks to complete the nude make up look, the foundation of the make up has really been set!
Nude make up for cheeks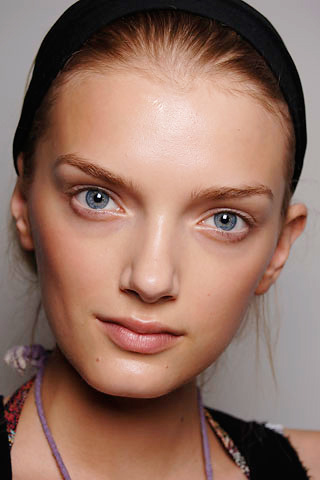 For the fresh and unmade up look, a little color is a must. Choose a blusher which naturally blends in your skin tone and illuminates it without attracting too much attention to itself.
If you are very fair, you could opt for a very very light bronzer. Take care to apply it to only your cheeks and not the entire face. The bronzer should specifically be kept away from the nose and forehead to create a refined look and not a tanned image. The best place to apply the bronzer or blusher is just below the cheekbones, going outwards towards the ears.  Depending upon your skin tone you could choose from very light pinks( for fair skin with reddish undertones) to peaches( fair with yellowish undertones) to apricots and browns( for darker skin).
Nude make up for eyes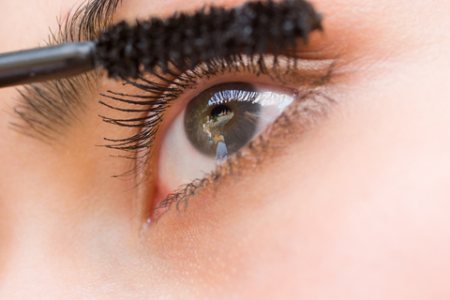 Eyes can be your best feature to play around with for the nude make up look or an upgrade from a natural look to a sexy look.
If you completely want a natural look, avoid heavy make up and eyeliners. Instead, curl your lashes (or put on false ones) and highlight them with a good mascara. The curling and the mascara should instantly glam up your eyes. The blusher that you used to get your cheeks ready could also be brushed on the eyelids to complete the look.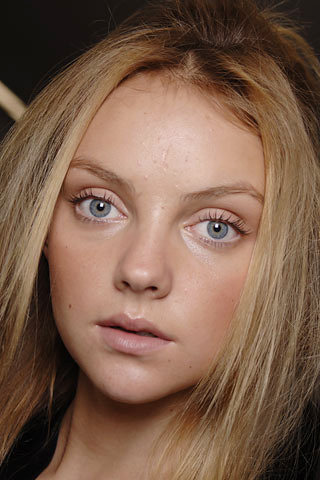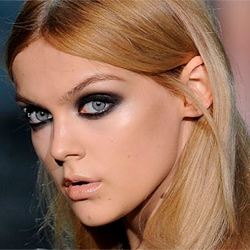 Many women want to highlight the eyes while keeping the rest of the make up natural and minimalistic. While traditionally, this will not really fall into the nude make up look, there are no water tight fashion definitions in a girl's world right? If you want to achieve this look, go for more eye shadow colors (matching your attire) or choose gray and black tones for a smoky effect and go for a bold defining eyeliner along with the curled eyelashes and mascara.
Nude make up for lips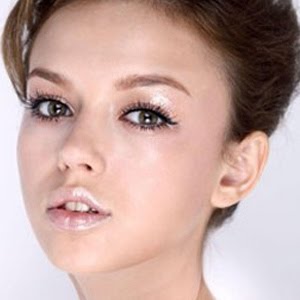 Lips should carry forward the natural look. Remember to exfoliate your lips so that they do not appear rough, dry or chapped. Gentle exfoliation also brings out the natural color of the lips. After the exfoliation, if you want to keep it simple apply a lip balm in a natural color such as pink and add some gloss to complete the nude make up look. Most make up experts do not recommend using a lip liner as defining the lip line gives a more structured look than the natural look.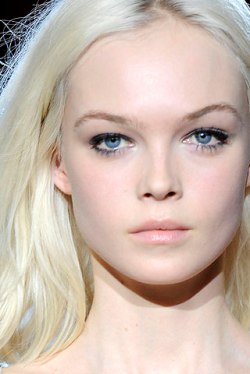 A variation of this look could also be to choose lipsticks which are natural and apply a very light gloss coat of shimmer. The shimmer could be golden or bronze. However, take care that you do not do shimmery eye make up and shimmery lips at the same time to avoid a 'dolled' look.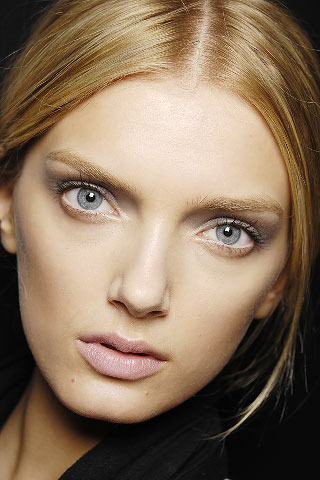 My favorite look is to apply a light natural shade of matte lipstick such as a pink or coral or even a light brown and apply it with a brush. Remember the shade has to be as close as possible to your natural lip color. No glimmer further enhances the nude make up look. The natural lips go great with smoky eyes or heavily made up eyes.
Where to wear the nude make up look?
Great for summers when you do not want to appear all made up and caked, nude make up is actually very versatile. You could wear this look to an afternoon beach party or to a sit down dinner and even to the office. It is great for winters too.
Remember that nude make up look can really be explained as a carefully made careless beauty and the dictum, "less is more" totally stands true. It is not over the top and a very versatile way to look, for any event you plan to attend. Just one thing – choose your colours carefully and you are set to rock this season!