Singer-songwriter, Eliza DooLittle is known for her eclectic fashion sense, and this was reaffirmed at the Royal Academy Summer Exhibition in Piccadilly, London. Her street style mix and match ensemble drew a lot of attention.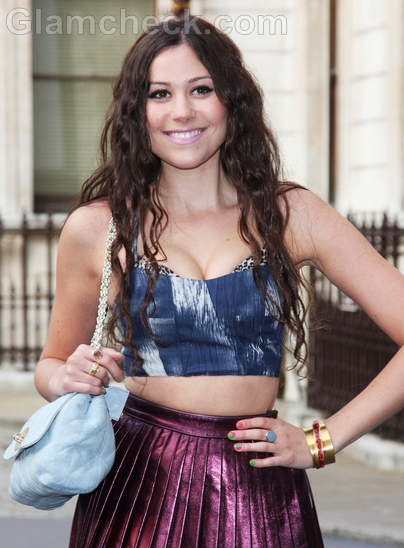 Eliza DooLittle Style
Eliza DooLittle played rainbow with her low cut blue and white tank top that saw an animal print bra do peek-a-boo. She paired this with a metallic-purple pleated mini skirt. The color of her chain bag was sky blue and she wore electric green pumps on her feet. Quite colorful style I must say!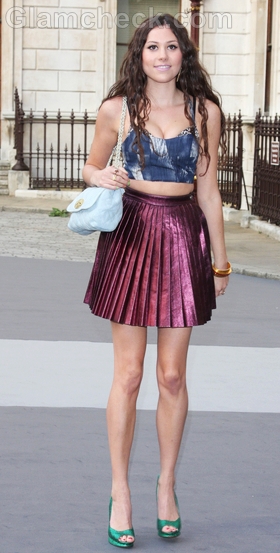 Eliza DooLittle Style :
One can't miss her nails either, with their very interesting bright pink & green manicure. This makes her turquoise blue ring stand out. The toenails had a completely different hue – red. A gold thick bangle and a dainty colorful one completed her accessorization, and we have quite a look there.
Thick liner and mauve lipstick coupled with some rosy blush comprises her makeup. The hair has been left open in its natural wavy style.
How to get Eliza DooLittle Style
Eliza DooLittle's style is not for everyone, but if you can pull it off – you will be quite a head turner yourself.
If you are uncomfortable with showing your décolletage then you can always choose a tank top that is not so daringly cut, it will work just fine. Rather, you could use interesting bra straps to play up the look. Choose a color and pattern that is totally different from the top. A pleated skirt that is non metallic in color will do if you have apprehensions about wearing metal shades.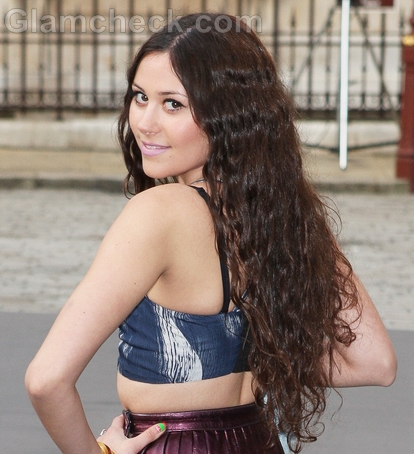 For the nails, you can also pick combinations like blue and red or orange and purple. Ensure that the design on each nail is different, so for one nail you can do horizontal lines and for the other diagonal. If the manicure gets too daunting to carry out yourself, you can opt for something equally interesting – paint each one of your nails in different shades, preferably in fluorescent colors.
If your hair is not wavy like Eliza DooLittle then don't be disheartened. There are a lot of ways to get this hairstyle to achieve Eliza DooLittle style . You can tie your hair in a tight plait when you sleep at night, and your hair will give off a tousled appearance in the morning when you open it up. To hold the look in place, use some curling hair spray. Alternatively, you can apply some curling serum and tie your hair in a bun for an hour or two. It will look wavy once you put it down.
You can use light pink or even orange lipstick if you do not like mauve too much. For your eyes, apply a straight line of liner – extending slightly at the outer corners. You can use black or green eyeliner too instead of black.
Any junk jewelry will do for your hands; the trick is not to keep them bare. In place of a chain bag, you can even opt for a sling purse.
The main focus of Eliza DooLittle's this particular style is adding lots of color, so you have to ensure that each of the pieces do not match another in color. So, if the skirt is red then the top should be white and the bag green – and so on. Most of all, you should have the right attitude to sport Eliza DooLittle style.
Image: P R Photos