Gotham Hall, New York, saw Iman color block it in style for The Gordon Parks Foundation Awards Dinner and Auction.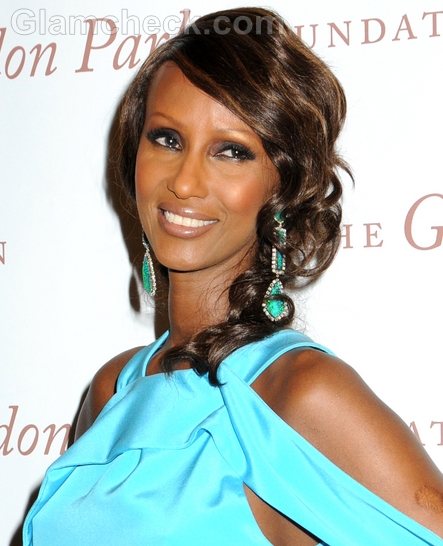 Iman Style  : Celebrity Look
This season we are seeing color blocking storm the fashion circuit in a big way, and the diva takes it to the next level with her smart combination of turquoise blue and yellow.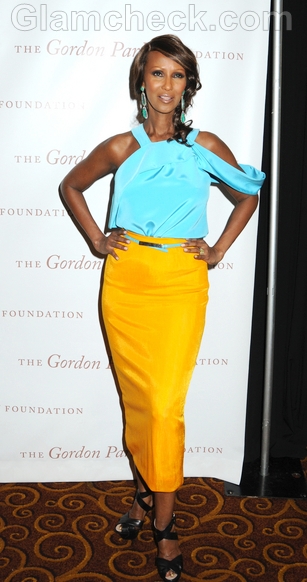 The colorful outfit is the creation of Prabal Gurung and combines a blue off shoulder top with a yellow pencil skirt and blue slim belt. The attire, however, would have looked a notch better if the skirt had finished right below the knees or at the calves. The length that that Iman sports is slightly awkward, however she carries off it in true supermodel style.
The pick of shoes could have been more interesting. The black strappy sandals are not doing anything for the look and are way too chunky. They are also clashing with the skirt, in the wrong way.
The area around the ankle looks too busy. She should have opted for a different color like red or even white to go ahead with the color blocking. In fact, a more delicate pair of black stilettos would have also suited fine.
Thankfully, one would be too engrossed with the vibrant colors of her outfit to pay much attention to the feet.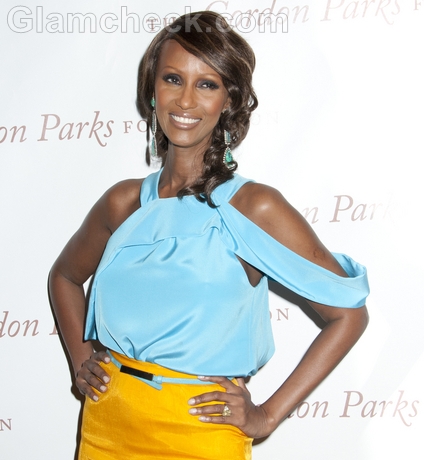 Her hairdo was done in glamorous side parted curls that were bunched to the side. This ensured that the aqua blue-green gemstone earrings got their own identity and gave the attire the right amount of dazzle.
The heavily done smokey eyes along with the nude gloss contributed to the overall glamor quotient.
A slightly shorter skirt and a pair of different shoes would have definitely raised the style'o'meter, but then Iman makes her own rules and we admire her for that.
Image: P R Photos